BENS to Release Commission Report on 'Whole of Nation' Approach to National Emergencies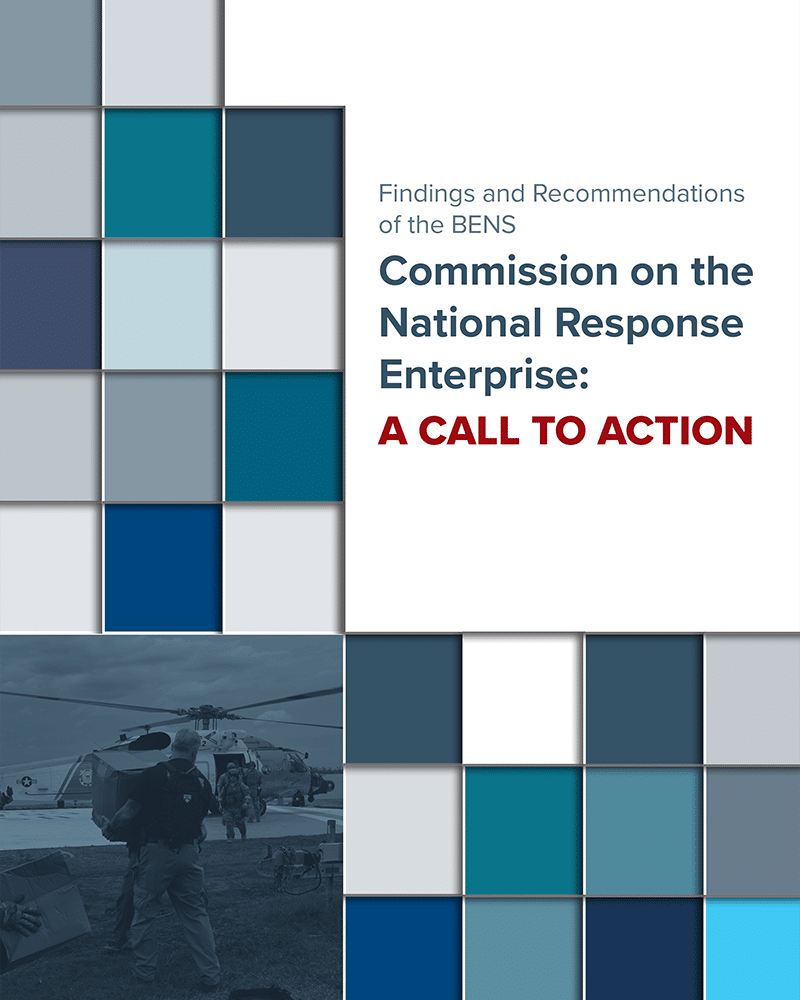 FOR IMMEDIATE RELEASE
January 25, 2021
Contact:
Nate Thompson
(202) 296-2125
NThompson@bens.org
WASHINGTON, DC—Business Executives for National Security (BENS) will publicly release the final report of its Commission on the National Response Enterprise, entitled "A Call to Action for Creating a Coordinated National Response to all Crises," during a virtual event on Wednesday, February 3, 11:00 a.m. to 12:00 p.m. EST. General Joseph Votel, BENS' President and CEO, will host a discussion on the Call to Action with Commission Co-Chairs Jeh Johnson, former U.S. Secretary for Homeland Security; Alex Gorsky, Chairman and CEO of Johnson & Johnson; and Mark Gerencser, former managing director of Booz Allen Hamilton and BENS Chairman of the Board.
The Call to Action identifies the roadblocks that prevent effective action during a prolonged crisis – like
the COVID-19 pandemic – and provides actionable recommendations to improve public, private, and civic coordination, collaboration, and communication to achieve an effective emergency national response. The Commission began its work in June 2020 and its membership is comprised of former senior military leaders, CEOs from some of the most respected American corporations, a former cabinet secretary, a Nobel laureate, former White House Homeland Security advisors, members of Congress, and state and local leaders.
The event is open to the public and media with registration at https://www.bens.org/2021_cnre. Leaders
in emergency response, policymakers at the local, state, and federal levels, and members of the business
and civic community are encouraged to attend.
The report will be available to the public at noon EST on February 2, 2021, at http://bit.ly/BENS-CNRE.
###
Business Executives for National Security (BENS) is a nonpartisan nonprofit comprised of business
leaders throughout the nation who volunteer their time and expertise to help address the national security community's most pressing challenges. For more information, please visit www.BENS.org.
Dr. Joseph Nemec, Managing Director, Morgan Stanley
Dr. Joseph Nemec, Managing Director, Morgan Stanley, a deeply experienced cyber and technology executive with 20+ years proven success in both line management and independent advisory roles operating at the…
David Soldow, Advisor, McKinsey & Company's Defense and Security Practice
Dave Soldow, Advisor, McKinsey's Defense and Security Practice, leading outreach, integration, and execution for the Office of the Secretary of Defense (OSD), Joint Staff, Combat Support Agencies, Combatant Commanders, Service…
Receive BENS news and insights in your inbox.