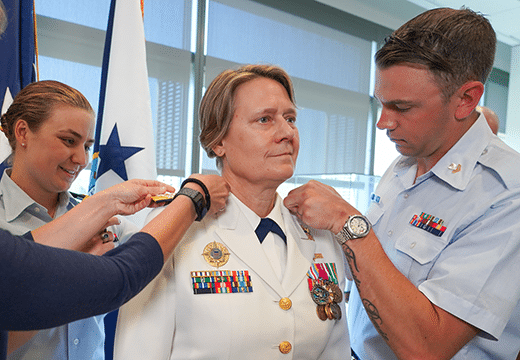 The Biden administration has nominated Adm. Linda Fagan to lead the U.S. Coast Guard, a defense official told USNI News on Tuesday. Fagan, currently the Coast Guard's vice commandant, will be the first woman to lead a U.S. armed service.
Fagan has been the Coast Guard's number two since June and was the first woman in the service to be promoted to four stars.
Prior to her current role, she led Coast Guard Pacific Area from June of 2018 to June 2021. She previously served as the deputy director of operations for headquarters at U.S. Northern Command and led First Coast Guard District, which is based in Boston, Ma. Fagan also previously served on USCGC Polar Star (WAGB-10). She spent 15 years as a Coast Guard marine inspector. Fagan is a 1985 graduate from the Coast Guard Academy.
How Robotic Process Automation is Helping Federal Agencies Manage Data
When it comes to government deployments of automation and AI/ML, the spotlight often shines brightest on high profile applications – whether it's augmenting soldier performance on the battlefield, driving intelligence…
Feds in Gen X and Gen Z Both Want More Work Flexibility, But Often for Different Reasons
Improving retention of federal employees is a long-standing challenge for agencies, but the way to incentivize feds to stay in public service may differ, depending on their age. Although federal…
Receive BENS news and insights in your inbox.