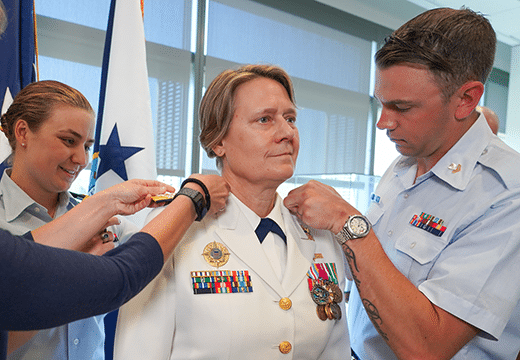 The Biden administration has nominated Adm. Linda Fagan to lead the U.S. Coast Guard, a defense official told USNI News on Tuesday. Fagan, currently the Coast Guard's vice commandant, will be the first woman to lead a U.S. armed service.
Fagan has been the Coast Guard's number two since June and was the first woman in the service to be promoted to four stars.
Prior to her current role, she led Coast Guard Pacific Area from June of 2018 to June 2021. She previously served as the deputy director of operations for headquarters at U.S. Northern Command and led First Coast Guard District, which is based in Boston, Ma. Fagan also previously served on USCGC Polar Star (WAGB-10). She spent 15 years as a Coast Guard marine inspector. Fagan is a 1985 graduate from the Coast Guard Academy.
Hondo Geurts on the Defense & Aerospace Daily Podcast
BENS Distinguished Fellow James "Hondo" Geurts visited the Defense & Aerospace Daily Podcast to discuss his op-ed co-authored with General Joseph Votel: Forging the Industrial Network the Nation Needs. Listen…
Happy Independence Day from BENS
On this most American of holidays, we celebrate the birth of the greatest country on earth. The Declaration of Independence was an audacious statement in 1776, issued and adopted by…
Receive BENS news and insights in your inbox.