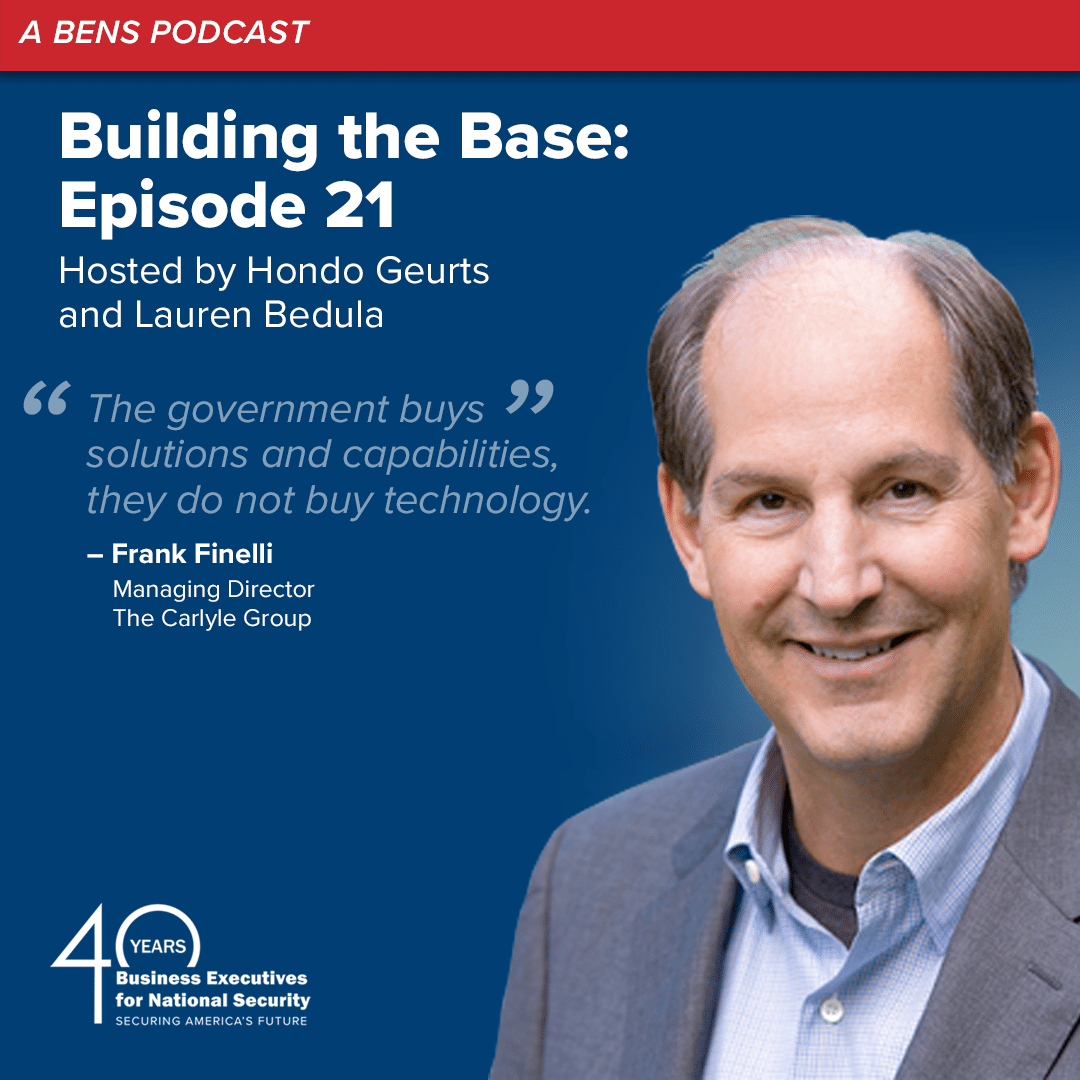 In this week's episode of Building the Base, Hondo and Lauren join Frank Finelli to discuss the future of the defense industrial network.
Frank's varied experiences in the military, on Capitol Hill, and in the private sector have given him a unique lens through which to view the future industrial network and a thorough grasp of the processes of the industrial base. He emphasizes the constraints the DoD is under due to its extensive Planning, Programming, Budgeting, and Execution (PPBE) process and points out how the DoD can follow the lead of other departments and take advantage of capital markets through legislation such as the CHIPS and Science Act and the Inflation Reduction Act.
Hondo, Lauren, and Frank go on to discuss a variety of topics, including:
• Public-private collaboration
• Agility of the commercial sector
• The Valley of Death
• China's investments in science and technology
• Competition between publicly-funded R&D and private innovation
Biography
Frank Finelli is a BENS Board Member and Managing Director at the Carlyle Group. He joined The Carlyle Group, a global private equity firm, in December 1998, where he is a Managing Director focusing on investments in the defense and aerospace sector. He has led numerous acquisitions and drove the development of Carlyle's cross-portfolio purchasing and functional value creation platform. He has been repeatedly selected for the Defense News 100 Most Influential and Executive Mosaic WASH100 distinctions.
Previously, Frank served as legislative assistant for then-Senator Dan Coats (R-IN), member of the Armed Services Committee and Select Committee on Intelligence. Before retiring as an Army Lieutenant Colonel, Frank served as a Special Assistant to the Chairman of the Joint Chiefs of Staff for the first Quadrennial Defense Review (QDR) in 1997. He also worked for the Vice Chairman in restructuring the Joint Requirements Oversight Council (JROC), when he also coordinated reviews of communications and intelligence programs. Frank is a Field Artillery Master Gunner and Airborne Ranger, having also served an Associate Professor of Economics at the U.S. Military Academy, where he taught econometrics and conducted manpower and defense procurement analyses.
He holds a Master of Sciences in Finance and Operations Research from Sloan School of Management at Massachusetts Institute of Technology and a Master of Military Arts in Strategy from U.S. Army Command and General Staff College. Frank is a Chartered Financial Analyst (CFA) and member of the Council on Foreign Relations, Lexington Institute, and Atlantic Council.
Podcast Transcript
Lauren Bedula
Welcome back to Building the Base. Lauren Bedula here with my co-host Hondo Guerts. Today we have Frank Finelli joining us, and we're so excited to dig into Frank's background which includes 25 years at the Carlyle Group where he currently serves as managing director focused on investments in the defense and aerospace sector. Frank started off as a graduate of the US Military Academy, served in the Army, and from there went to the Hill. Frank has spent time with many of the stakeholders which we will mention and is really spearheading important issues at BENS where he has been a member for almost as long as he's been with the Carlyle Group. So, Frank, welcome to our show and thanks so much for joining us.
Frank Finelli
Oh, Lauren, thank you so very much. Yes, I think I've been a BENS member since 1999. When I left the Hill and was introduced to BENS by Mr. Carlucci, who was very involved at that time with the Tail to Tooth Commission, which was a tremendous piece of thought leadership for BENS.
Hondo Geurts
That's fantastic. So, Frank, I, I would venture to guess, as a young Army artillery officer, you didn't foresee serving a great part of your career in private equity. My guess is you may not have actually known what private equity was at the time. How did you come to this kind of interesting career trajectory? What got you there, and I hear you have the Navy to thank for it.
Frank Finelli
Well, I sure do Hondo. You're right, when I joined the Carlyle Group back in the end of 1998, I didn't even know what it was called. It was a kind of leveraged buyout and it later picked up the name of private equity. But I was very fortunate, as you know, to go to the U.S. Military Academy, and I went to the Military Academy to swim on the swim team, which was a dumb idea, but it gave me an opportunity to really study and get involved in economics. And I'm very grateful that the Army sent me to MIT to study finance and operations research, which helped throughout my military career. And my last assignment was on the Joint Staff, where I had the fortune of working for the Vice Chairman, then Admiral Bill Owens, who was tremendous. And he stacked the deck with Navy guys, as you can imagine, on the Joint Staff. I joked that those Navy guys ruined my Army career, and I can't thank them enough, because Admiral Owens introduced me to Senator Dan Coates. And I was able to retire and then transition over to Senator Coats office and work with the Armed Services Committee.
Hondo Geurts
What was it like on the Hill? What was that transition like going from, you know, operations and military to be over almost switching sides? Or you know, fraternizing with the enemy? So did you kind of get that sense of the Pentagon?
Frank Finelli
You're right, it was a ton of fun. And, it was also a magnificent opportunity, because Senator Coates had just co-sponsored the legislation for the National Force Structure Review Act of 1997, which established the first Quadrennial Defense Review. And so I was involved in doing that review in the Pentagon, and then went over to work on the Hill piece where there was a national defense panel that was kind of a red team, if you will. And so that was the interest in really working for Senator Coates. But it was not that different, quite frankly, it was kind of funny because we pushed some points on legislation, and it was only a couple of weeks later before the Chairman was back over at our office on the Hill working at odds on some issues with us. So it was a ton of fun. And then when Senator Coates retired in 1998, I got fired as the customer on the Hill. Well, that's when I transitioned to the Carlyle Group.
Lauren Bedula
Frank, you've paid close attention to the defense industrial base for many years now, and your involvement with BENS reflects your interest in the importance of public private partnerships. And something we talk about on our show quite a bit is the importance of commercial technology companies in collaboration with national security mission sets. So, figuring out how to stimulate more interest from commercial tech companies who don't traditionally sell into the government to be able to navigate that more effectively. Can you talk a little bit about why you see this collaboration as so important?
Frank Finelli
Well, it is absolutely important. And as we're working with BENS now and, Hondo, with the article that you've written with General Joe Votel, there really is a need to envision a future industrial network, and that future industrial network will have to embody both a classic defense industrial base as well as commercial technology companies and the manufacturing base. We have seen really three prominent studies just in the last quarter relating to China. We have the DoD report to Congress, we had the Commission on the Economic and Security review to Congress, and then we've had this index of military strength that the Heritage Foundation puts out each year. And it is absolutely clear that the Chinese have closed the gap, and in some cases are past us in terms of defense and industrial capability. And like it or not, China is in competition with us not only militarily, but economically. And this is why I think it is so very, very important. And to just add one more point to it, defense technology is absolutely necessary, but developing the agility of the technology cycles from the commercial sector, where now commercial R&D is almost four times the level of government funded R&D in the United States. It's absolutely crucial.
Hondo Geurts
So, Frank, I think you highlight a really important point here, and one we brought out in kind of that visionary article of better leveraging what is arguably one of the greatest strengths of our nation, which is our economic horsepower in our financial marketplace. But I think sometimes we fall into the trap of, we say capital as if it's just one thing, and operates just in one way. Can you help our listeners maybe with a little bit of the basics from your perspective of the differences between venture capital and say private equity as it is defined now? And how do either of those have strengths or weaknesses when we talk about interacting with our national security and defense industrial base?
Frank Finelli
Yeah, thanks, it's a really great question. These are two very different investing disciplines. And furthermore, you know, neither venture capital nor private equity is homogeneous. So I mean, there's many, many different approaches to both, but the way I think of it is, venture capital is really that earlier stage investing process, where you're valuing companies based on their expectation of revenue and earnings. With private equity, we're going to become owners of largely established companies, and we're going to value them based on their demonstrated revenues and earnings, and then our expectations, what we can think in the future. And so we're going to be long term investors, probably five to eight years is the classic holding period. And that enables us to develop detailed value creation plans to take a company from where it is today to where we think it could be based on the management team's capabilities, our knowledge of the marketplace, and where we think there are opportunities. So I think they're absolutely complimentary. I think as we look at the future of the industrial base for American national security, there's also the opportunity for a nexus where these private equity companies become great channel partners that help to integrate the technology for the venture capital community that it's being developed there. And so I think this is one of the key distinctions that we have.
Hondo Geurts
Yeah, I think you know, I'm sensing both sides kind of growing into this middle where you hear about growth ventures, and you hear that private equity may be getting a little bit earlier stage or at least at the, you know, earlier in the scaling process. Do you see that as a kind of growing trend? Or a gap that needs to be filled? How do you sense where that kind of venn diagram sits between those two communities?
Frank Finelli
Man, Hondo, I think that's a very insightful comment, because you do have to provide capital dynamically across the lifecycle of these companies. And I think if you take a step back at the highest level, the first thing that the founders in a company, whoever is the genius with the idea, they have to develop that technology. The second piece is that that technology has to be transitioned into a product or a service. The third part is that product or service and has to be sold to generate revenue, and that's where it takes contracting. Those first two pieces are really the forte of the venture capital markets, and in the United States the venture capital markets are very deep and very mature. And, so, again, if companies are not getting support there it is because the market is not providing the signals that indicate their demand for whatever the technology may develop into. When people talk about the Valley of Death, I really think about it in this third area, where they've already developed the technology. They've already transitioned it into products or services, but the contracts haven't come fast enough to generate the revenue to sustain these companies in their growth. That's where we need to really leverage the capital markets and also rely on the Department of Defense and military applications to provide those demand signals. Maybe those credit guarantees, maybe those future contracting activities that give companies confidence to get the investments, they need to get to the next phase. Because if the contracts are not coming through from the Department of Defense, often the DoD is blocking these companies from selling their technology products to somebody else because of regulatory controls. And so these companies are in a really tough spot. That's the Valley of Death, we have to work on getting them through.
Lauren Bedula
And Frank, we're sitting here at an interesting time from an economic perspective with inflation, and a kind of dark economic outlook from a potential recession standpoint. At the same time, you talked about China as a real driver for stronger collaboration between commercial technology investors and the Department of Defense or national security community more broadly speaking. I'm curious for your take on the economic outlook. There's growing demand, too, and when there is a downturn the government is a great customer, but are you seeing increased interest from the investment community to look at defense markets? Or is that going to decline because of this economic outlook? Just interested to hear your take there?
Frank Finelli
Lauren, that's a really hard question. To address what I think is driving the investor appetite, it is China. And I think you know, some people talk about US defense budgets at above $800 billion, China's at $252 billion. But if you tear this apart and look at where the money's going, a much higher share of China's budget goes towards investment in science and technology. That's investment in production as well as science and technology. They also have an asset securitization fund where they leverage the capital markets to expand their investments in modernization. And when you do this comparison and put a purchasing power parity adjustment multiple on it, it's very likely that China is out investing us. And that's something that we ought to be concerned about. The second part of it, though, is that they're also out innovating us. There's some research that indicates that their innovation cycles may be five times faster than what we're seeing in the US military, through Department of Defense channels. And so this is what is motivating the investor appetite to try to get behind defense technology, because we are losing airspeed and altitude to China, in these areas, for military capability and the development of technology. So I think this is the primary catalyst. It's not economically driven. It's driven by this competition.
Lauren Bedula
That's fascinating, and I'm very glad to hear it because I thought perhaps the stronger demand signal from the customer base, the US government, on this front was driving private markets. But it sounds like the geopolitical environment is also influencing it, too. So with that in mind, I want to also ask about foreign capital and the risk that foreign investment poses to critical capabilities and US companies. Are you seeing a better understanding of that risk across the private sector? What's your take on foreign investment risks at this time?
Frank Finelli
It is a big risk. I do think that there have been enhancements in the regulatory processes. So I mean, it's hard, I don't have the visibility on whether that's being blocked as efficiently as or effectively as it should be or not. But clearly, there needs to be very detailed reviews of where this funding is coming from and who has access to the core technology. This is not about limited partners who don't get any access to any information or anything else like that. But it is about people that will be investors who will get seats on boards or on advisory councils, or be able to collaborate with the management team to gain some insights on what's really going on in the development of this technology. The other thing that has to be understood though, this isn't where we can kind of build up trusted investors to compete against the Chinese investors because the Chinese will pay prices that are nowhere near what the market clearing prices are, they will pay a premium. And so, I think it's naive to think that you're going to find us investors are going to be willing to pay the prices that Chinese investors essentially backstopped by the Chinese government will be willing to pay for some of these investments. So that's something that we have to watch. And I think the regulatory process needs to be thickened to address this issue.
Hondo Geurts
So, for framing, you and I are in a number of activities, whether through BENS or the Atlantic Council, trying to get recognition for this issue. We haven't taken advantage of our economic strength, particularly in national security. I would say we've admired the problem, collectively, for a great number of years. What are some of your ideas on more tangible steps for the private sector. They just announced the Office of Strategic Capital, what would some first steps we could take to really move the needle in regard to leveraging our capital as a nation better?
Frank Finelli
Well, I know this is absolutely an opportunity. And the US has, without a doubt, the deepest capital markets in the world worth well over $50 trillion. We are not taking advantage of that in the Department of Defense. And, unfortunately, the DoD remains constrained by our planning, programming, budgeting and execution process, PPBE as it is being called, which essentially means that you can't move money within two years. So with technology development cycles that are in a matter of, you know, let's just say months, we're missing the opportunity here, we've got to develop more agility, the capital markets can certainly help with that. I am encouraged by what we've seen recently through the CHIPS Act, Inflation Reduction Act, and some of the other legislation where other departments have really stepped up to start to leverage the capital markets like the Department of Energy, Department of Transportation, and Department of Commerce. And I think DOD has a similar opportunity to try to leverage these capital markets. They don't need to make equity investments in these companies, but they certainly can influence the credit markets. And they can provide strong market signals to motivate investors to also get more heavily involved. I think this is where a lot of the opportunity rests, but leveraging capital markets is the key to success and getting more agility, more velocity, and funding that we can use to direct towards technology as it gets developed for the Department of Defense.
Hondo Geurts
So I've heard you mention the credit or debt guarantee side of things. unpack that a little bit for us. What are some more specific ideas or opportunities that kind of lay out in that sense, because we tend to think of the DoD strength as either signaling or making non-dilutive investments, but really haven't talked much more beyond those two kinds of mechanisms, right?
Frank Finelli
The credit markets are actually deeper than the equity markets in the United States, and there is an opportunity to essentially guarantee borrowing from companies to help support technology development. It could also be used to accelerate the procurement of new equipment that becomes available, or to address infrastructure requirements that might be holding back the readiness of our fleets, whether it's aircraft, or vehicles, or ships. I think this framework of credit guarantees which has been used in the past to produce ships – we actually used it in some automobile situations as well from a commercial perspective – would be that the United States government would provide some form of backstop to the credit. There are ways that that gets valued based on risk metrics, and so reserves would have to be used associated with it. But essentially, it provides a mechanism for the lenders to have some comfort that an entity is standing behind it. I think we see this very frequently in the infrastructure markets today, where different parts of the US government or state or local governments are providing backstops for the funding of loans to projects and different initiatives across the country.
Lauren Bedula
Frank, I want to go back to the makeup of the current defense industrial base and where it's headed. These loan programs will likely be focused more on small businesses and these newer entrants that are having trouble navigating the Valley of Death. But I've been surprised by how often I hear even the Big Five talk about the Valley of Death as an issue, so this isn't just an issue that small companies are facing. Something Hondo especially likes to zero in on is disappearing mid-sized companies and how maybe selecting many small companies for very small awards isn't the right way to go from an economic perspective if you are trying to incentivize these companies to grow. So could you talk a little bit about the current makeup of the defense industrial base and what it should look like?
Frank Finelli
Well, Lauren, you raise a very important point, because this must scale beyond small businesses. The Department of Defense, to its credit, has made tremendous progress on developing a whole bunch of initiatives that have effectively diversified the science and technology base for the Department of Defense using some of these venture capital and small business initiatives. These have really widened the aperture of technology that is available and being considered by the Department, and that's a big win. I think that's a necessary condition, but it's not a sufficient condition for catching up with where the Chinese have essentially equaled or even surpassed us in capability. In some of these areas we have got to go to small, medium and large companies. And, again, a lot of this capital market financing that could be provided, some of it will go to technology development, but a lot of it would go to the technology transition. I mean, if you're going to now start building stuff, you have to build factories, and you have to build them very quickly. And it doesn't help you if the MILCON funding doesn't come in until three years from now. And so this can be a way to really very aggressively address the facilities situation so that you can transition this technology and get it fielded quickly. And, again, that is scale agnostic from a corporate perspective, so we've got to address all three areas. Now, getting back to the point about the Office of Strategic Capital, I am quite excited about this initiative, because I do think they recognize this is about more than just playing small ball on steroids, right? We've got to address medium company needs, and we've got to leverage the technical capability of large companies. And unfortunately, one of the problems is the vast majority of the science and technology funding in the Department of Defense they spend internally. It goes to their own research and development centers, it goes to the university affiliated research centers, and it goes to the federally funded research and development centers. And those are essentially in competition with the private sector, so it's almost a disincentive for investing. The capital markets can be a way to level that playing field if there becomes a framework where it can be accepted. And investors or lenders will get more confidence in the process.
Hondo Geurts
So I want to turn back a little bit to private equity, because I think for the uninformed many think that it is predatory, you know, buying out and leveraged buyouts, and they don't really understand how private equity helps either improve efficiency or allows for a way to bring in capital to then create long term efficiency. Where have you seen private equity really have a positive impact on the industrial base, and do you see more opportunity for that to continue and scale? Or are we kind of at the limit of how private equity can help us to modernize and gain efficiency so we remain competitive?
Frank Finelli
Yeah, well, it's certain that private equity has been an active player in both the aerospace and the defense segment, and there's different strategies. I think, in a lot of cases, these private equity strategies have been to buy companies and help them grow, that's largely been the approach that we have taken at the Carlyle Group. There have been some cases in other sectors primarily where companies have been bought and divested into smaller pieces, but I think those situations are relatively rare. It's really this ability to put capital behind an opportunity where private equity differentiates itself, because we can take long term value creation strategies and make them real. You know, the one I think about from your Navy experience, which you're familiar with, is that we started what became the largest US ship repair business for the military becoming US Marine Repair now part of BAE Systems. That started with one dirty shipyard in Norfolk and grew to be the largest ship repair capability for the Navy because of the investment that was enabled by private equity. We've seen this also in the supply chains, tier-ones and tier-twos, where there's been significant investment behind some of the key players, land systems, and aircraft systems that enable the system integrators. The other area where you've seen a lot of activity more recently is in the services sector where now three of the largest technical services providers are private equity owned or were private equity built. They grew to scale now approaching 10 trillion of revenue. So again, the ability to put capital behind these companies to address market opportunities is real.
Hondo Geurts
So everything I saw in Pretty Woman with Richard Gere may not be true. Yeah, you're the good Richard Gere in private equity?
Frank Finelli
Well, I haven't seen that situation unfold. I'll just leave it at that.
Hondo Geurts
I think in private equity you talk to infrastructure a lot, and certainly the DOD has got a ton of huge infrastructure issues from World War Two facilities to depots and whatnot. What success have you seen, I would say maybe at the state and local level, where they've been able to create public private partnerships to modernize everything from airports to other large things? Is that an opportunity for the DoD that they should be thinking about rather than just giant MILCON?
Frank Finelli
Yes, there really are some great examples here. I mean, we've seen it as a way to bring private capital to accelerate the modernization of ports and airports. JFK Terminal One is a great example, which has really lagged from global standards. The New York Port Authority, Newark, and New Jersey Port Authority put out a solicitation, and they now have a great program on board for getting a new Terminal One. You see it at LaGuardia as well. So that's one of the more prominent things, but it's also associated with some telecommunications infrastructure and other utility infrastructures to enable them to upgrade in different areas across the country. There are a lot of very old facilities across the Department of Defense that need to be recapitalized, and in many cases that recapitalization is being deferred. It's almost as if the DoD thinks they don't incur any cost, but there's huge costs being incurred because the readiness cycles are being delayed. And so when you take the prominent example of the shipyard infrastructure optimization project, where we have dry docks across the Navy that all date back to World War Two, those are not being recapitalized or replaced at speed, and they cost a lot of money. But the problem is, if you've got three submarines that are waiting at the pier to get into those dry docks, because the submarines that are in there are taking longer than they had planned to complete their availability, that's $15 billion of capital at rest. And yet, the DoD doesn't consider a cost associated with that. This is some of the thinking that really needs to come into play so that we understand the opportunity cost associated with these readiness hits. And we can leverage the capital markets to take advantage of them.
Lauren Bedula
I'm going to shift gears a little bit, but it's not terribly unrelated. Because as you think through identifying companies, growing companies, and the successful transaction between these different communities, workforce is key, right? I think this is top of mind on both the private sector side and the US government side, what are you seeing in terms of interest and from talent in the defense industrial base? Are you seeing any trends that are concerning, or on the flip side promising, on that front?
Frank Finelli
Well, here, there's kind of two different worlds. I think there is increased interest in the exciting technical problems that are being addressed by not only the defense industry, but let me just broaden it to include industries associated with US military and economic security. So, that gets into the semiconductor supply chains and a whole bunch of other other areas. And without a doubt, there's people being attracted to those niche industries, and that's very important. We are also now seeing some stress on big tech, as you see layoffs announced across the board, that's freeing up some of these very talented people to come back into the marketplace. And so I think that's going to create some opportunities. I am very concerned about the recruiting situation in the military, where the propensity to serve has declined tremendously. It's been hard enough to get people to just be qualified. Less than 25% of the young Americans that are in that eligible pool, even meet the qualifications to serve. But even among those who qualify, the propensity to enlist has dropped tremendously. That's something that America has to take on. It's a huge problem, and I have to just say how blessed I was to have served and I would hope that other people will take advantage of that opportunity.
Hondo Geurts
Yeah, but there are lots of ways to serve, as you say, and we've got to figure out how to leverage that talent pool. Are there any other tangible steps? If you were talking to the SECDEF right now, or the new Office of Strategic Capital, what would be some things you'd recommend to do in the next 6 or 12 months to get the ball moving in a forward direction. And, really, what should be in the Office of Strategic Capital? What should be some early first moves that they could do? Putting on your hat as a key leader in a financial market, what would help? What could they do to help you help them so to speak?
Frank Finelli
Well, I think it really comes back to demand signals. And if they're going to create demand signals, that's got to be through contracting at some point. Right now, there are way too few contracts, we have tons of companies that have great solutions that never get the opportunity to compete and sell them into the Department of Defense. And if there's anything that could be strategically done within the Department, I think it's trying to really double down on efforts to diversify the contracting base and create more opportunity for more players to get involved. That will drive more investment, because it creates more opportunity. So I think that's the first part. Look, we've got over $850 billion dollars a year in the defense budget, this is not about a shortage of money. This is about how the money is spent, and I think that's the thing that needs to happen. Key examples are in the aftermarket sustainment programs, almost all of those are sole source with no competitive opportunity. And yet, as we've seen in commercial sectors, there are tremendous opportunities to reduce costs, by bringing in a larger set of players and diversifying that supply chain to make it competitive.
Hondo Geurts
Yeah, and as you said, I think in MILCON, and some of the infrastructure stuff too, we should really look at it. I really like your point that we don't really assess the opportunity cost for readiness. When you're doing MILCON budgets, and you're having to break up these large capital programs kind of falsely into bits and pieces, because that's the only way you can get them through the system, it's almost random. We really don't leverage the strength, we have to put the dollar in front. When you work on these municipal programs, there's a sense that we're making a deal with the devil and the DoD won't own its infrastructure. And that you'll have short term gain, but a long term loss. But I think in many of the deals that have been done, say, for airports or bridges, it's not a loss of ownership, so to speak. And so can you maybe talk about that myth? That's for folks who don't really understand all the dynamics at play, to kind of get the sense of what we're doing to outsource all our infrastructure.
Frank Finelli
Yeah, no, you're exactly right. This is not throwing the keys to somebody else and just walking away. I think if you look at the examples that have really performed well, it's been where contracts were very clear. Both sides understood their responsibilities and fulfilled their responsibilities, so there's very active oversight to make sure that maintenance standards are maintained. The readiness of these facilities, for example, are sustained improvements that are brought forward just as they were pre-agreed to. And I think if you hold that joint accountability on both sides, these programs can be very, very successful. And this is really, I think, fundamentally the part of the partnership that can move forward. Now, in order for that to work, there's got to be skin in the game on both sides. And I think there's really great precedent out there for how to make that happen.
Lauren Bedula
Well, Frank, these are a lot of great ideas, and we're excited about the work you're doing through BENS to promote them. And I know you're eager to get them to folks like those on the PPBE commission, because you mentioned that as an area where we really could see improvement. Your take on the private sector is understanding of the threat China poses, and I think it's very promising and we'd like to use the show to talk about it as well, so thank you for hitting on that. And I think it's a very timely discussion, given the Office of Strategic Capital's launch and we hope to collaborate closely with them. So, Frank, thank you so much for joining.
Frank Finelli
Well, thank you Lauren. It's been a delight to speak with you and Hondo today.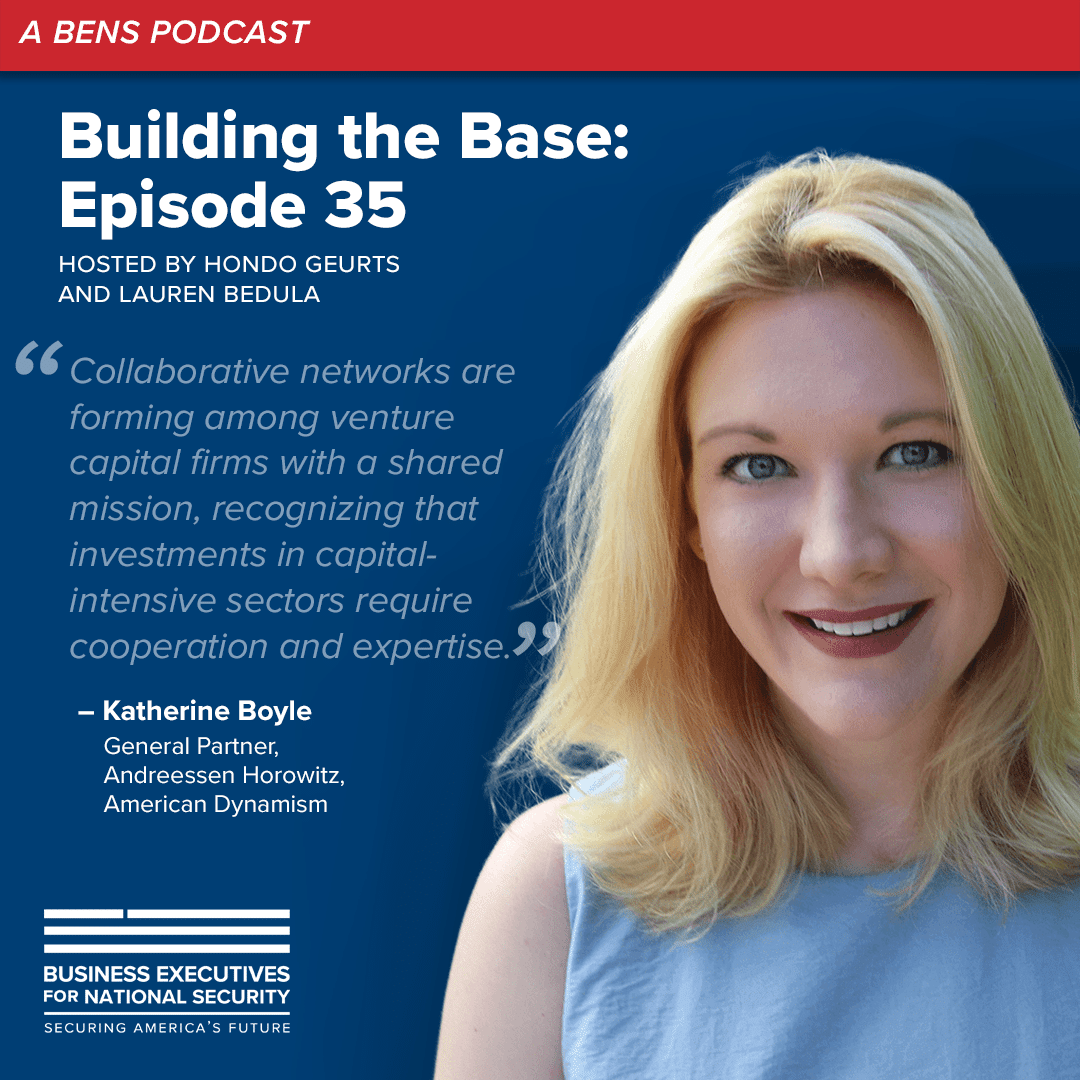 Building the Base Episode 35: Katherine Boyle
In this week's episode of Building the Base, hosts Lauren Bedula and Hondo Geurts are joined by Katherine Boyle from Andreessen Horowitz. Katherine, a general partner at Andreessen, leads the…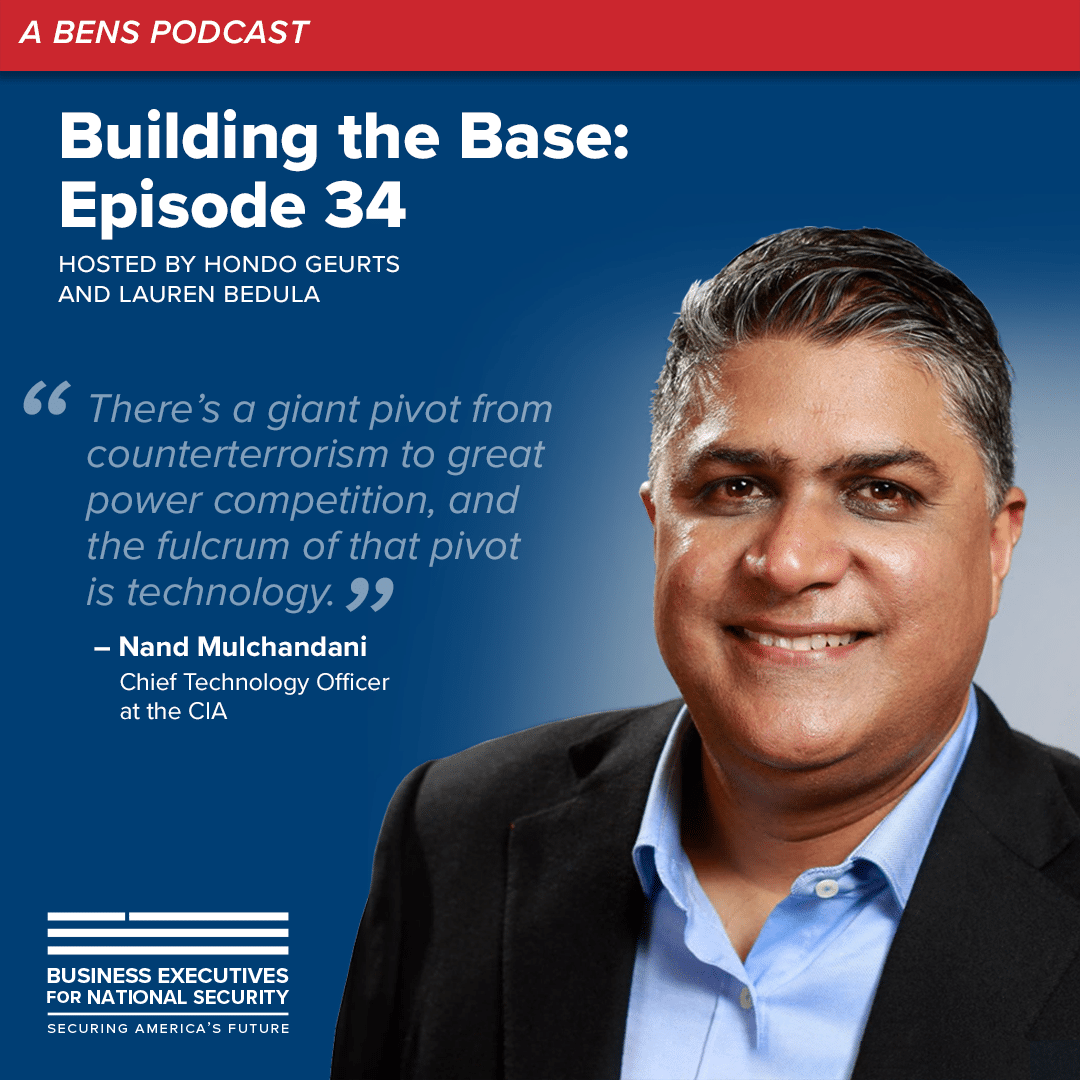 Building the Base Episode 34: Nand Mulchandani
In this podcast episode, Nand, a former founder and now a representative of the intelligence community, shares valuable insights on the intersection of the private and public sectors in the…