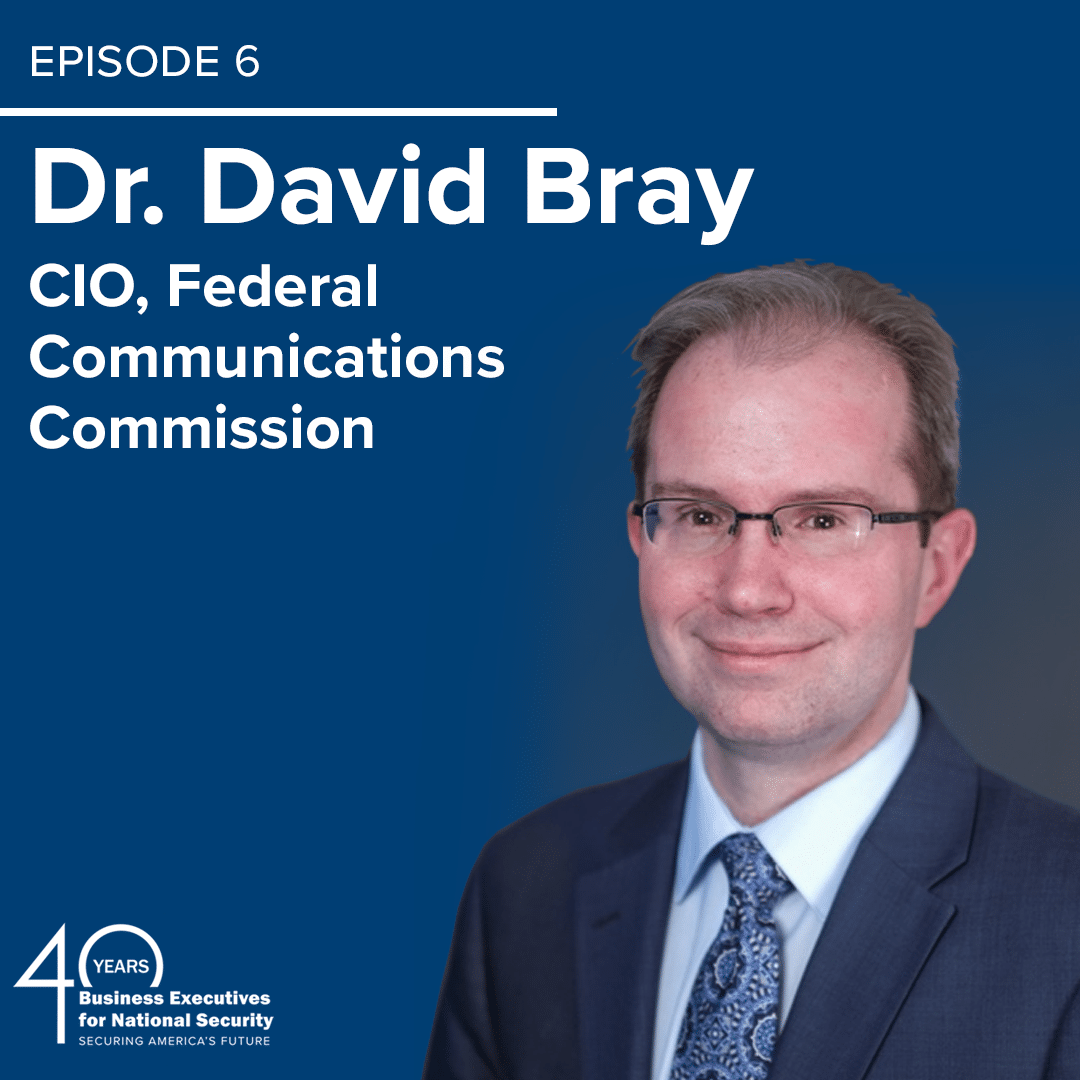 Technologist and data expert Dr. David Bray is a leader with the World Economic Forum and a scholar with civil service experience. Bray served as an adviser to the Department of Defense focused on increasing adaptability of the military services and as a senior executive and CIO for the Federal Communications Commission. From 2010 to 2013, he led the National Commission on R&D for the Office of the Director of National Intelligence. The conversation explores how the U.S. can shift the defense industrial base to an industrial network to capitalize on the capabilities of our international partners. Bray also comments on disruptive technologies impacting national security, the future of green jobs, making AI more accessible to democratize big data insights, and more.
Podcast Transcript
Lauren Bedula
Welcome back to building the base. I'm Lauren Badulla. I'm here with my co-host Hondo Gertz. And we're really excited to have David Bray with us for this episode. David is one of the most interesting technologists I've ever met. Starting with one of my favorite facts about David, which is he started working for the US government at the age of 15, which we'll get into in a little bit here. But really went on to work for multiple departments and agencies, and really is a creative problem solver when it comes down to it. So excited to pick David's brain about some of the topics we cover on co-host our podcast and hear about his perspective from both being inside government. And then the many hats he's wearing today on the other side. So, thank you so much, David, for joining us.
Oh, thanks for having me here. Lauren. Great to be here with you.
Hondo Geurts
All right, David. As Lauren said, you are a man of many experiences and, and jobs and impacts in such a wide variety. But give me the David's a highlight what happens at age 15. And how do we get from 15 do sitting here today? You know what, what was that journey like?
David Bray
Well, so I was fortunate enough to be a recipient of a personal computer. When I was five, my you grandfather bought one for each of his sons. And so, I was one of the recipients as a grandchild. And I just took it apart, learn how to program it. And then it was the late 80s, early 90s, in which the US government was still sponsoring science fairs. And that was a great way to sort of do talent scouting. And actually, even before I started working for the government, I was 15. It was actually through the Navy. So, I want to give a salute to you hundo that Dr. Robert Ballard, who found the Titanic was actually looking for high school students to help him in his explorations. And so, I got to be on the Laney show is in the Sea of Cortez and televising at the time on this magic through satellite television, which of course, now we take for granted. And so, I think I just saw that, you know, government has an opportunity to work across disciplines and geographies in ways that, you know, you really can't just do in the private sector. I have spent time in the private sector. I've done Microsoft, I've done Yahoo, I've done consultancy for Fortune 500. And they're all great. But if you're looking for a sense of mission and impact, there's nowhere else really just be honest. I mean, you can maybe look at some nonprofits, but even then, nonprofits are just not the same scope as what government can do. And so, after doing that, was went from doing small satellites, and I actually got called down and Principal's office when I 17 when they said we went off for your job. It's classified involve a Ballistic Missile Defense Organization; you can't tell your parents what you're doing. I said, Of course, yes. I don't think I even asked how much they were gonna pay. And then, when I was still in college, I had an opportunity to join a little-known program that was 30 people called the bioterrorism preparedness response program. And this was like 2000. And I thought I'd do it for two or three years because it wasn't kind of the little-known job that when you know, people ask, what did you do? You said bioterrorism, they proceeded to walk the other way, you know, they weren't gonna hang out around you. And it was literally scheduled weeks in advance for me to briefed us and the FBI as to what we would do if a bad day happened. And that just happened to be scheduled for September 11 2001. So dealt with that dealt with monkey pox, that was once West Nile and you know, the original monkey pox could I guess I can now say monkey pox is back again, as is Coronavirus. And after about five years of that went and got a PhD, focusing on how to improve organizational responsive disruption, which in 2005, I said I, I feel like there's more disruption on the horizon, and then raise my hand to go to Afghanistan. And this was 2009. Right? When the administrations were changing, I was a nonpartisan, and they said anything you write that we that we like, we're going to claim we wrote it, anything you write that we don't like, we'll bury but you'll administrations never have your name in print, and I was fine with that. And it was about 45 days, then when I actually got to brief the office of OSD policy and Department of Defense. And I said, you know, literacy is 20%. And that's if you're a male. I don't think democracy is really going to flourish here. So, we may need to change tactics and well, that got buried back in 2009. But at least I got the chance to speak truth to power. And then later work for the intelligence community got to lead a commission that reviewed all the red efforts with six Democrats, six Republicans, the Principal Deputy Director of National Intelligence, Stephanie O'Sullivan was a good CIA handler, and that she offered me the role and didn't tell me there been three senior executives and three months not work out before I showed up. But no one else got killed. And even in 2013, when bipartisan consensus was hard to come by. We succeeded. And then I parachuted into a role where there had been nine CIOs and eight years at the federal Communications Commission. And the good news is I lasted more than four years. And two and a half years, we succeeded in moving all their infrastructure off site and had been on site which was really expensive in DC, either to private hosting or public cloud, did that on a fixed budget. And then I started working for Vent Cerf with the people centered internet coalition publicly. And then I actually work some of you Hondo and also some with Special Operations Command on countering disinformation. And then it was late 2019, I was at a CFO CEO Summit in Vietnam were speaking. And I got an opportunity to they said, would you be interested in joining the Atlantic Council? It was 4am in the morning when they called me, by the way, but they call me and say we'd like to join the Atlantic Council and help lead another commission, this time looking at what the US and its allies can do. And so, I started that role. Did some fundraising. We literally launched on March the 11th 2020, which was the same day that Coronavirus, was declared a national pandemic. And I'm like, great. And but despite everything that happened in 2020, and 2021, we actually got bipartisan consensus from both the House and the Senate, and delivered the report to the Congress and the administration. And so far about 40, almost 50%. Now, because of course, there's all the new quantum stuff coming out to 40 to 50% of our recommendations have shown up in some form of legislation.
Hondo Geurts
So, what I get out of all that is I need a phone call before you accept a new job. Exactly. Because then you know where to take cover? Yeah. Awesome. Awesome. Yeah, what a what a wide set of experiences, we'll get to the skills that make you comfortable with that downstream.
Lauren Bedula
And there are so many areas we can go from here. But one of the themes we love to really hit on at the top of our conversation is this interest in finding ways for the private sector to collaborate with the public sector and US government really in the national security realm. And you, So, hit on what drew you very early on to mission and this ability to work across disciplines and globally. And I really enjoyed hearing about that. So, I'm curious, David, if you have thoughts on how can we enable more collaboration between high the high-tech sector and national security community?
David Bray
So, I think you've hit the nail on the head for what is the high-tech interesting challenge of the decade ahead. So back in 2015, I was with the Council on Foreign Relations. And I made a pitch at the time saying we need to have a conference on how the choices that Silicon Valley is making are having global impacts. And literally, I had several current and former diplomats tell me Well, how does tech change the world? And they didn't quite see it. I mean, aside from the commercialization, they didn't understand that it's actually impacting the geopolitics impacts what isn't, isn't possible in terms of surveillance state or surveillance capitalism. And I would actually say, you know, history, it really looks like history in the midst of living it. I think, as historians look back at the last 20 to 30 years, we've rolled out some wonderful technologies, some exquisite technologies, we've also unintentionally rolled out technologies that make it easier for autocracies to be a doctor sees. And I think it's we've actually also inadvertently made it harder for more open societies to continue to exist. So, I think the rallying call from the private sector, you know, you may say, well, I don't do national security or something of that. But you do have impact in whether or not open societies will be able to use your technologies and thrive, are whether to pull us apart. And so, for me, it's sort of the idea that national security used to be something that was done by behind the curtain by a subset of what government was and you never heard about, and you didn't have to worry about it, because that was the beauty of United States as other people would worry about it for you. Now, we have to be a little bit more conscience conscious of our choices, because what we bake into what technology can and cannot do the modularity of it, the reusability of it, in some respects, that's, that's both an extension of what's possible in terms of just civil societies operating, but also in terms of, in some respects, diplomacy and greater collaborations around the world.
Hondo Geurts
So, it's, it's really an interesting take on it. And one thing, you know, I know, I've had to deal with in roles and So, been particularly challenging, and I would say you are, you're effective at being able to take a very technically detailed concept and explain it to people who neither have the background nor the time to get the background, what skill, you know, what, what approaches do you take to try and take these very complex things and make them more understandable What, what's worked and what hasn't worked for you?
David Bray
Well, first, I have to give credit where credit's due, my father was a Methodist minister, and my mom was a school teacher. And so, I think I witnessed so many sermons on a weekly basis, where he would do the variation between the high level 30,000-foot idea and then a very specific anecdote and they'd go back up to 30,000 feet and then back down. And so oftentimes, I think people make the mistake when you're trying to brief people of only being very, very high or very, very specific when in fact it sent alternation and give them some tangibility, but then go back up to the balcony that's useful. The other thing is always leave with the bottom-up front. You know, and that's, that's, of course ingrained in the military. I think, in some respects, I'm increasingly working with people who have retired from military service, partly because they are used to stepping back and saying, what's really going on here. I feel like so often right now, particularly nowadays, with everything, feeling turbulent, and everything, thinking feeling past fast paced, people are rushing to the tactical, and they're missing the strategic. And I want to try and help people sort of take a breath and say, look, you may be seeing these movements on the dance floor. But if you go up to the balcony, here's what's really going on. The other thing is also just, oh my gosh, darn nonpartisan, which sometimes I scratch my head and say, Did I make a mistake by being a nonpartisan, because that means I have no top cover. But I, my mom was a Catholic before she married my father, who was a Methodist, he, as a Methodist minister, later actually had to be at a church that was Presbyterian, Episcopalian and Methodist at the same time. So, I sort of was born naturally into working with people on their values first, as opposed to their parties first. So, I think that also helps, because then people know you're not coming from a place of politics, you're coming from a trace of here's the data. And here's what the data shows. And you have to be ready when someone calls you on something and says, Is that really true? And you have to say, well, let me bring the data. What hasn't worked, when people want to take what you say and use it politically, and you have to be okay with that to a degree because again, I've chosen not to be in politics. Again, I can remember actually, when I was in Afghanistan, I had the opportunity to come out of theater for a while, and actually went up to Whitehall. And at the end of the day, they made a call on something related, and they said, you know, this is a political goal, and I had to sleep that. So, you know, it's you have to be content with your speaking truth to power doesn't mean that you're going to listen right now, and may not be until three and a half or 10 years later that what you said maybe comes to pass. But that's a sort of comfortableness you have to have in your own skin.
Lauren Bedula
I want to hit on your time, David at FCC really has Yeah, you know, thinking through the change, you led around its modernization, which in so many ways enable emerging technology for talking about cloud computing, and just updating systems, so they're more secure. So, can you tell us how that went? And maybe any challenges you saw internally and also with the private sector?
David Bray
Yep. Well, it was a wonderful experience. Partly, I ended up at the FCC, because the same person who had recruited me for the national commission that reviewed the red efforts of the Intelligence Committee said, you're now going to make people worried that you're somehow too connected to Congress, even though you don't do that. And so, FCC, Federal Communications Commission, there used to be a thing called a radio Intelligence Division, the United States, it was the FCC, they were doing so again, before SIGINT was a thing. And then later, of course, it moved to Fort Meade. And so, when I got there, they had had, I mean, one of the things I always like to do when I are parachute into the situation is sort of like take the time to just absorb what's going on around me as quickly as possible. And I could sensor was changed fatigue, there had been a lot of shiny but not substance, the Bureaus were frustrated. And so, I had to sort of do something that would bring people together. And so, I tried to be vulnerable, in which I said, you know, look, I'm going to just basically only sort of say, how's things going where we want to go? And the first assembly I did about two weeks in, people were a little bit hesitant, but I tried to call on some extroverts that I knew in the audience and said, how do you think things are going? And really, at the end of the day, I got about maybe 10%. So, they were excited. I actually jokingly said, I said, how many of you are waiting to see if I'm still here nine months later, and that was about half of the group. And then 35%, were on the fence as to you know, wanting things to go back to the way we're in the 1990s. I was about to wrap up when somebody said, I have a beef. And I said, could you please tell me more? And he said it happened 17 years ago? Granted, I just showed up two weeks ago. And I said, well, could you please tell me more about and so they did. And I listened. And I said I appreciate you sharing that? How can we incorporate that experience into what we do going forward as lessons learned and lessons that we can incorporate? And so, I think, any good senior executive parachuting into that role, you're really trying to motivate as many people to be creative problem solvers, whether they be government, whether they be the private sector. And as we moved along, what I found, and I unless it is there were plenty of good private sector, people that wanted to move things forward. But there were also some private sector folks that were enjoying the fact that things were the way they were. And I want to call that out, because I think that's important, because I think sometimes, you know, the reality is, civil servants do not have a public relations firm. So, we get our lumps from all sides. And we don't have PR, and that's So, how it should be. But I find actually, the hesitancy to innovation and transformation in government sometimes can be from those that are actually profiting off of the status quo, and they don't see the value of making the leap to something else. And I think that's where we in government have to show that there's value, otherwise, you're not going to make it naturally happen. But at the FCC, the average government person had been there 17 years the average contractor had been there 21 years. So, all the incumbent knowledge was actually more of the contractors, and here I am showing up after they've had nine acting and permanency hours and yours are probably just, you know, waiting for me to leave as opposed to, you're going to actually follow me into where I'm trying to take them. And so, I had to sort of do incremental wins to begin to win them over and also begin to identify and reward and actually have the chairman, the chairman was very supportive, the managing director was very supportive of those contractors and government people. And it was actually celebrated as a team success, as opposed to this is just government or this is just private sector was all of us as one team, one mission, I will share, there was one case where a contracting company did not like the fact that some of their members of their contracting team are more forward leaning and actually supportive of our efforts. And so, they waited until New Year's Day, to fire someone that was a contractor, which of course, you know, in government, you can't tell them to specifically hire somebody. And so of course, New Year's Day, nobody's in the office and everything like that. And so, but I did, as soon as we got back to work, I contacted the chairman of the FCC at the time, and I said, would you be supportive of me doing an emergency government hire? And I explained why. And he said, yes. And so, about a week and a half later, when we all assembled, I called the contractor in with the, you know, the procurement shop there, and I said, you know, we understand, you know, you're gonna make decisions as to who's right for the role, I can't hire and fire people, we would like in the future that you give us maybe two- or three-weeks' notice, as opposed to just doing it spur of the moment. And by the way, we have a new contractor representative in charge, and a person walked in, and you can guess who that was. So, you know, you have to be as innocent as doves and as wise as serpents to some of the things. The other thing I would say is, you have to be ready for them to run to Congress. And again, it's not the fault of private sector, I think the private sector is, in some respects, recognizing how the game can be played. And I think it's incumbent on us that really care about moving the nation forward to call out those that are doing the best they can and find ways to amplify that. Because you know, right now, you have to understand I mean, its same thing is true of government. There has been a lot of people that brought innovation into the workforce, and for whatever reason had their hand slapped, or there you know, they were knocked down. And so, they got discouraged. And the same thing probably happened with contractors. And so, I think it's a kind of us to show a better way forward. And I think that's what a change agent does, it illuminates a whit better way forward. Sometimes you're gonna succeed, and sometimes you're gonna have battle scars.
Hondo Geurts
So, David, you've been really thoughtful on this whole topic of how is technology going to change life, right, not just by a feature on a phone or a new gadget, but fundamentally may alter so, things. And we've been doing a lot of talking about, you know, how we think about the industrial base, and how to transform that into a network, kind of you, your view of that on the global scale, because I think we sometimes get caught between globalization versus a we have to have good trusted partners, which I think there's always going to be a competitive advantage. How do you see with all these kind of converging trends, how does that play out?
David Bray
So, I can remember back in the 1990s. And then later, when I was with the bioterrorism program, I was like, what are things? You know, trying to win or win 2021? Would 23 look like? And I would say what are things that transcend borders, and I would say things that transcend borders are one first and foremost ideas and ideologies. To at the time, this was in 2000, public health, I mean, you know, infectious diseases, don't say I'm going to stop at this border, even if you try and do infectious control, and then three packets of information, the internet, and I actually gave a briefing to the National Intelligence Council around the 2003 timeframe. When I said that, you know, we need to be ready for the 2020s and 2030s, to be ones in which borders are gonna matter less. And at the same time, you're gonna see as So, borders matter, less, some nation states doubling down on borders. I actually at the time, said, you know, if you're following what's happening with So, Russia, there will come a time in which it will be much like how a sun right before it explodes, you know, swells up in size, and then it either collapses down to a white door for it as a supernova. And so, I would say what we're seeing right now with Russia is exactly that, which is their system as it is you not working. So, if you're going to try to expand before there is some sort of implosion and the question is whatever takes its place, is it better or is it even worse than what we currently know? That's a good question. So, I think we have to upgrade our national security strategy to recognize that what makes the United States great is we are an open society. What makes us incredibly vulnerable is we are an open society. And we cannot play the game the same way autocracies are and I worry that there are some shaping events both into intentional and unintentional that are that are giving us the wrong message that are trying to teach us to either try to censor or clamp down or trying to control things and if we do that, I think we've given up what makes us strong as a country. So, I think the So, other interesting thing is that, you know, I tell people the good news is we've democratized technologies. In terms of affordability and availability, you can now do things that only the CIA and the KGB could do 50 years ago. People wonder why it feels like there's so much disinformation while we democratize the production of disinformation. That said, the challenge, then is if technology is getting democratized, we've got to think about ways of empowering the edge more. And I think that's again, something I mean, you already see, I would argue that the executive office of the president was always designed to only deal with at most two to three big watermelon issues. And now in the interconnected world, we have 13 Watermelon issues. And so, we've got to figure out how we upgrade that system. You've also got five large companies, you can guess who they are, that actually have larger market capitalization than all the world's countries, with the exception of the top four. And that was back in 2017, before COVID. So very possibly in this decade ahead, we're going to have five companies with a larger market capitalization than the GDP of all the world's countries with exception of US and China. Does that mean the State Department needs to be Department of State and non-state or something else, I mean, we have to figure out how to navigate this because nation states weren't always a thing, and then doesn't necessary mean, they will be the thing, especially when you think about space. That's where I say what at the end of the day really is the United States. And I would say the United States is this idea of the values and the principles embodied in the Constitution. You know, even if you don't have the same constitution, if you still have something that mirrors that, then you're a friend, and you're someone we can work with. And we've got to work multi nationally, in terms of quantum computing, for example, Canada, Sweden, Finland, they have some of the cutting-edge stuff. In fact, Canada just came through with an interesting breakthrough. And I often jokingly said, it's not going to be a case of us or China who gets quantum superiority. First, it's going to be Canada. And the only way we'll know is when all the sudden people say the new special relationship is with Canada. And you're like, oh, okay, so something happened. But, you know, we should be thinking about much like how Estonia allows you to become an E resident, without residing in Estonia. And that means you now are connected to what Estonia represents, you can actually do trade and commerce, we need to think about something somewhere. And it's actually not a completely new concept in Rome had the same thing to you didn't have to be a Roman, to have some connectivity to Rome, at the time and what that meant. So, I think it's, I feel like we need to upgrade our game. And that, to me, is the interesting thing, because I think it's something that's neither just private sector, nor government, it's actually something that we do together. And
Hondo Geurts
do you see that extending to an industrial network where we can? Absolutely does that give you the resilience and the competitiveness against a larger population versus one country? Versus
David Bray
Yes, well, I think that's the end of day you hit the nail on the head that there are there are countries possibly country 1.4 million, which is able to just focus on money and time and energy and systematically move things forward. So actually, literally, just this morning, I was talking to the State Department about they're doing an effort called regional innovation hubs, which is exciting, because it's about not only helping us businesses connect to countries overseas, but vice versa, as well. And like you said, I mean, you and I know we've talked about that we need to shift from being an industrial base to an industrial network, because that's the only way we're going to have enough resources, time and talent. But we gotta coordinate it so that we're not duplicative and effort.
Lauren Bedula
Let's talk about disruptive technology. And what you see as kind of next five years what will redefine national security the most in terms of new technologies.
So, there's always what you see visibly, and then there's always things that are happening behind the scenes. And so, you know, AI right now has been enjoying the hype ride. And I think we're going to discover that AI doesn't do everything that we want it to do. So, I'm ready for that to be another era of disappointment. It's not new AI has gone through winters. And this is this, this would probably be the third AI winter. What I'm excited on is there's increasing evidence that the way we used to do artificial intelligence using big data can be supplanted by this idea that you actually have a smaller data set plus a few rules, which means more people can play that you don't have to be one of these big fortune 500 companies to participate that that more people can play. And so, I think benefits will go to those companies and those countries that figure out how to use small data as opposed to big data in a way that is across sectors and across communities. And I actually think we in the US need to figure out how do we upgrade our game because you've got Europe in one hand doing general data protection regulation, which, okay, I get this thing rolling, but it's not really working. You've got China that says all your data belongs to us. I don't think either one of those is the right us approach. I think we need to do something where I want to bring together the private sector, the public sector and ideally some community stakeholders. So, this could be the warfighter. Those could be local communities on the ground that are thinking about economic empowerment and how they can be uplifted. But if we don't, if we don't think about how this can benefit people, then we have succeeded to the digital revolution, too. For those industries that are only extractive of data, as opposed to producing a value, I think that's going to be something really big quantum, we're probably not gonna hear about it, but a lot of interesting things are gonna occur. Space, there are slightly less than 7000 satellites currently in orbit. Depending on who you talk to anywhere between five and 25% of them are commercially operated, we're going to go from 7000 to more than 100,000 in eight years. And that's going to be a huge disruption, and they're going to be 95%, or more commercially operated. So how do we deconflict when a SpaceX satellite is about to collide with a Chinese satellite, who's gonna pick up the phone and say, you've got to move in 20 Seconds or Less else, we may not be able to use space for the next 75 years. And so that's example, again, of why we need a defense industrial network that is truly multinational, and recognizes that, you know, just like, well, we had the League of Nations, and then we had the United Nations. What is the United League of corporations? Or what does that look like? Because they're here is influencing factors. And the idea that a corporation fits solely in the borders of a country, I think, is increasingly quaint.
Hondo Geurts
So, you know, we've known each other for a while, we've often laughed that we've both been the you know, the instigator of chaos, and then recipient of chaos. And in that time has been human flak jackets. How have you dealt with your personal resilience? And I mean, it's sometimes it's energizing to bounce between new opportunities. And sometimes it can be tremendously challenging just to keep your energy. what's what, what tips can you share of how you I mean, you're, you're a high energy guy, you So, don't you know, you don't shy away, some of us would shy away from engagement based on some of those experiences, how do you how do you square that corner?
David Bray
So, I think it's first you have to surround yourself with people that can really give you a 360. Because I think what you're hitting the nail in the head is that when you're leading, you're gonna have some people that are simply going to tell you, you're doing great, you're doing great, you're doing great. And next thing, you know, the ice is gonna break underneath you, and you're gonna be like, wasn't really doing great or did no one told me that I was getting out on thin ice. And so, if you have people that are really your true colleagues, and that's that that helps. The other thing is I try to remind people, that leadership comes from the Greek word elite, which means to be sent on to death, that leaders were the ones that carried the flag and from the army. And that's recognizing when one army meets an opposing army, guess who's the first to die, the lead, and so you have to be content, ideally, not to physically die, but to metaphorically die and move on. And you also have to be content with what something we alluded to earlier that sometimes what you have pointed out is the truth may have been inconvenient politically. And it may not be three and a half or 10 years later, and I'll share a personal story. I mean, I'll be vulnerable to as you know, I mean, at the FCC, we had a high profiling proceeding. We briefed the chairman at the time saying based on everything we saw in 2014 14, this is gonna get a lot of attention. We'd love to use captcha, which is a way to test for humans and the lawyers came back and he said, no, you can't use captcha, because if someone is both hearing impaired and visually impaired, they may not be able to file that would be a felony. Okay, I said, well, can I block spam? Right? No, you can't block spam. So, I'm like, okay, I can't test if you're human. And I can't block spam. This is gonna be fun. And we saw in less than 10 days, 2.4 million comments, which, in hindsight, you know, before then it took 120 days to get 2.4 million comments in 2014. So, if I'm getting 2.4 million comments in 2017, I don't need that robust and analysis to say, Something's fishy here. And I can't block anything. And so, I called it out. And I said, it looks like some people are truly trying to leave comments. But other people are trying to deny system resources, unfortunately, we move to the cloud. And so, we were able to keep up. I think we were up like 99.4% of the time, which was pretty impressive to the team. What I didn't know at the time was it turned out later, three and half years later, you can look it up with the New York Attorney General, that both sides of the aisle were manufacturing comments. In some respects, there's nothing wrong with that, because it's not a vote, even though the political had told you it was a vote, it really is just, it's just really sort of logging your concern. And in fact, anything that you leave, that's not actually a legal concern. It's just like, that's nice. And it's, you know, you have to raise legitimate legal concern. But what they found in 2021, with the New York Attorney General was basically out of the 24 million comments we finally received, and again, the most we've ever received before then was 2.4 million and 120 days when we got 24 million 18 million were manufactured 9 million on one side of the political aisle where the political aisle hired six different companies to do it. And then 9 million on the other side of political aisle where they apparently recruited teenagers, so it was an inconvenient truth, and you just have to smile because again, being a good civil servant, you move forward. But I also sort of say, if that's all I had to give for my country, then I'm more than happy to give it and I think what in terms of personal resilience, when you're going through that I think the way you stay sane is again, you know who your friends are. You find ways to stay busy and political you also have to allow for the fact that you, you know, it's worth doing some introspection and saying, Did I mess something up? Did I screw something up? But at a certain point, I'm going to say no. And if anything, I was speaking truth to power and sometimes that's not recognized at all. Yeah,
Hondo Geurts
I think I mean, the two things I tagged on to that is one your inner your reader and, and just putting yourself in the arena is, is a contribution in itself. And the second is many times you're planting seeds to a tree; you're not going to get to enjoy the shade and too many people want the plant the seed and get the shade in the same day; if you're gonna play the long game, but what is interesting to me and you know, we've talked with Tiller folks is curiosity. And, and, and how do you not become or how do I not become the person who's doesn't understand the technology? Because we're now the 50-60-year-olds? So, I guess my follow on is how do you stay curious? And what? What So, helps you not become the person who was brilliant in technology last generation?
David Bray
Yeah, so I think you hit the nail on the head is partly it was the experiences I had when I was young that it made me completely worried that I'd say I'd look back and say the best years of my life were a teenager like that would stink. So, I've always been motivated to keep on pressing. The other thing, though, and, you know, Honda that I've got a group called the Global Vanguard's, and it's now about 190. People and their data and technology, people that care about the impact on society, and we keep it non-attribution. And for me, it's the conversations that they're raising. That's a way that keeps me from ossifying in terms of my skills and abilities because I'm keeping track of what my peers are talking about and what they're tracking. And at the same time, it's also sort of just spending enough time to go into technology and be willing to talk to different people about what really is the reality there. I'm gonna give a shout-out. There's a new group that's being formed of current and recently retired military servicemen and women. That's called Whiskey Tango Foxtrot, web three. And it's the idea that you know, web three, there's a whole lot of hype around it. And I think that should be called out. But we're trying to actually get to what actually is the value? Can we use these technologies to reinforce democracy? And that's where again, I really like working with service people, because you're willing to step back and say, Where's the three, and at the same time, be willing to call out and say, yeah, there's nothing there.
Lauren Bedula
It's really interesting to hear how you're engaging with these different groups really informs your thinking, David, and I'm, I'm curious to get your reaction about how you think we can stimulate more of our talent base to want to solve and dig into some of the problems that you think about every day.
David Bray
So, I think, you know, the thing that makes government, you know, because the government gets a bad rap, so many bad reps. But what makes government so exciting is these are problems you can't do anywhere else. And so, we've got to do a better job of advertising problems. And I recognize some problems, you can't openly come out and say this is a problem because of that. So, we need to have concentric circles. And I think that the trouble is, if you look at our immune to talk about modernizing, from a defense industrial base to a defense industrial network, I'd love to see concentric circles will bring you closer to harder and harder problems that may be more and more sensitive in nature, as opposed to a Boolean. Do you have your secret clearance? Do you have this sort of thing, because I think that's very problematic? I mean, it's not everyone who has this Once I handle a really hard problem. And what I want is the idea that as your reputation in terms of being a creative problem solver, as being one that's in the arena, as Hondo mentioned, is a crude, then that itself can be a signal that maybe we should start pulling you in more and not make those be decisions that are simply did you get sponsored by a contractor or political or something like that, and I celebrate that I was at the tail end of the Cold War in which that was possible. And that succeeded. And that's why I continue to keep on giving back to public service because it I I jokingly say, I feel like Sherlock Holmes, I want the case, I want the case, the game is afoot. And there are so many interesting challenges here. And when you get pulled into a circle, you realize you get to hang out with other people that are thinking like that, too. And I think like attracts like. And so, what we need to do is think about what are those hubs, and there's going to be different domains of hubs. And then maybe there's cross pollination too. But you know, we're pulling in people for different knowledge problems of different types, be it surface warfare, be it something that's in the public health arena, be it something that's dealing with, you know, reinventing the food system. I mean, I know, one of the things I'm finding right now really fascinating is DARPA is thinking about reinventing the food system. And you might say, well, how does that relate to defense? It's that as the world continues to move up the value chain, and more and more places that were poor become more affluent, we just can't feed the planet as is and if we don't get ahead of that problem, then we're gonna have major issues in terms of defense and stability 20 to 30 years from now.
Hondo Geurts
So, I'm sure in your career as with many of us, there's no time points in time when somebody was right there at the right time for you or, you know, kicked into boat when you did or, or made you think differently. How is mentorship changed for you, either as a recipient or provider, kind of through this really, really fascinating arc of a career? And? And do you think about it differently now than you did? early on?
David Bray
Yes. Well, I mean, definitely, I'm now trying to be a mentor when I can, and still open to mentorship as well. But I think it's known I mean, something about when once you have your own child, and you didn't you get a new perspective. I would say people I want to give shout outs to include Dr. William Jeffery, he was the person when I was 17. That offered me two jobs with satellites. We stayed in touch through the years. And in fact, we're collaborating still to this day. So, he's one of my oldest friends. And also, it's definitely a solvent. I mean, you know, it's rare that one gets to talk to the principal deputy director of national intelligence and have a candid conversation. And I think one of the things she said is that I will always stick with me is, you know, your career will always make sense once you've lived it, not why you're doing it. And I think that's what you got to tell people because people are like, well, I don't know where I'm going. It's like, that's okay. No one else does, either. So, it's so you need to be okay with that. And I think in terms of mentoring, the one thing I continue to advise people is, find something that whatever outcome occurs, you are content with what you contributed. Even if you're never recognized for it, even if it like you said, you don't get to see the promised land or anything like that. Because then at the end of the day, you'll be happy. And also, at the end of day two, you'll be able to say I led a satisfactory life.
Lauren Bedula
That's great advice. And David wants to ask you, I love hearing about you, your little guy, he's five now, in so many of us think through how do I balance personal interest with my professional interest and want to know, if you have anything for our listeners on that front,
David Bray
I would say lean towards the family. Because that's fleeting, you will always have a chance to do the career. And so don't ever don't ever feel bad if you've leaned into the want's family side, because that will be in passing. And you know, the little guy, I mean, we adopted him and life is wonderful, and wouldn't have it any other way. But I also recognize, I mean, like they say, the days are long and the years are short. So, I would say lean towards the family. And then you can always circle back later.
Hondo Geurts
So, so again, we've talked government, we've talked technology, we've talked, you know a little bit of you've run some startups or have been in the C suite of I think like 12 startups, but let's talk nonprofit, because you've also spent a lot of time Natalie, Natalie, in the nonprofit world, but in multiple nonprofits, how do you see as we're trying to shape this industrial network as we're trying to engage society in these really, really complex vexing national security challenges? Are we using the nonprofits the way we need to? Or do we need to similarly reinvent that aspect of the ecosystem?
David Bray
I wouldn't say we need to reinvent. I think nonprofits have gotten comfortable. And I don't want to say this is all nonprofits. But we see so much in DC, which is the typical, identify a problem, see if I can raise some money about it, right and do events about the problem, move on to the next problem. And it's like, well, nothing really changed. And so, I want to give a shout out to a colleague in arms by name of Brian Finley, who's the CEO of the Stimson Center, and I'm sure there's other nonprofits like are Stimson is a fairly young NGO, nonprofit, it was great in 1989, when some foreign leading members of Congress realized that the breakup of the Soviet Union at the time could either be really, really good for the world or really, really bad, and that you're now going to have several republics with nuclear weapons. And so, it was operational from the beginning. And I think that's what we need nonprofits to be. I think a lot of nonprofits have gotten comfortable not being operational. And we're surprised when nothing changes. And so, what I like is, you know, sure, Stimson Center will do analyses and things like that they actually got approached by so, an African nation government that said, how can we be better at collaborating with our neighbors. But once they came forward, the solution, they actually ended up buying a rhino sanctuary to actually demonstrate that they're, they eat their own dog food. And so that's the thing I think we should challenge nonprofits to do, which is enough navel gazing, if you're going to come forward with recommendations, translate them into operation, because government's already busy doing these things over here. Like I said, you know, the I feel like the so, executive officer president was designed to deal with three watermelons and now we've got a world of 13 watermelons. Maybe we need to farm some of those watermelons off to other nonprofits that you know, can do things, either at a speed or with, you know, some so, nonpartisan nature that that's not possible in government. And if need be, there's coordination where necessary, but I think we need to have more and more operational nonprofits that could then complement what the government's already doing, what the workers are doing and things like that. Yeah,
Hondo Geurts
I think and again, thanks for being part of this. We're trying to actually Get to let's talk about what are things we can be doing? And how do we leverage bends, but not just bends, ends and everything else in there. And so, it's almost as if we have to create a network to build the network, we need, and take some of the lessons from the Cold War of institutions that we build purpose built. And as we think about the future purpose, build the institutions, we need to, drive that change. So, in, you know, again, not so, to just contemplate the issue. What's the first three steps? What So, So, are what would be a couple things we could you know, whether as individuals or as part of a nonprofit, or as birch, what, what are a couple that we ought to just be a stop and start acting.
David Bray
So the first thing I want to do is we need to stop this idea that green has either a blue or red leaning, and by green, I mean, like green jobs, because reality is if we address green jobs, both domestically and internationally, that stability for the world, that is addressing the food supply for the world, I think we actually, you know, if you want to have stability in terms of what the Department of Defense presents to the industrial base industrial network, it's the idea that in some respects, even if we're not, you know, at war, which hopefully we're not, there's ways that we are continuing to do world stability through green jobs creation, and there's actually a model for this. And so that's the second thing I would say is there's already a law in the books that was done in the 1990s, called the US industry coalition. USITC, at the time, was through the Department of Energy, sending us entrepreneurs to former Soviet republics and would say, congratulations, you're never gonna build a nuclear weapon. Again, US government would like to work with you, what do you want to do. And that's why you end up like now with Lithuania has best in class lasers, for example. And so, you know, we need to recognize that while we want to bring some things back to United States and restore, if we bring everything back to us, then guess what the rest of the world is going to be doing, they're either going to be competing with us or falling apart. And so, we need to think about how the economies of other nations as both friends as well as extended satellites, in a world in which we know the world is finite, and we have to work together. Let's start doing that. And I would love and there's actually, I want to give another shout out to a person by name is Sharon McPherson, which by the way, we were both born at the same hospital. And so, we're both preachers, kids. But Sharon, she is a black woman entrepreneur, who successfully created the largest investment coalition of women entrepreneurs in South Africa, Malaysia, and Indonesia. She's now back here in United States. And she is leaving what's called the Green Jobs machine. And one of the things that she and I are both telling is, this is not a political issue. This is the idea that we've got to address this, otherwise, there's going to be water scarcity, there's gonna be food disruptions, and guess who's going to be called Department of Defense, we know the Marshall Islands are going to be out of portable water by 2040, if not earlier, which means they're going to have to leave the Marshall Islands. Now there is a large nation of 1.4 billion people that might raise their hands and say, we can build your island. Not sure we want that to happen. But if you're not in the game, thinking about how what's going to happen over the next 10 to 15 years are going to impact the Pacific and beyond, then we will win the battle and lose the overall strategy, concept and war. So, I would say that would be one rejuvenate the existing US industry coalition. So, Congress doesn't even have to pass any new law that's already there, you just have to appropriate funds. I'd also love to actually, and I know this is supposed to be coming. But believe it or not, I got a call a few weeks ago about the $40 billion are coming towards our colleagues in Ukraine. Let's get a little bit more specificity on what that's going to be spent on. And that's something we could actually do this summer. So those would be the things that would be on my bucket list.
Lauren Bedula
That's great. David, is there anything we haven't asked you yet that we should have covered?
David Bray
Well, it's not necessary, something I would ask me. But one of the things I would say for all your listeners, anytime you parachute into new circumstance, try to take as much time as possible to ask people what brings them joy. And I know they're gonna look at you funny initially, like, well, who is what is this, but if you really connect with people as to who they are, and what's motivating them, and you figure out what intrinsically motivates them, then when things really hit the fan, it's a great way to sort of, then it's a good way to sort of say, okay, well, how can I link what you want to do with what you intrinsically want to do?
Hondo Geurts
Well, David, we've covered a lot of ground here with some really thoughtful, long-term thinking and some really practical short-term opportunities and what I would say with impactful leaders wherever you are in the audience, or even if you're growing air, that ability to think longer term, but act near term is okay a winning combination. One, you've certainly shown all us what it's all about. Thanks for your time, buddy.
Thanks for having me here on Hondo and Lauren.
Lauren Bedula
It's been great to be with you. Thanks so much, David. Thanks.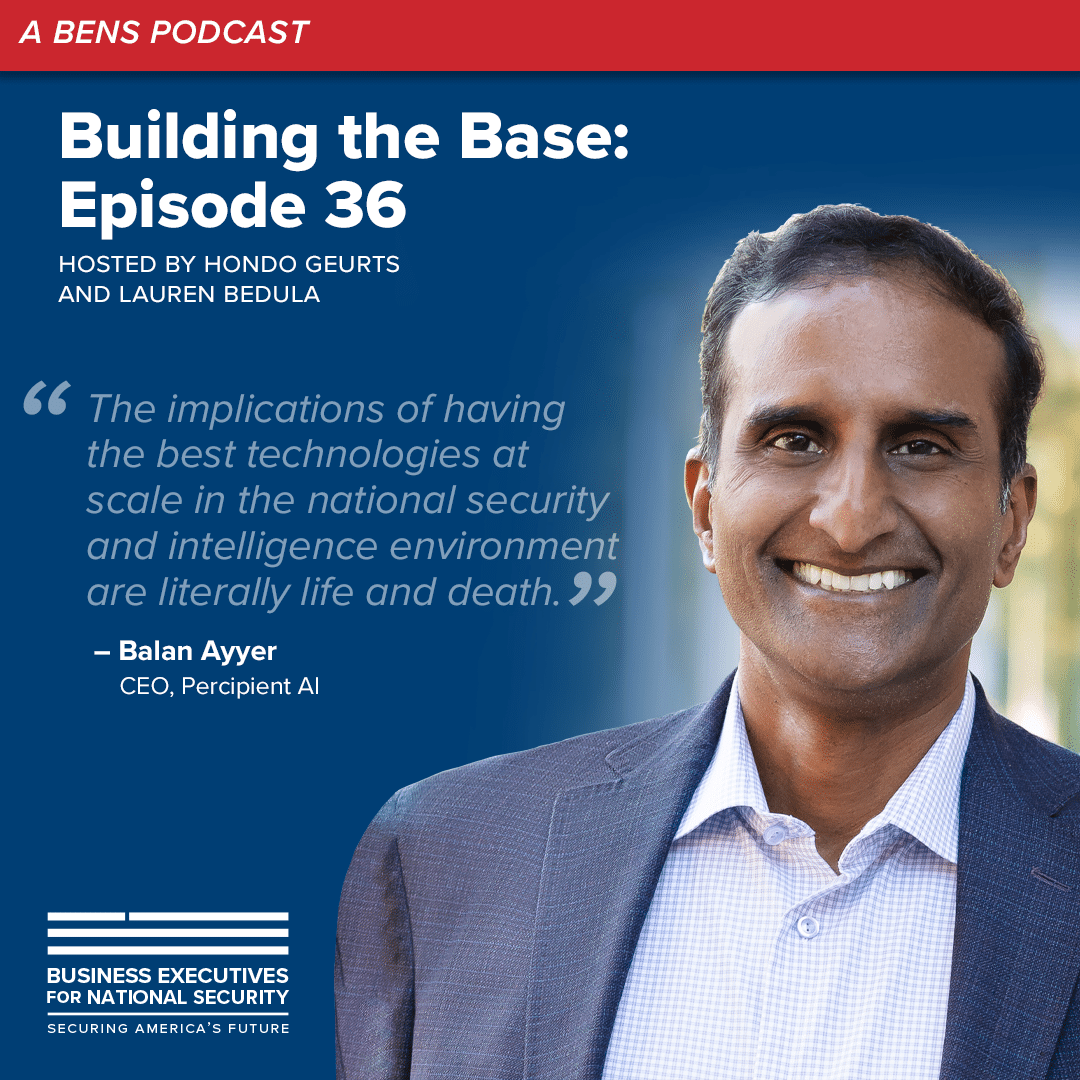 Building the Base Episode 36: Balan Ayyar
In episode one of Building the Base, hosts Lauren Bedula and Hondo Geurts chat with Balan Ayyar, retired US Air Force General Officer and now CEO of Percipient AI, a…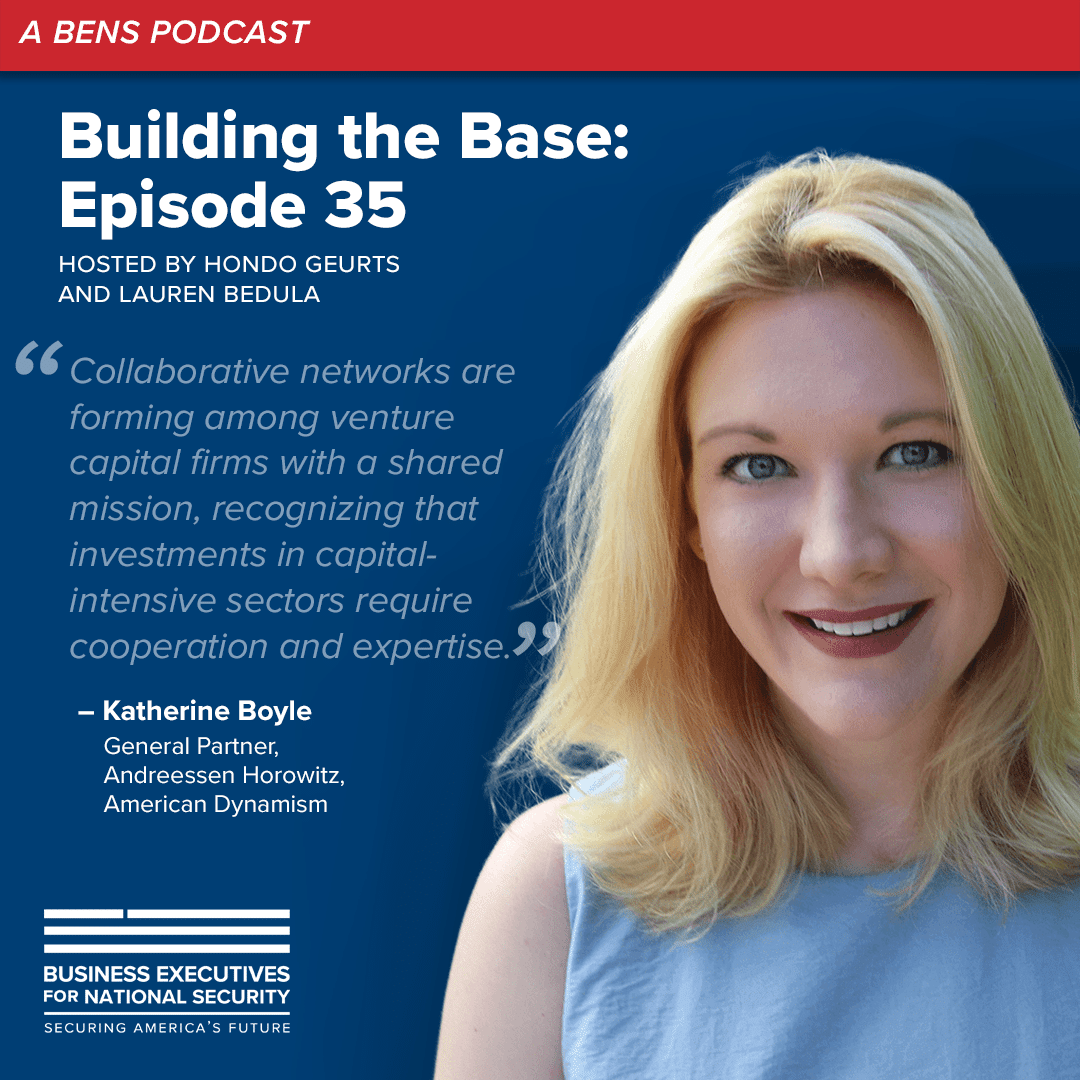 Building the Base Episode 35: Katherine Boyle
In this week's episode of Building the Base, hosts Lauren Bedula and Hondo Geurts are joined by Katherine Boyle from Andreessen Horowitz. Katherine, a general partner at Andreessen, leads the…