Business Leaders Honor Anthony Fauci, Alex Gorsky and Gen. Gus Perna With 2021 Eisenhower Awards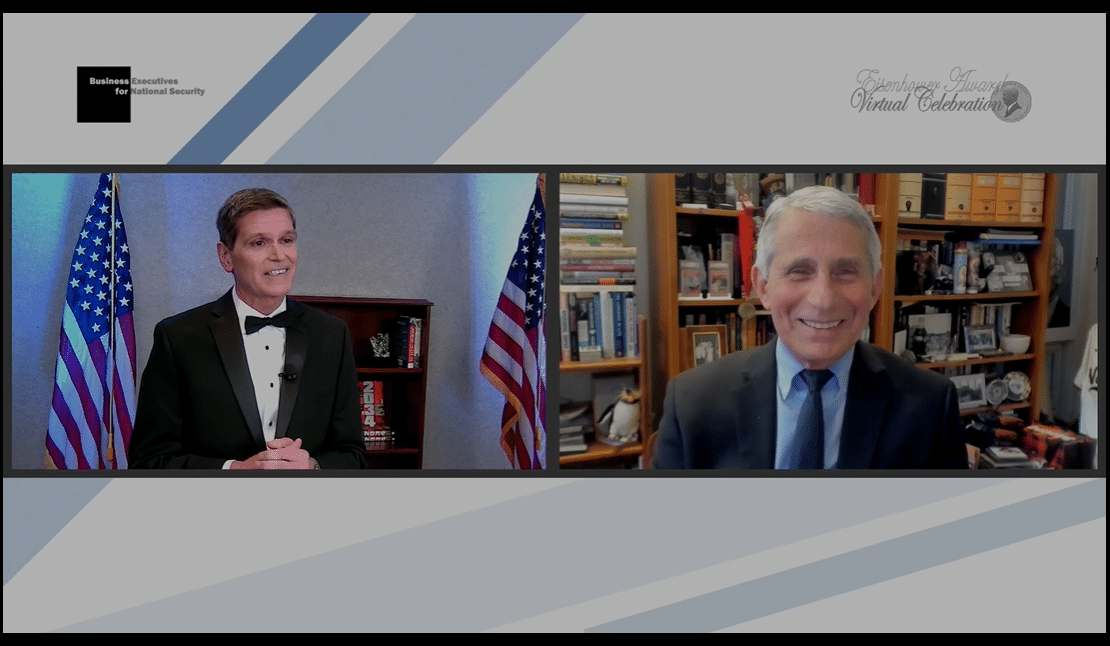 FOR IMMEDIATE RELEASE
April 26, 2021
Contact:
Nate Thompson
(202) 296-2125
nthompson@bens.org
WASHINGTON, DC—More than 200 leaders and guests across the nation joined Business Executives for National Security (BENS) Wednesday for its virtual presentation of the spring 2021 Eisenhower Awards. The event honored three extraordinary Americans in Dr. Anthony Fauci, Alex Gorsky and General Gus Perna, each of whom reflect the spirit and vision of President Dwight D. Eisenhower's farewell address and his call for a whole-of-nation approach to national security––one in which every part of our society contributes to our defense.
The evening began with attendees enjoying a virtual reception and social discussion led by special guests Susan M. Gordon, former Principal Deputy Director of National Intelligence; Dr. Neil deGrasse Tyson, astrophysicist, author and director of the Hayden Planetarium; and Elliot Ackerman, co-author of the new book, "2034: A Novel of the Next World War," with Admiral James Stavridis, USN (ret), former NATO Supreme Allied Commander Europe.
BENS President and CEO, retired Army General Joseph Votel, was joined by Fox News National Security Correspondent Jennifer Griffin to host the awards program.
As millions of Americans are being vaccinated every day and the nation progresses toward ending the COVID-19 emergency and regaining normalcy, Votel shared thanks for these hopeful developments. "We've only arrived at this moment because of people like those we are honoring tonight—and the countless others who have stepped up to help their neighbors and their fellow Americans through this crisis," Votel said. "In this time of adversity, we have witnessed enormous acts of courage and goodness. So tonight, in addition to celebrating our honorees, we will also hear stories from across America, about people of all ages and backgrounds whose sacrifice and devotion are the reason we will emerge from the pandemic stronger and more resilient than before."
BENS was delighted to recognize several of these community heroes including frontline first responders, healthcare workers, teachers, coaches, small business owners and community organizers whose actions are saving lives and livelihoods during the pandemic response.
General Gus Perna, USA, Chief Operating Officer, Operation Warp Speed
Across 40 years of military service, General Perna has overseen some of the most complex and urgent logistical problems facing Americans at home and abroad. In the spring of 2020, General Perna was tapped to manage perhaps the greatest supply chain challenge in history: How to develop, manufacture, and distribute the COVID-19 vaccine to 330 million Americans. To date, thanks to Operation Warp Speed, more than half of all American adults have had at least one shot of the vaccine and millions more are being vaccinated every day. "This award is a tribute to the whole-of-America approach and the people who have partnered across government, industry, and academia. I am honored to have been a small part of the effort, and I'd like to say thank you for the recognition, but it is for the whole team," General Perna said.
Alex Gorsky, Chairman & CEO, Johnson & Johnson
As Chairman and CEO of Johnson & Johnson, Alex Gorsky has set the standard for civic responsibility in business. When the pandemic hit, Gorsky mobilized his company by committing $50 million to provide aid and critical resources to health care workers battling on the front line. The company marshalled resources and $500 million toward the development of a vaccine that will ultimately aid in the protection of millions of Americans and people around the world. During Gorsky's tenure, Johnson & Johnson has become the industry's number one investor in research and development and a leading innovator in the medical field. As he accepted the award, Gorsky praised Americans for their collaborative response to the COVID-19 pandemic and pointed to historic levels of cooperation across the public and private sectors as a model for overcoming national challenges in the future.
Dr. Anthony Fauci, Director, National Institute of Allergy and Infectious Diseases (NIAID)
Dr. Anthony Fauci has served as Director of the National Institute of Allergy and Infectious Diseases since 1984, battling multiple global health crises, from the AIDS epidemic to the Ebola outbreak. His contributions to the study and prevention of these diseases have earned him many awards, including 45 honorary doctoral degrees and the Presidential Medal of Freedom—our nation's highest civilian honor. Now, as the Chief Medical Adviser to President Biden, Dr. Fauci is helping to direct our nationwide response to the virus, communicating with members of the media, and supporting the legion of scientists, doctors and researchers working to end the pandemic. In accepting the Eisenhower Award, Dr. Fauci emphasized that decades of investment in basic and clinical science have made possible the impressive and successful rollout of safe and effective vaccines, and he thanked the frontline healthcare workers nationwide whose dedication and sacrifice are saving countless lives throughout the pandemic.
General Votel thanked the event's participants and sponsors and congratulated the honorees for their achievements in the service of U.S. national security. A video recording of the event can be viewed at https://www.eisenhower2021gala.org/live-stream.
###
BENS is a nonpartisan, nonprofit comprised of over 400 business leaders who volunteer their time and expertise to assist the national security community. Past recipients of their Eisenhower Award include civil servants such as Secretaries of State Michael Pompeo and Hillary Rodham Clinton; military leaders such as former Chairman of the Joint Chiefs of Staff, General Joseph Dunford; and business leaders such as Cisco CEO Chuck Robbins and Amazon.com Founder Jeff Bezos.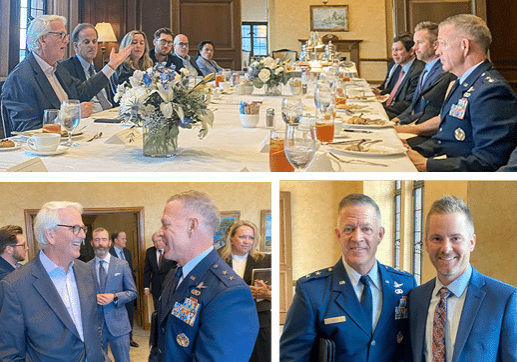 Event Recaps – September 24, 2023
BENS CEO, General Tim Ray, traveled to Atlanta to visit with the Southeast Region's BENS members. Members shared their thoughts and insights on their experiences and engagements with BENS and General…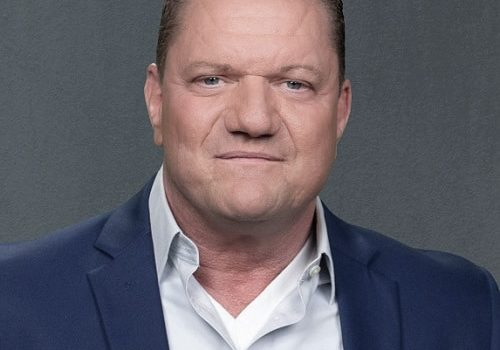 BENS Member, Chris Harris
BENS Member, Chris Harris, Vice President of Defense/Americas for SPEE3D has worked with key staff to train and supply Ukraine with metal 3D printers. The printers will be deployed near the…
Receive BENS news and insights in your inbox.