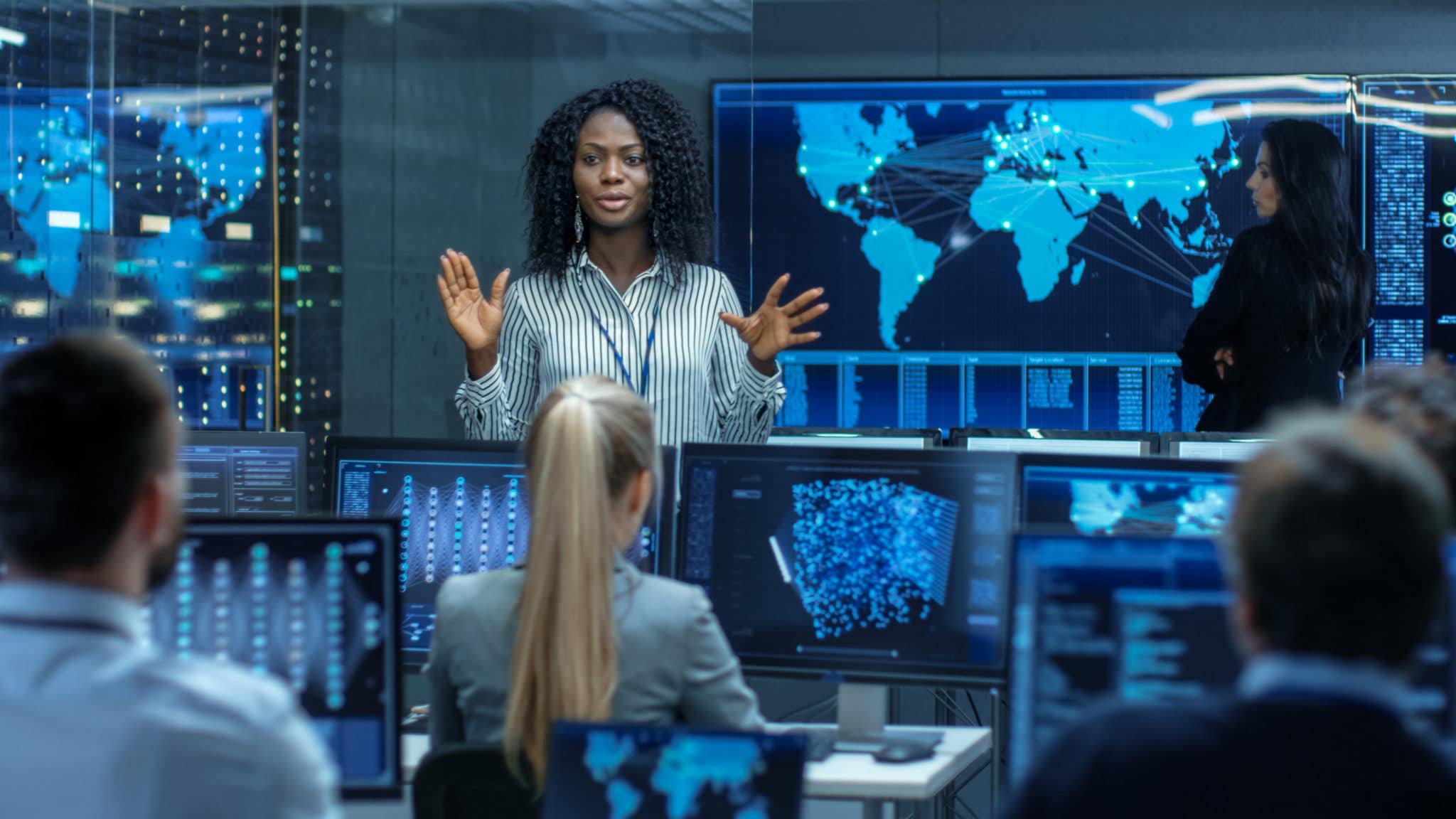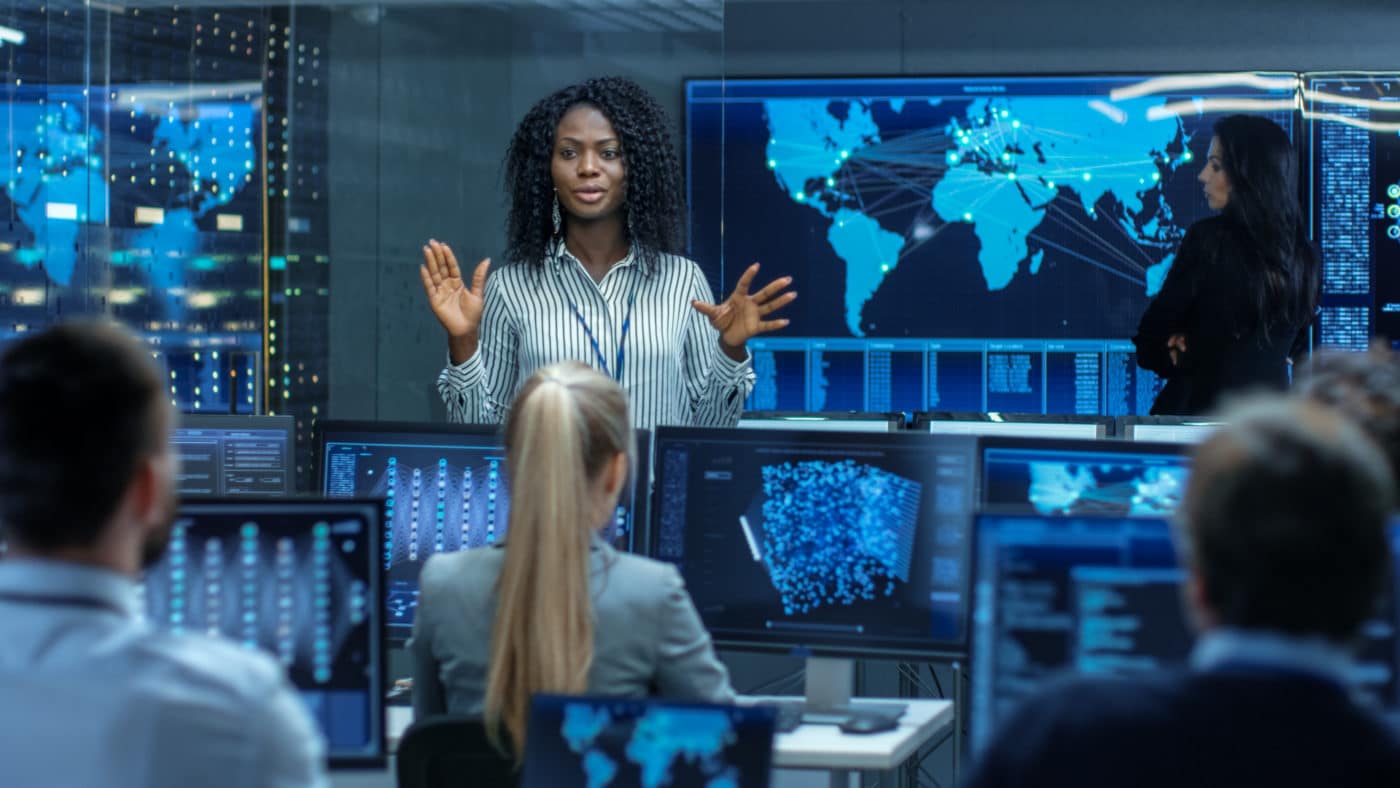 The next generation of national security professionals now have opportunities to gain firsthand perspectives of the business community, thanks in part to a new advisory program created through a partnership between by the Harvard Belfer Center's National Security Fellows program and BENS.
Since its inception in 1984, the NSF program has developed more than 700 top leaders in the United States military and intelligence community. This spring, the 2021 class of 18 postgraduate Fellows worked closely with 39 BENS advisors as they prepared their final research presentations.
Under the direction of Fellowship faculty chair Major General (ret.) Bill Rapp, selected BENS member volunteers from around the country worked with their assigned Fellows over the course of the 10-month academic term. The program traditionally culminates with the Fellows presenting their independent research to a review committee and then finally to members of the Joint Chiefs of Staff.
NSF Fellow Susan Davenport, National Reconnaissance Office, studied methods for improving data sharing, AI techniques, and joint governance among the intelligence community. "There is a significant amount of data sharing going on between the IC elements, but much of the time it's intentional, manual, and at periodicities that humans can handle. But the information world is moving faster than humans can keep up with, and because of that, we need to build a framework in the IC that is able to flex with those changes," Davenport said.
Among her key takeaways from working with her BENS advisors and other business leaders, Davenport learned that these challenges aren't unique to the IC and "Even the most technologically advanced companies are looking for ways to better solve these problems. Bottomline: the IC and private industry are more similar than I thought and that makes me feel good about where the IC is headed."
BENS member Roberta Sydney, who advised another NSF Fellow studying the Afghanistan war and its lessons for U.S. diplomacy and nation-building, said the experience makes her incredibly impressed with the next generation of national security leaders. "I am heartened by the level of intelligence, enthusiasm, commitment, loyalty for our country and its ideals and about how the U.S. is perceived at home and abroad. When I meet young people who are serving our country I am hopeful for our future and that's not always the case when I read the news."
Sydney encourages fellow BENS members to volunteer to serve as advisors in the future. "If you're looking for a way to make a contribution to our country but also to a person at a more junior level in their career, this is a way to learn more deeply about the work this person is doing. Compared to an event with 50 people, you don't get to make a deep connection with someone. You will contribute in a very meaningful way by advising an NSF Fellow. And they need us! They need our sounding board for developing their findings and presentations," Sydney said.
On the role of business leaders in national security today and in the future, Davenport said her experience with her BENS advisors (Chris James, John Avery, and Peter Chung) showed ways the private sector is responding to the needs of the intelligence community—and going forward, she sees business leaders providing greater influence to national security agencies and practitioners. "I see the IC looking to put industry at the table not only as a contributing member, but as an entity which is increasingly responsible for large portions of the national security footprint," Davenport said.
Davenport said the NSF fellowship as a whole was a career highlight. "I have enjoyed every homework assignment, speaking engagement, and opportunity to collaborate that the Fellowship has offered. This experience has been a dream-come-true for me and I will be a better intelligence professional and leader as a result."
Special thanks to Boston member Ed Kania for working behind the scenes to make the Harvard NSF partnership possible. BENS is exploring additional partnerships with military post-secondary educational institutions with the goal of expanding member participation opportunities in the future. For more information about the BENS/Belfer NSF initiative, please contact Michelle LeBretton, Boston Regional Director.
Leveraging U.S. Capital Markets to Support the Future Industrial Network
by Joseph L. Votel, Francis A. Finelli, and Samuel Cole War on the Rocks Editor's Note: This article is the result of a multi-track study at Business Executives for National…
Forging the Industrial Network the Nation Needs
Posted on June 24, 2022Op-ed by General Joseph Votel and James Hondo Geurts The National Interest The might of the U.S. industrial base over the last eighty years has served…
Receive BENS news and insights in your inbox.