The BENS Eisenhower Award honors the contributions of public servants and private citizens who safeguard our freedom as well as the balance, as President Eisenhower said in his prophetic farewell address over five decades ago, "between the actions of the moment and the national welfare of the future." Like the nation's 34th president,"we want democracy to survive for all generations to come."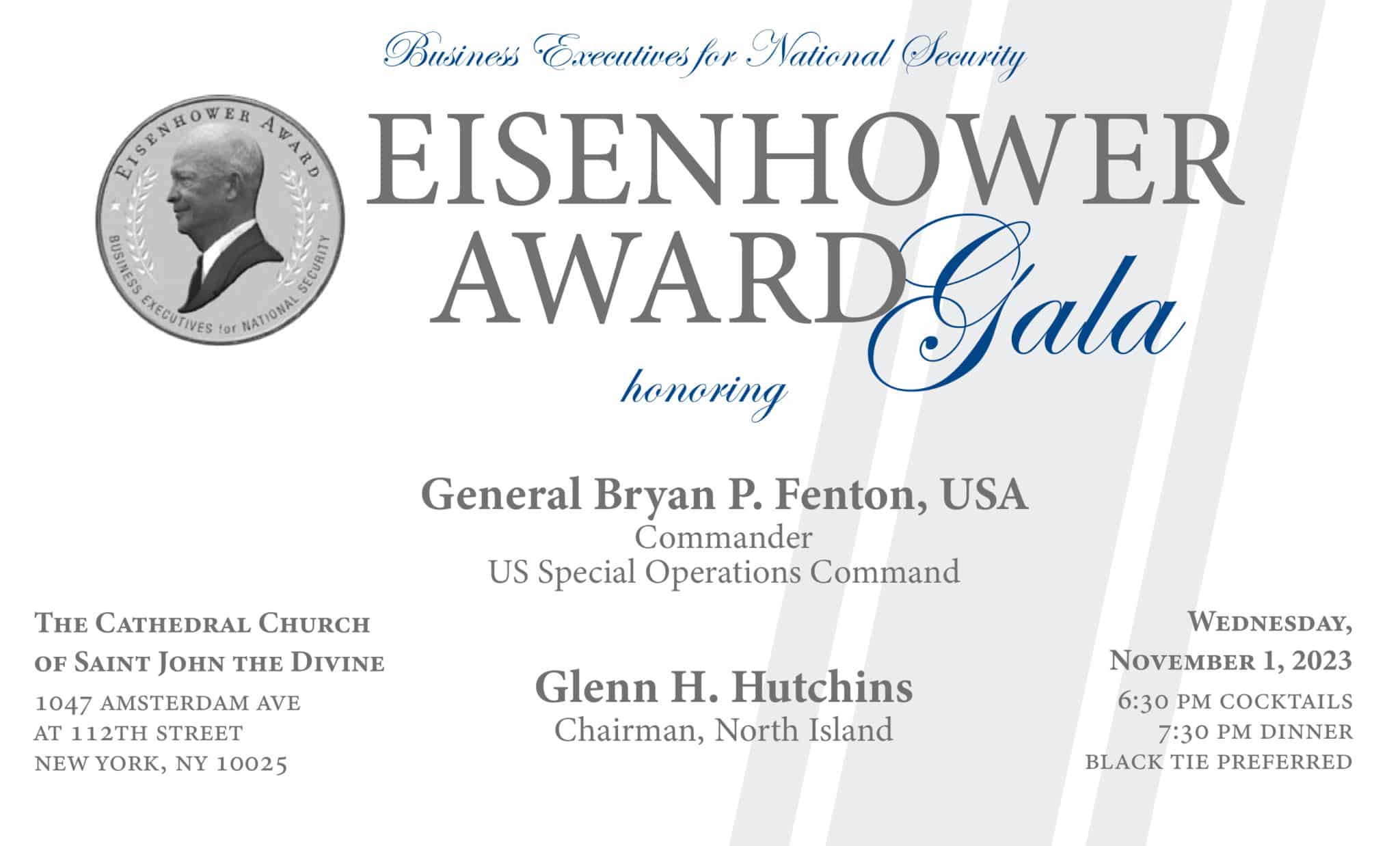 GENERAL BRYAN P. FENTON
Commander, United States Special Operations Command (USSOCOM)
General Bryan P. Fenton currently serves as the 13th Commander of U.S. Special Operations Command (USSOCOM) headquartered at MacDill Air Force Base, FL.
Prior to assuming command of USSOCOM, General Fenton served as the Commander of Joint Special Operations Command at Fort Bragg, NC.
General Fenton's other assignments as a general officer include:
Senior Military Assistant to the Secretary of Defense; Deputy Commander, Indo-Pacific Command; Commander, Special Operations Command Pacific; Assistant Chief of Staff G-3, U.S. Army Pacific; Deputy Commanding General – Operations, 25th Infantry Division; and Deputy Director of Strategy, Plans and, Policy, Department of the Army.
His Army and special operations assignments include: Director of Operations (J3), Joint Special Operations Command from 2012 to 2013; Brigade Command from 2010 to 2012; Squadron and Battalion Commands from 2005 to 2009, to include command at the John F. Kennedy Special Warfare Center and School at Fort Bragg, NC.
General Fenton has served in multiple geographic combatant commands including U.S. Southern Command; U.S. European Command; U.S. Africa Command; U.S. Central Command; and U.S. Indo-Pacific Command. He participated in Operations Joint Forge (Bosnia), Enduring Freedom (Afghanistan/Africa), Iraqi Freedom and Odyssey Dawn (Libya).
General Fenton's many military courses include: the U.S. Army Infantry Officer Basic and Advance Courses; Special Forces Qualification Course; Ranger School; Special Forces Language training (Spanish); U.S. Army Jump Master; and the Special Forces Military Free Fall School.
General Fenton holds a Bachelor's Degree in Business Administration from University of Notre Dame, and a Master's Degree from the U.S. Army Command and General Staff College. He attended Negotiation/Leadership Training at Harvard University and served as the 2009 Army Fellow at the Institute for the Study of Diplomacy, Walsh School of Foreign Service at Georgetown University.
General Fenton and his wife Dawn have two daughters.
GLENN H. HUTCHINS
Chairman, North Island
Glenn Hutchins is chairman of North Island and North Island Ventures, and co-founder of Silver Lake.
He is on the board of directors of AT&T and Banco Santander, co-chairman of the Brookings Institution, chair of CARE, vice chair of the Obama Foundation, and on the Executive Committee of the Boston Celtics Basketball Team (2008 NBA World Champions). He is a member of the Investment Board and the International Advisory Board of GIC Private Limited, the sovereign wealth fund of Singapore. He was previously chairman of the board of SunGard Data Systems, Inc. and Instinet, Inc. and a director of Nasdaq, Inc. and Virtu Financial.
Mr. Hutchins was a director and chair of Audit and Risk Committee of the Federal Reserve Bank of New York from 2011-2020. He served President Clinton in both the transition and the White House as a special advisor on economic and healthcare policy. He was also a director of the Harvard Management Company for a decade and co-chairman of Harvard University's capital campaign.
Mr. Hutchins and his wife, Debbie, founded the Hutchins Family Foundation which, among other projects, is supporting the construction of the Obama Presidential Center and has created the Hutchins Center for African & African American Research at Harvard University; the Hutchins Center on Fiscal and Monetary Policy at The Brookings Institution; the Hutchins Center for Social Justice at the Lawrenceville School; and the Chronic Fatigue Initiative, which conducted basic research into the cause of chronic fatigue syndrome.
Mr. Hutchins has published essays on economic and public policy in the Wall Street Journal, New York Times, Washington Post, Financial Times, Fortune and Foreign Affairs. He is also a Fellow of the American Academy of Arts and Sciences.
Mr. Hutchins holds an A.B. from Harvard College, an M.B.A. from Harvard Business School, and a J.D. from Harvard Law School.
Patricia C. Barron
Steve and Kathy Darnell
ForgePoint Capital Management, LLC
Mark J. Gerencser
Edwin M. Kania, Jr.
Paul Marcus, Marcus Partners
Ramon P. Marks
Mark and Sharon Newman
Gregory and Belinda Nixon
Thomas F. Stephenson
Acronis
Robert Akin, Akin Holdings
Amazon Web Services
Samuel A. Cole
Christopher W. Collins
Howard E. Cox, Jr.
GardaWorld Federal Services
G.S. Beckwith Gilbert
Kirkland & Ellis LLP
Brian Monks, Underwriters Laboratories, LLC
Roger S. Shedlin
Donald V. Smith
World Fuel Services
Beacon Global Strategies LLC
Cushman & Wakefield
Godspeed Capital Management LP
Andrew B. Hersh
Hillwood, A Perot Company
Sam Meek, Sandboxx
Sevan Multi-Site Solutions LLC
Evan Smith, Altana AI
Jim Smith, Rundle Ventures
WPP Government & Public Sector Practice
Barbaricum
Brown Advisory
Fiserv, Inc.
Krach Institute for Tech Diplomacy at Purdue
Brendan Marshall, Flow Inc.
Motorola Solutions
Moxion Power Co.
David P. Storch
American Council of Engineering Companies
Asset Management Company
Cargill
Harris Williams
Illumina
Johnson & Johnson
Daniel Kunze
The MITRE Corporation
Prime.AI
Jennifer N. Pritzker, Pritzker Military Foundation
Rampart Communications, Inc.
Steer PR
Scott Stevens, Grays Peak Capital
Torres Trade Law, PLLC
Jeffery Whitt, Whitt Golf LLC.
DCVC Management Co, LLC
Francis A. Finelli
George H. Knost
John A. Moberly
Raymond R. Oneglia
Kristi M. Rogers
Mark and Rosalind Shenkman
Wright Maritime Group