BUSINESS EXECUTIVES
FOR NATIONAL SECURITY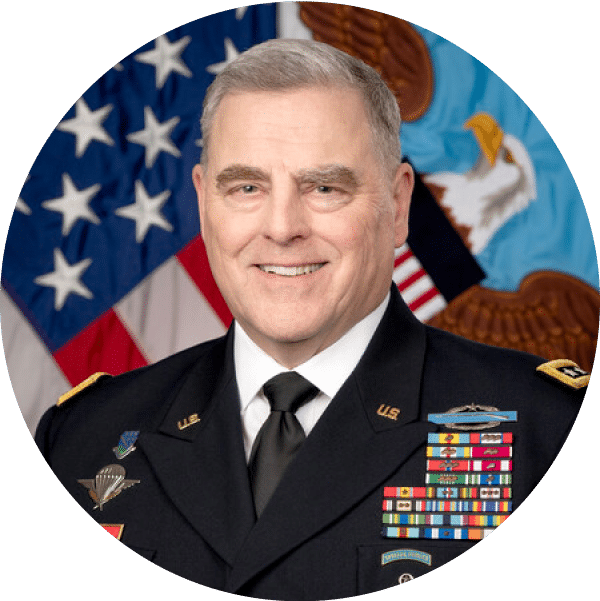 GENERAL MARK A. MILLEY, USA
CHAIRMAN OF THE JOINT CHEIF OF STAFF
BIOGRAPHY
GENERAL MARK A. WILLEY, USA
General Mark A. Milley is the 20th Chairman of the Joint Chiefs of Staff, the nation's highest-ranking military officer, and the principal military advisor to the President, Secretary of Defense, and National Security Council.
Prior to becoming Chairman on October 1, 2019, General Milley served as the 39th Chief of Staff of the U.S. Army.
A native of Massachusetts, General Milley graduated from Princeton University in 1980, where he received his commission from Army ROTC.
General Milley has had multiple command and staff positions in eight divisions and Special Forces throughout the last 42 years to include command of the 1st Battalion, 506th Infantry, 2nd Infantry Division; the 2nd Brigade, 10th Mountain Division; Deputy Commanding General, 101st Airborne Division (Air Assault); Commanding General, 10th Mountain Division; Commanding General, III Corps; and Commanding General, U.S. Army Forces Command.
While serving as the Commanding General, III Corps, General Milley deployed as the Commanding General, International Security Assistance Force Joint Command and Deputy Commanding General, U.S. Forces Afghanistan. General Milley's joint assignments also include the Joint Staff operations directorate and as a Military Assistant to the Secretary of Defense.
General Milley's operational deployments include the Multi-National Force and Observers, Sinai, Egypt; Operation Just Cause, Panama; Operation Uphold Democracy, Haiti; Operation Joint Endeavor, Bosnia-Herzegovina; Operation Iraqi Freedom, Iraq; and three tours during Operation Enduring Freedom, Afghanistan.
In addition to his bachelor's degree in political science from Princeton University, General Milley has a master's degree in international relations from Columbia University and one from the U.S. Naval War College in national security and strategic studies. He is also a graduate of the MIT Seminar XXI National Security Studies Program.
General Milley and his wife, Hollyanne, have been married for more than 38 years and have two children.

THURSDAY, JUNE 22, 2023
6:30 PM COCKTAILS | 7:30 PM DINNER
THE ROGAN REAGAN BUILDING AND INTERNATIONAL TRADE CENTER
1300 PENNSYLVANIA AVENUE, NW | WASHINGTON, DC
   BLACK TIE PREFERRED
   R.S.V.P VIA SENT CARD


The BENS Eisenhower Award honors the contributions of public servants and private citizens who safeguard our freedom as well as the balance, as President Eisenhower said in his prophetic farewell address over five decades ago, "between the actions of the moment and the national welfare of the future." Like the nation's 34th president,"we want democracy to survive for all generations to come."
Patricia C. Barron
Steve and Kathy Darnell
ForgePoint Capital Management, LLC
Mark J. Gerencser
Edwin M. Kania, Jr.
Paul Marcus, Marcus Partners
Ramon P. Marks
Mark and Sharon Newman
Gregory S. Nixon, Cerberus Capital Management
Thomas F. Stephenson
Amazon Web Services
Samuel A. Cole
Christopher W. Collins
Howard E. Cox, Jr.
GardaWorld Federal Services
G.S. Beckwith Gilbert
Brian Monks, Underwriters Laboratories, LLC
Roger S. Shedlin
Donald V. Smith
World Fuel Services
Robert A. Akin, Crisis Response
Beacon Global Strategies LLC
Andrew B. Hersh
Hillwood, A Perot Company
Evan Smith, Altana AI
Jim Smith, Rundle Ventures
WPP Government & Public Sector Practice
Fiserv, Inc.
Krach Institute for Tech Diplomacy at Purdue
Brendan Marshall, Flow Inc.
Moxion Power Co.
American Council of Engineering Companies
Asset Management Company
Harris Williams
Illumina
Johnson & Johnson
Daniel Kunze
Prime.AI
Pritzker Military Foundation
Steer PR
Torres Trade Law, PLLC
Jeffery Whitt, Whitt Golf LLC.