In Episode 19 of "5 Questions with the CEO," General Joe Votel talks with BENS member Latham Saddler about the ethos that guides Special Operators and their collective realization that the military doesn't have a monopoly on bravery, courage, and leadership. Hear more about serious topics such as today's security challenges and the private sector's role in national security – to lighter topics like Georgia football!
Today, Latham Saddler is a partner at Rule One Ventures, an Atlanta-based venture capital studio. In 2022 he ran for election to the U.S. representing Georgia. Saddler served as Chief of Staff at Synovus, a White House Fellow, and a Navy SEAL officer. He was the White House as Director of Intelligence Programs on the National Security Council, which included the development, approval, and oversight of U.S. intelligence policy and special operations.
Listen in and learn more about the extraordinary journeys of two men who have spent the better part of their lives serving our great Nation.
Bio
Latham Saddler has spent his career at the intersection of business and national security and is currently a partner at Rule One Ventures, an Atlanta-based venture capital studio.
Prior to running for US Senate, Saddler served as Chief of Staff at Synovus and was a member of the Executive Management Committee. He was also the President of the Synovus Center for Leadership Excellence. Saddler completed a White House Fellowship, where he served in the Office of American Innovation focusing on criminal justice reform, workforce development and artificial intelligence. He also served eight years as a Navy SEAL officer and is a fluent Persian-Farsi speaker.
During his active-duty career, he served in numerous leadership roles and was deployed to various locations in the Middle East. Saddler's final active-duty assignment was at the White House as Director of Intelligence Programs on the National Security Council, which included the development, approval, and oversight of U.S. intelligence policy and special operations.
Prior to joining the Navy, Saddler began his career with IBM Corporation selling hardware, software, and services to the financial sector in New York City. Saddler holds a BBA in Economics from the University of Georgia and a MS in International Relations from Georgia Tech. Latham, his wife, Melissa, and their two sons live in Atlanta.
Podcast Transcript
Latham Saddler
Business Executives for National Security welcomes you to five questions with the CEO, where BENS CEO, general Joe Votel, former commander of all United States Special Forces and forces in 21 countries in the Middle East and Asia, interviews top business leaders focusing on their stories, strategies, and real-world experiences. Here we want to know why they are passionate about sharing their talents and insights to assist senior leaders in the national security enterprise as they solve some of our nation's most pressing challenges and why they are part of a growing number of executives who understand that national security is everyone's business.
General Joe Votel
Good day to all of our listeners. Joining us today is Latham Saddler, partner at Rule One Ventures. Rule One was founded in 2019 and has built a center of excellence for entrepreneurs to have access to world-class experts and blueprints to help them launch B2B businesses. Since its founding in 2019, Rule One has successfully launched seven companies and counting. Latham hails from Atlanta, Georgia. Prior to Rule One Ventures, he served as the chief of staff at Synovus. He's served as a United States Navy Seal, a White House fellow director of Intelligence programs on the White House national Security Council, and was a 2021 Republican candidate for the US Senate from the state of Georgia. Welcome, Latham. We're glad to have you today.
Latham Saddler
Thank you, General, it's a, it's a privilege to be here.
General Joe Votel
So Latham, we're looking forward to a great discussion today, and I think where I'd actually like to start is where you and I actually have something in common. We both served as special operators in the armed forces, you and the United States Navy, and me in the Army, as an Army Ranger. And as I began my transition from military service to retirement and to the private sector, private and civil sector. I mean, it was a really interesting transition. I'm interested in talking a little bit about yours as well. You know, coming out of the SOF community, you really inculcate this idea of quiet professionalism and being what the nation needs us to be. And of course, like most people that have served in that community, I really hold it in high regard. It did so many things well, and it was so different than other experiences that I had that you know, I wasn't sure what my expectations would be when I got out. But, you know, one of the observations that I've seen just in my transition is that, you know, sometimes we think that the military has the monopoly on leadership and that leadership is always cloaked in the military uniform. But one of the things I've really learned by, especially by, you know, being exposed to and spending so much time with BENS members, that leadership comes in all forms and in fact, our members are great leaders and they think about the same things that people in uniform are doing. That, for me, was something I didn't necessarily expect, but it was something I kind of learned through my transition. I wonder if you've kind of found the same thing to be true, and what other aspects of your transition from active duty to the private sector stand out for you?
Latham Saddler
Yeah, I really have had a very similar experience. General, I, you know, for one, I'm sure you feel the same way. I mean, the privilege of wearing the cloth and getting to serve in the special operations community, it was the highest honor I could ever experience in my life. I mean, I loved every moment of my time in the SEAL teams. I tell everybody that, you know, that will always be my dream job. Candidly, if I had it still my way, and I know most of us feel this way, we'd all still be running and gunning and doing that job. My transition was really unique because I did 10 years total, eight years active duty, two years reserve, and I wanted to do it my whole life. But I transitioned out for pretty unique family reasons. I've got a blessing in my family. I have a twin brother named Ashby who has Down Syndrome, who is just a total stud. He's my hero. And he lives with my parents. And my dad came down with a pretty rare brain illness when I was in the teams. And at the time I was just myopic Seal team, seal team, seal teams. And then when my dad got sick it made me take inventory of a number of things, one of which was, you know, my folks aren't gonna be around forever to take care of him. And so my wife and I decided that whenever they can no longer do that, he'll come live with us. And I mean, the lifestyle in the community is, you know, you're gone quite a bit as you know. So knew I needed to make a career transition to prepare for that life transition. So I decided to do that after my assignment at the White House as Director of Intelligence programs. And so then I faced this, you know, Hey, what am I gonna do with the rest of my life? Like we all do. What I tried to do, and this is what I share with veterans who are, you know, going through their own transition out the service, is I reflected back on what are the things that I loved about the special operations community. And it was that I worked with world-class leaders and I got to experience leading in just amazing capacities towards a mission that matters. And so as I was assessing opportunities post-military, I did it through that lens. I wanted to work with great leaders, have the opportunity to lead and work on a mission that mattered. And so we were itching to come back home to Georgia, and I joined Synovis Bank as their chief of staff and parachuted into their executive team. It was an amazing experience, but I got there and I had had the same exact mindset that you just shared. I thought, you know, we have as you put it, a monopoly on leadership in the military. And that certainly was not the case. Kessel Stelling, who was our chairman and CEO at the time, was a world-class leader. Covid hit about five months later, so we navigated through that together as a bank, and Synovis is the largest bank headquartered out of the state of Georgia. And so we had, we faced a lot of difficult decisions but I was so impressed by his leadership throughout that time. And it was neat to be, you know, kind of his right-hand man as chief of staff going through that. So you're absolutely right. There's a lot of great leaders outside the military as well.
General Joe Votel
Thanks so much for sharing your story about your brother. I think in that we see a lot of the qualities that we would expect from a Navy seal or a member of the special operations training about taking care of your own and looking out for your teammates, whether they're your family members or they're your seal teammates. Really great story. You know, kind of sticking in the same vein, you know people in the military oftentimes have a way of kind of thinking about things like bravery and courage. And one of the other things I've observed here is that bravery and courage doesn't always come as a result of an armed enemy here. I mean, I think you see elements of bravery and courage every day in our private sector. I mean, launching a business requires bravery and courage, and it can be scary and it can be expensive. And even the most enthusiastic entrepreneurs can only do so much on kind of a shoestring budget before they hit a ceiling there, you know, so sufficient capital is obviously required to maintain a stable cash flow and, you know, see real growth in a business. And investors are usually pretty shrewd. And competition venture, your capital can be cutthroat out there. I've learned that. And funding can be scarce. It sounds like Rule One Center of Excellence is doing something unique in the venture space. Can you tell us a little bit about that center and maybe a little bit more about the company itself?
Latham Saddler
Absolutely. So how I kind of transitioned to Rule One as you noted in my bio in 2021 ran for United States Senate, unfortunately lost in the primary to my childhood football hero, Herschel Walker. That was a unique experience in and of itself, as you can imagine. And one of the blessings that came from the campaign is the business community down here in my state was really supportive of me. So post-campaign, I had a lot of folks reach out saying, Hey, don't make any moves yet till you talk to me. And one of those folks was Todd Erlick, who was also a former Seal, serial entrepreneur here in Atlanta. And he and his partner, who's a fellow veteran, F 18 guy Gary Buxton, had launched Rule One Ventures. And they offered to have me come on board as a partner. And I joined in October of last year, and it's been fantastic. But what makes Rule One really unique is that within the venture space, you know, you've got all these neat companies that are startups that are backed by venture, but what we do within the space is really elegant and unique. We focus on profitability over growth, and this was kind of a foreign concept several years ago. It's becoming a lot more valued and appreciated now. So we won't even look at an investment unless we think that we can plug it in the studio and make it profitable. And as you noted in my bio, we focus on B2B companies usually software as a service. And so we have the venture fund to invest in the companies parallel to the fund. We have our venture studio and General we have a world-class sales team, marketing team, software development team that our founders are able to plug into. So rather than just your traditional cutting a check and getting a quarterly report, I mean, we're literally in the trenches on a daily basis with our founders. We're all the way down to the granular level of helping them shape their pricing strategy. We're, we're helping them really stay focused on their P&l. They're housed right here in the studio with us since we're co-founders with them. So it really is a unique model within the venture space. And I think the studio model is gonna become more and more popular going forward as we go through this hard reset in the venture space.
General Joe Votel
I really appreciate you talking about that angle of it here. I I think sometimes we get the impression that venture capitalists are about throwing money at a whole bunch of things, hoping something lands here. But what you're describing is actually much different. And actually, I mean, it's different, but it's also very similar to, you know, kind of the background that you and I grew up in, where you do have to pay attention to the details and you are trying to set organizations and people up for success long term. So the more differences we find the more similarities we begin to find between leaders in all different areas. Here I am a little bit curious about the shift that you've gone through from being in the national security space to commercial banking at Synovus and now into Rule One and in the venture community. What do you believe the nexus is between the private sector and the national security enterprise? And why do you think that everybody needs to be involved in some aspect of national security?
Latham Saddler
It's a great question. Because it's a question and housed within it is an absolute truth, which is, we as a nation, I fundamentally believe no longer have the luxury of living in some sort of blissful ignorance to what happens outside of our borders. With the hyperconnected world we're in, we are impacted by a lot of things that go on overseas and vice versa. And if there's ever an example to underscore that, it's covid. I think it really shined a spotlight on how quickly something that happens on the other side of the world can impact our day to day lives here as Americans. And so that nexus of business and national security is, in my view, going to be at the heart of whether this is an American 21st century or whether this is gonna be a Chinese 21st century. Because as you and I both know, the Chinese model is just, I mean, very direct civil military fusion, and there are a lot of weaknesses to their model. But unfortunately, we're seeing some of the advantages here in the 21st century that their model has, and I would never want us to adopt their model, but there's things that we can learn there. But the reality is they stole that from us. I mean, you and I both know, and in the 20th century, the reason we won World War I, world War II, the Cold War is because of that nexus of business and national security. And so I think, I think one of the challenges we all face though, and that's why the mission of BENS is so important, is that we've been riding the wave as a nation for the past 80 years of the work that was done before us as the preeminent superpower. And that's not just a given that we get to wake up every day as the number one country on the planet that has to be earned, as you and I both know. And so I think there's a responsibility both on the government side and on the business side to work together and prioritize our nation's security. And that's what's gonna keep us the top the food chain, so to speak. I mean, I fundamentally believe that what's made our country great, has never been our government. It's the people. And the private sector has had a lot to do with that. And if we're gonna compete and win, we have to stay active and focused right at that nexus of business and national security. And again, that's why, why I love BENS
General Joe Votel
I think, as you know, this is an area where we're really trying to focus a lot of our program work and how the United States maintains its competitive edge and, you know, in a different environment. And this isn't the Cold War part two, this is a completely different animal that we're dealing with, with the rise of China and their very aggressive centralized approach to, you know, dominating supply lines and Belt and Road initiative and controlling resources and trying to rewrite some of the rules of the road here as we move forward. So there's an awful lot at stake and I think you really underscored that so well. So I'm really glad to have you as a member. On a lighter note, you're a graduate of both the University of Georgia and Georgia Tech. Can we assume that you remain a loyal Bulldogs fan? I mean, Georgia won the championship this year crushing TCU as everybody knows, but they lost a lot of players in 2022, including Stetson Bennett and Jalen Carter. What's the 2023 season look like here?
Latham Saddler
General, I love this question. You know, people joke around and they did during my campaign, you know, the right political answer would be to say that I'm for both, but that's not really the way I roll. So my answer is goDogs! Georgia Tech was a wonderful school to go to for graduate school. It really helped prepare me candidly for the military, cuz I've focused on international affairs and security studies and then won the Boren fellowship, which sent me to Tajikistan and became fluent in Farsi and Dari. So I owe a lot to Georgia Tech, but when it comes to football, it's Go Dogs all day. And I'm just hoping and praying that we can find a way to get the first ever three peat in college football and national championships.
General Joe Votel
Well, we're gonna check back with you in January and see how we did on that prediction there, Latham. I hope it comes true. You know, both of those schools, of course are national institutions for us for a variety of reasons. You talked a little bit about Georgia Tech, my oldest brother lived in Atlanta when I was growing up. And he came home to visit us in Minnesota. He brought a Georgia Tech sweatshirt with him, and of course I was a little boy at the time and I was so glad to have a sweatshirt with a bumblebee on it ,as I referred to it. And then I got quickly corrected on that when I referred to it as a bumblebee to some of our Atlanta members there. But anyways, great institutions and by the way, Georgia Tech is doing a hell of a lot of stuff in this area that we're talking about. And, you know, keeping business and science and technology at the forefront and we really rely on these great educational institutions out there to do a great job for us. So being a graduate of both of those, man, you're doubly blessed here, so that's fantastic. Having spent a lot of my military time in the state of Georgia, as my wife wise says, join the Army see Georgia is kind of her little moniker on that, but we really, really enjoyed it.
Latham Saddler
A lot of patriots, you know, in the business community across the country, obviously, but there's no shortage down here. And yeah, I mean, to your question about that nexus, I mean, we're not gonna win the competition with China if we don't win at that, at that nexus point. And that's what's so neat about BENS and that's the reason I ran for US Senate. The things I was exposed to in the situation room day one. It really puts things in perspective for me as a guy that, like I said, fluent Farsi speaker, Dari speaker, I've deployed to Iraq, Afghanistan, and then I get up there and saw what they're doing, the threat that they really are. And it justit almost made it seem relatively unimportant compared to the China threat, which was a weird feeling. And not to say, you know, the work we did over there is unimportant. It was critical. But with China, I just see it so differently. I mean, for the first time since our country's founding, we actually have an adversary that is capable of beating us if we don't get our act together.
General Joe Votel
Yeah, I mean for me it really put the discussion about resources in perspective for me when you really appreciate what we're dealing with here, how difficult it is to make decisions about resources. And of course, as the Socom commander, I was certainly in the mix there trying to make sure that we had everything we needed to support the folks on the ground there. And I think we did a good job with all of that. But yeah, without being educated on what the threat is, you'd also think everybody else was gonna be disloyal cuz they were making an argument against you for a why we, but then when you kind of sit back and think of it like, oh my God, we are really dealing with something here.
Latham Saddler
We certainly are, but I think that in the 20th century, everybody was in relative lockstep between the business community, the elected leaders of government the non-elected leaders of government and the populace. But all the business leaders and government leaders alike felt a responsibility to educate the populace how we could mobilize, compete, and win as a nation. And candidly, we could be doing a lot better job of that, I think as a country. And again, that's why BENS is, it's kind of a beacon of hope, so to speak,
General Joe Votel
Beacon of hope. That's gonna be our new motto at BENS, beacon of hope. Well Latham, thanks. Thanks so much for taking some time to talk to us today. I've really enjoyed the opportunity to talk with you and as I mentioned, we're so glad to have you with us here at BENS. We look forward to continuing to serve with you in the years ahead.
Latham Saddler
Likewise, General. I appreciate y'all having me. Thank you.
General Joe Votel
Thanks. Thanks very much and thanks everybody for joining us for another one of our podcasts. We look forward to joining you again the next time.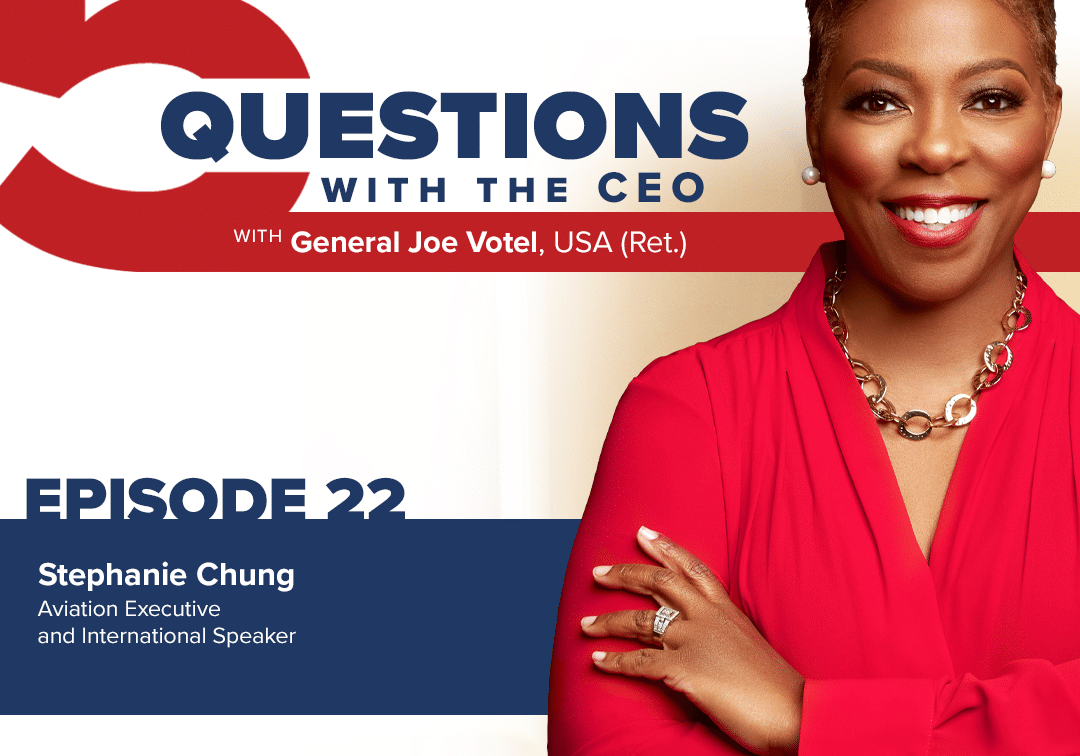 Episode 22: Stephanie Chung
In Episode 22 of "5 Questions with the CEO," General Joe Votel talks with trendsetting aviation executive and BENS member, Stephanie Chung. The first African-American president of an aviation brand,…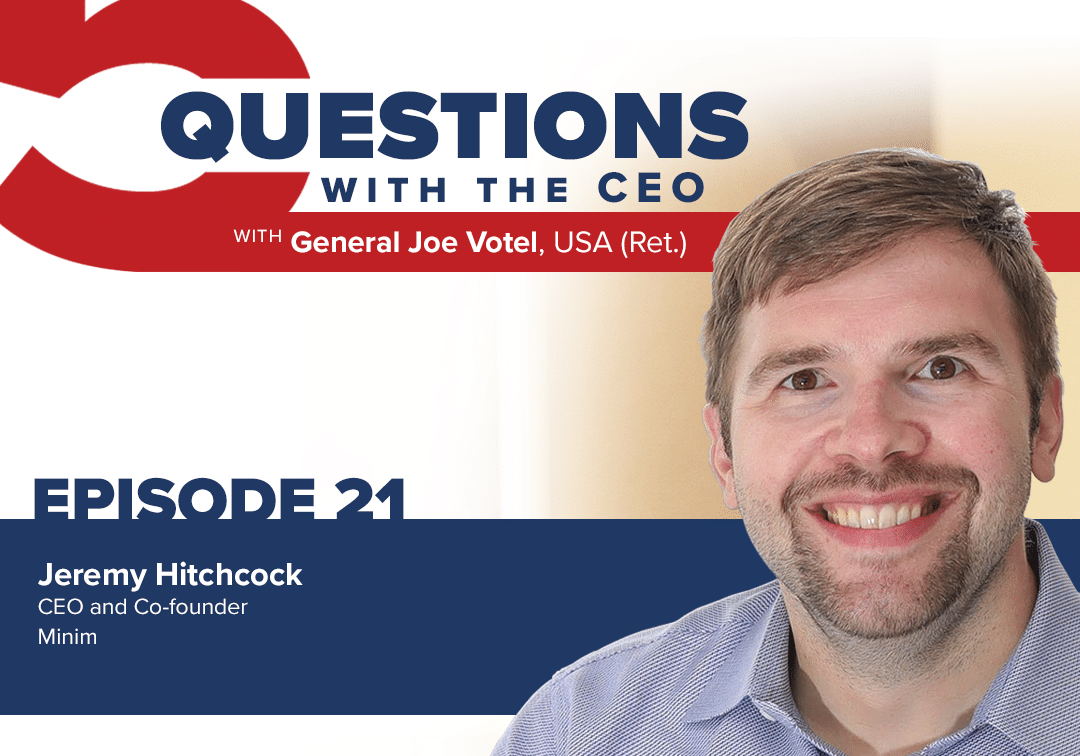 Episode 21: Jeremy Hitchcock
In Episode 21 of "5 Questions with the CEO," General Joe Votel talks with the wildly successful start-up genius, Jeremy Hitchcock, BENS member, and co-founder and Partner at New North…