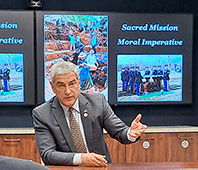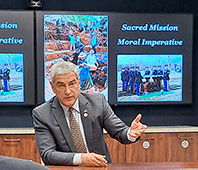 Defense POW/MIA Accounting Agency Director Kelly McKeague briefed members of the BENS Washington D.C. on the agency mission, challenges, opportunities and the importance of partnerships at a "Coffee Chat" on Tuesday May 16, 2023.
On May 10th, new member Major General Burke Whitman, USMC (Ret.) spoke with members of BENS Southeast Region on a number of topics including military service and his perspective on why the Service Branches are experiencing challenges related to recruiting.
Event Recaps – June 04, 2023
Recently, a group of BENS Members traveled to the FBI Academy at Quantico, Virginia for three full days of immersive education and training as part of the Bureau's Overseas Safety…
Receive BENS news and insights in your inbox.