BENS Conversation: Prevailing in an Age of Danger
July 20 @ 11:00 am - 12:00 pm EDT
July 20
@
11:00 am
–
12:00 pm
America/DC
Join us for a discussion with Former New York Times correspondent Thom Shanker and defense expert Andrew Hoehn on their recently released the book titled: Age of Danger: Keeping America Safe in an Era of New Superpowers, New Weapons, and New Threats. The book looks at the challenges the United States faces from Russia and China – and from emerging threats like pandemics, AI-enabled weapons and cybersecurity.
While competition with China and Russia remains the dominant factor driving US security strategy, the United States must now also contend with a myriad of new and emerging military and nonmilitary challenges including drones, cybersecurity, pandemics, and climate change. Yet, the US defense ecosystem, particularly the Pentagon and intelligence community, was built for the Cold War and has been focused on terrorism. The US national security apparatus must adopt an agile and less military-centric approach to address today's complex, varied, and dynamic challenges. This discussion will explore how the US intelligence community and Department of Defense can adapt to better detect, deter, and defeat emerging security threats. Chapter by chapter, the book lays out the risks that need to be anticipated—adversaries like Russia and China, but also mounting threats from germs, storms, and new technologies. The book is based on dozens of interviews Hoehn and Shanker conducted with top national security leaders, as well as their own experiences inside the Pentagon. Hoehn, RAND's senior vice president for research and analysis, previously served as deputy assistant secretary of defense for strategy. Shanker, now the director of the Project for Media and National Security, is a former national security and foreign policy editor at The New York Times. He coauthored the New York Times bestseller Counterstrike: The Untold Story of America's Secret Campaign Against Al Qaeda.
Related Events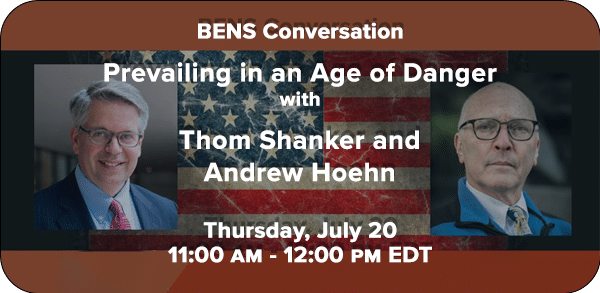 Discussion w/MG Jeff Schloesser
CANCELLED Due to a change in MG Schoesser's schedule, this event has been cancelled. Please contact Matthew Elias with any questions. Luncheon discussion with MG Jeff Schloesser, USA (Ret.), of Bell on the Army's Long Range Assault Aircraft program and the future of rotary wing military aircraft.
Members Only – Lunch w/General Ray
Please join BENS for a luncheon conversation with incoming BENS President and CEO, General Timothy M. Ray, USAF (Ret.) on Thursday, September 28th at the Harvard Club. This will be an opportunity for NY Metro members to meet with and hear directly from General Ray. General Ray retired from the United States Air Force in 2021 after 35+ years of service. His last tour of duty was as Commander, Air Force Global Strike Command, where he led the nation's Air…
Fall BENS Dining Out
Please join us for our annual BENS SE Fall BENS Dining Out (BDO) for an evening of great food and fellowship at Il Gialo Osteria & Bar (5920 Roswell Road, Suite B118, Sandy Springs, GA, 30328). You and your spouse/significant other are cordially invited to this highly anticipated event! Since space is limited, please RSVP as soon as possible. If you have any questions or issues, please let me know. We all look forward to seeing you and your spouse/significant…