BENS Conversation with Lieutenant General Robert "Pat" White, Commanding General of the III Armored Corps and Fort Hood, Texas
November 22, 2021 @ 3:30 pm - 4:30 pm EST

November 22, 2021

@

3:30 pm

–

4:30 pm
EST

Join us for a conversation with Lieutenant General Robert "Pat" White, Commanding General of the III Armored Corps and Fort Hood, Texas. LTG White will discuss discuss a variety of issues relating to Soldiers from across the corps, as well as how leaders can mentor and guide them in the right direction. Operation Phantom Action, an initiative that began in the fall of 2020 meant to improve readiness by focusing on cohesive teams. It evolved into the Operation People First, a Soldier-focused initiative created to rebuild trust through action, which is designed to affect permanent change across the force.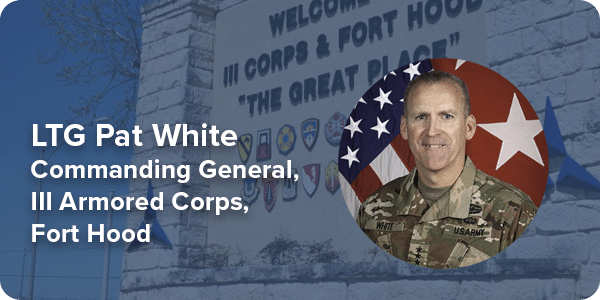 Virtual Discussion with Dr. Jeffrey Cole on "Economic Futures…Winners and Losers"
BENS hosts Jeffrey Cole, Director & CEO, Center for the Digital Future for a discussion on "Economic Futures … Winners and Losers."
Luncheon Discussion on U.S. Military Strength with Dakota Wood
BENS TX Houston BENS luncheon discussion on U.S. Military Strength with Dakota Wood, Senior Research Fellow, Defense Programs, Center for National Defense, Davis Institute for National Security and Foreign Policy.
BENS Southeast Visit to Joint Special Operations University, Tampa, FL
BENS members are invited to join us on Wednesday, June 29th as BENS Southeast visits Joint Special Operations University (JSOU) located at MacDill Air Force Base in Tampa, FL from 12:45 pm to approximately 4:30 pm. This visit will focus on teaching our group about JSOU, what they do, and how they do it. We…