BENS Southeast Luncheon and Discussion with VADM Mary Jackson, USN (RET.)
September 22 @ 11:30 am - 1:30 pm EDT

September 22

@

11:30 am

–

1:30 pm
EDT

Mary will join BENS for lunch and a discussion and Q&A on "The Navy's Shore Enterprise, Leadership, and Risk." After a storied career, Mary has had many different experiences which led to her success as a senior naval officer and she has graciously offered to share some of those insights with us!
Related Events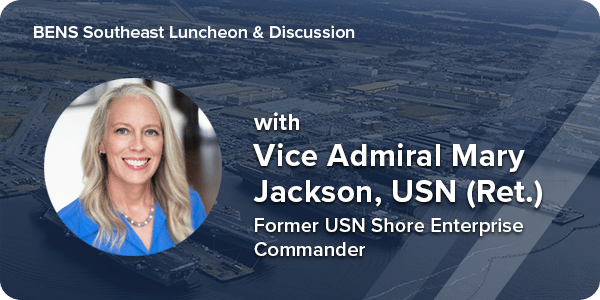 BENS Southeast Luncheon and Discussion with Tampa FBI SAC David Walker
SAC David Walker is a lawyer turned FBI special agent. He joined the FBI in 1998 and has been posted around the globe. He has worked in embassies, various field offices but has stayed focused on counter terrorism, to include time on the esteemed FBI Hostage Rescue Team (HRT). You can find SAC Walker's FULL BIOGRAPHY HERE. Some of the topics SAC Walker will discuss are a brief history of his experiences in the FBI, current state of affairs in…
MEMBERS ONLY: Commander's Series Conversation with Admiral Linda L. Fagan, 27th Commandant of the U.S. Coast Guard
A luncheon discussion with Admiral Linda L. Fagan, 27th Commandant of the U.S. Coast Guard, becoming the first Female Service Chief in June.  ADM Fagan will discuss her goals to transform the Coast Guard, which include deploying innovative recruiting practices, revolutionizing talent management policies, and further focus on investments in technology and critical infrastructure. Participation is by invitation only to select BENS Members. Contact Jennifer Giglio for information.
MEMBERS ONLY: Virtual Conversation with Lieutenant General Christopher T. Donahue, The Last American Soldier To Leave Afghanistan
The last soldier to leave Afghanistan and among the first in Poland amid the Ukraine crisis, now serves as the Commander of the Army's XVIII Airborne Corps. Lt. Gen. Donahue, leads more than 90,000 troops in four divisions, including the 82nd Airborne, and numerous brigades. The corps is the Army's strategic response force that "rapidly deploys ready Army forces anywhere in the world by air, land or sea, entering forcibly, if necessary, to shape, deter, fight and win." At Fort…