BENS Virtual Discussion with Jonathan Pelson, author of Wireless Wars: China's Dangerous Domination of 5G and How We're Fighting Back
September 27 @ 11:00 am - 12:00 pm EDT
September 27
@
11:00 am
–
12:00 pm
EDT
Join us for a virtual discussion with Jonathan Pelson, author of Wireless Wars: China's Dangerous Domination of 5G and How We're Fighting Back. As the world rolls out transformational 5G services, it has become increasingly clear that China may be able to disrupt—or even access—the wireless networks that carry our medical, financial, and even military communications.
In Wireless Wars, Jon Pelson explains how America invented cellular technology, taught China how to make the gear, and then handed them the market. Pelson reveals China's successful program to purchase the support of the world's leading political, business, and military figures in their effort to control rival nations' networks. He also describes the work by counterintelligence and cybersecurity experts to prevent China from closing the trap.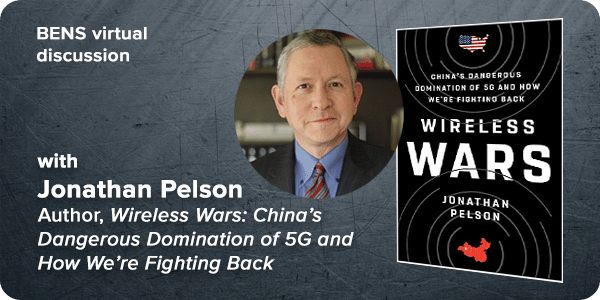 Luncheon discussion of the southern border with Todd Bensman
Luncheon discussion on the US Southern Border and America's Covert Border War w/Todd Bensman, author of the new book "America's Covert Border War: The Untold Story of the Nation's Battle to Prevent Jihadist Infiltration"
BENS 2023 Look Ahead w/Tom Cosentino
Please join BENS for a luncheon conversation with BENS' Chief Operating Officer, Brigadier General Tom Cosentino, USA (Ret.), at the Union League Club on Thursday, December 1st. Tom will provide a current activities update and look ahead to BENS priorities for 2023. He looks forward to a wide-ranging discussion on topics such as forging the Future Industrial Network and developing the national security workforce, as well as hearing directly from you.