Breakfast Conversation with BENS CEO, General Timothy Ray
October 18 @ 8:30 am - 9:45 am EDT
October 18
@
8:30 am
–
9:45 am
America/DC
Please join BENS for a breakfast conversation with BENS President and CEO, General Timothy M. Ray, USAF (Ret.) on Wednesday, October 18 at the BENS National Office. This will be an opportunity for DC Metro members to meet with and hear directly from General Ray.
General Tim Ray, USAF (Ret.) is a highly decorated, retired United States Air Force Four-Star General officer who most recently served as Commander of Air Force Global Strike Command. Concurrently, he served as the Commander of Air Forces Strategic-Air, United States Strategic Command, focusing on strategy and operational excellence. He served as a member of the Air Force's "Corporate Board" team of senior leaders, shaping future force structure, modernization, and budget priorities for the United States Air Force. General Ray is widely recognized for developing, fielding, operating, and sustaining security capabilities as a result of his vast experience and insights across multiple disciplines: technology development and acquisition, joint and combined military operations from the tactical to the strategic, executive leadership, civil-military relationships, and international security.
In his last position in the Air Force, General Ray led the nation's Air Force Strategic Strike forces in daily operations in support of national objectives globally. He directed modernization efforts for command and control, aircraft, intercontinental ballistic missiles (ICBM), infrastructure, and support equipment. His leadership and vision were instrumental to the organization's thriving and improvement of its no-fail mission during the COVID pandemic and shift to strategic competition with near-peer adversaries. See Gen. Ray's full bio.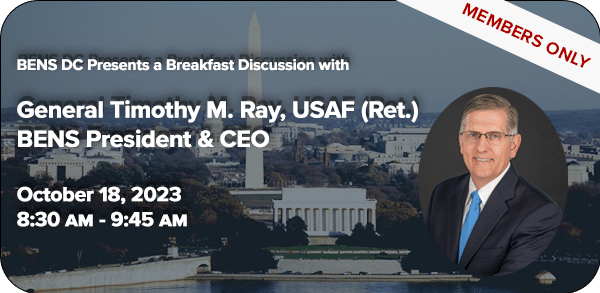 SE Holiday Social
Please join us for a festive evening with friends, fellowship, great food, and an open bar. Please bring your significant other and a prospective member. Space is limited, so please RSVP as soon as possible to reserve your spot! We are pleased to offer this event at no cost thanks to the generosity of a few BENS Members.
Visit to Lockheed Martin Aero Plant
Visit to Lockheed Martin Aero Plant to tour the production line and receive briefings on the F-35. For additional information, please contact Matthew Elias (MElias@bens.org).