Breakfast Discussion w/VADM William Houston
November 8, 2022 @ 8:30 am - 9:30 am EST
November 8, 2022
@
8:30 am
–
9:30 am
EST
Please join BENS President & CEO, retired Army General Joe Votel for an important conversation over breakfast with Vice Admiral William Houston, Commander, Submarine Forces, Commander, Submarine Force Atlantic, Commander, Task Force 114, Commander, Allied Submarine Command.
Vice Adm. Houston is a native of Buffalo, New York and a graduate of the University of Notre Dame with a degree in Electrical Engineering. He was commissioned via the Navy Reserve Officer Training Corps (NROTC) program. He also holds a Master's of Business Administration from the College of William and Mary's Mason School of Business.
His sea tours include division officer assignments on USS Phoenix (SSN 702), engineer officer onboard USS Hampton (SSN 767), and executive officer onboard USS Tennessee (SSBN 734)(B). He commanded USS Hampton (SSN 767) in San Diego, California and was commodore of Submarine Squadron 20 in Kings Bay, Georgia. His full bio is available here.
703-969-1185
AVolp@bens.org
Related Events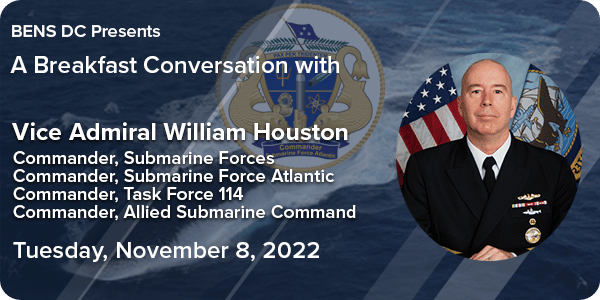 Discussion on FY24 Defense Budget with Seamus P. Daniels, CSIS
Please join BENS for a conversation on Wednesday, June 14th as we host Seamus P. Daniels, Fellow, Defense Budget Analysis at the Center for Strategic and International Security. Seamus will discuss his perspective on the FY 2024 defense budget, DoD's strategic priorities in the FY24 request, and long-term challenges and opportunities in the defense budget. Seamus P. Daniels is a fellow for Defense Budget Analysis in the International Security Program at the Center for Strategic and International Studies (CSIS), where…
Eisenhower Award Dinner
Please join us in Washington for our annual Eisenhower Award Dinner honoring General Mark A. Milley, USA, Chairman of the Joint Chiefs of Staff. 6:30 pm Cocktails | 7:30 pm Dinner Black Tie Preferred
Visit to the Shepherd Center
Please join us for a unique opportunity to visit the Shepherd Center in Atlanta. We will be introduced to the services offered at the Shepherd Center, get a brief tour of the facility, as well as discuss the SHARE Military Initiative. All RSVPs will be treated on a first-come, first-served basis. Shepherd Center, located in Atlanta, Georgia, is a private, not-for-profit hospital specializing in medical treatment, research, and rehabilitation for people with spinal cord injury, brain injury, multiple sclerosis, spine…