Breakfast Discussion with Rear Admiral Michael Johnston, USCG
May 11, 2022 @ 8:30 am - 9:30 am EDT
May 11, 2022
@
8:30 am
–
9:30 am
EDT
Please join BENS on Wednesday, May 11th as we host an exclusive meet and greet with the Ninth District Commander (D9) of the U.S. Coast Guard, Rear Admiral Michael Johnston. With special thanks to BENS member host, Bill Kunkler of CC Industries, we will hear from RADM Johnston over a private breakfast at 8am at the Chicago Club.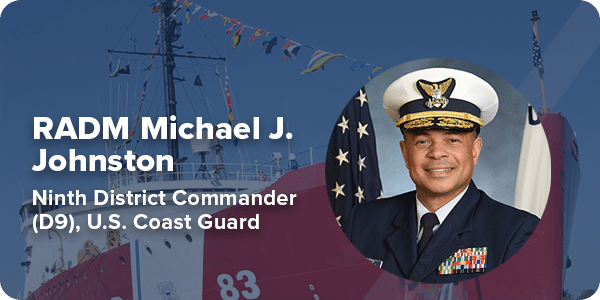 Lunch Discussion on the AUKUS Agreement – San Antonio
Join us for a luncheon discussion on the AUKUS Agreement with former US Naval Attache to Australia, Captain Matthew Ort, USN (Ret.). AUKUS is an acronym for the trilateral security pact between Australia, the United Kingdom, and the United States, announced on 15 September 2021 for the Indo-Pacific region. Under the pact, the US and the UK will assist Australia in acquiring nuclear-powered submarines. The pact also includes cooperation on advanced cyber mechanisms, artificial intelligence and autonomy, quantum technologies, undersea capabilities, hypersonic and counter-hypersonic, electronic warfare, innovation, and information sharing. The pact will focus on military…
Lunch with General David Petraeus
Luncheon discussion on the evolution of warfare with GEN David Petraeus USA (Ret.)
SE Holiday Social
Please join us for a festive evening with friends, fellowship, great food, and an open bar. Please bring your significant other and a prospective member. Space is limited, so please RSVP as soon as possible to reserve your spot! We are pleased to offer this event at no cost thanks to the generosity of a few BENS Members.