Challenges and Opportunities in the Defense Budget, with Todd Harrison
April 28, 2022 @ 11:00 am - 12:00 pm EDT
April 28, 2022
@
11:00 am
–
12:00 pm
EDT
Join BENS for a conversation on Thursday, April 28 as we host Todd Harrison, Director, Defense Budget Analysis and the Aerospace Security Project at the Center for Strategic and International Security. Todd will discuss his perspective on the FY 2023 defense budget, DoD's strategic priorities in the FY23 request, and long-term challenges and opportunities in the defense budget.

Todd Harrison is the director of Defense Budget Analysis and director of the Aerospace Security Project at CSIS. As a senior fellow in the International Security Program, he leads the Center's efforts to provide in-depth, nonpartisan research and analysis of defense funding, space security, and air power issues. He has authored publications on trends in the defense budget, military space systems, threats to space systems, civil space exploration, defense acquisitions, military compensation and readiness, and military force structure, among other topics. He teaches classes on military space systems and the defense budget at the Johns Hopkins School of Advanced International Studies.

Mr. Harrison joined CSIS from the Center for Strategic and Budgetary Assessments, where he was a senior fellow for defense budget studies. He previously worked at Booz Allen Hamilton, where he consulted for the U.S. Air Force on satellite communications systems and supported a variety of other clients evaluating the performance of acquisition programs. Prior to Booz Allen, he worked for AeroAstro Inc. developing advanced space technologies and as a management consultant at Diamond Cluster International. Mr. Harrison served as a captain in the U.S. Air Force Reserves. He is a graduate of the Massachusetts Institute of Technology with both a B.S. and an M.S. in aeronautics and astronautics.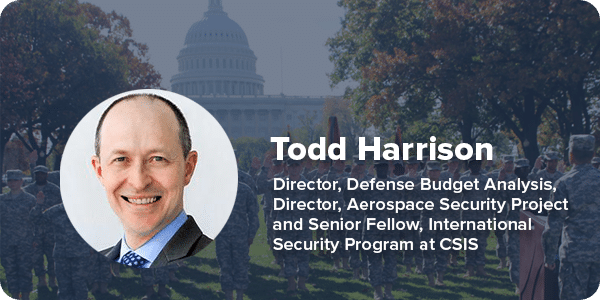 Atlanta FBI Visit w/SAC Keri Farley
Join us for a small Southeast regional trip to visit our friends at the Atlanta FBI. We are honored and excited for the FBI team to host us and for the new FBI Special Agent in Charge (SAC), SAC Keri Farley to speak with our group on Wednesday, March 29, 2023 from 11:30 am – 1:30 pm at the Atlanta FBI Headquarters. SAC Farley will discuss an overall threat landscape for the FBI and the Atlanta area. SAC Farley joined…
Discussion with Lt. Gen. David Bellon, USMC
Please join BENS for a luncheon conversation with Lt. Gen. David Bellon, Commander, Marine Forces Reserve and Marine Forces South, on Thursday, March 30th. We will discuss the U.S. Marine Corps' dramatic modernization under the Commandant's Force Design 2030. As part of Force Design, Gen. David H. Berger, Commandant of the Marine Corps, called for sweeping changes "to meet the principal challenges facing the institution: effectively playing our role as the nation's naval expeditionary force-in-readiness, while simultaneously modernizing." Lt. Gen.…
Dinner w/Major General Ed Thomas
BENS Chicago members will host Major General Ed Thomas, Commander, USAF Recruiting Services, for a plated dinner at the Chicago Club. The Discussion objective is USAF talent recruitment and retention. For attendance and registration information, please contact Natalie Callone at NCallone@bens.org.