CNRE Call to Action Report Release
February 3, 2021 @ 11:00 am - 12:00 pm EST

February 3, 2021

@

11:00 am

–

12:00 pm
EST

Business Executives for National Security (BENS) will publicly release the final report of its Commission on the National Response Enterprise, entitled "A Call to Action for Creating a Coordinated National Response to all Crises," during a virtual event on Wednesday, February 3, 11:00 a.m. to 12:00 p.m. EST. General Joseph Votel, BENS' President and CEO, will host a discussion on the Call to Action with Commission Co-Chairs Jeh Johnson, former U.S. Secretary for Homeland Security; Alex Gorsky, Chairman and CEO of Johnson & Johnson; and Mark Gerencser, former managing director of Booz Allen Hamilton and BENS Chairman of the Board. The Call to Action identifies the roadblocks that prevent effective action during a prolonged crisis – like the COVID-19 pandemic – and provides actionable recommendations to improve public, private, and civic coordination, collaboration, and communication to achieve an effective emergency national response. The Commission began its work in June 2020 and its membership is comprised of former senior military leaders, CEOs from some of the most respected American corporations, a former cabinet secretary, a Nobel laureate, former White House Homeland Security advisors, members of Congress, and state and local leaders.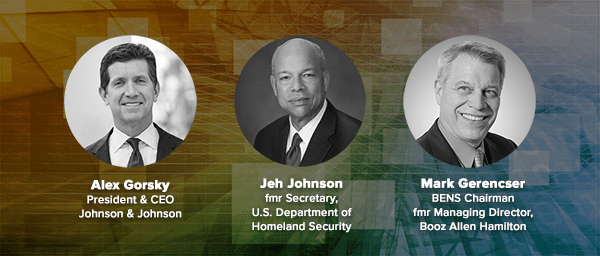 Luncheon Discussion on U.S. Military Strength with Dakota Wood
BENS TX Houston BENS luncheon discussion on U.S. Military Strength with Dakota Wood, Senior Research Fellow, Defense Programs, Center for National Defense, Davis Institute for National Security and Foreign Policy.
BENS Southeast Visit to Joint Special Operations University, Tampa, FL
BENS members are invited to join us on Wednesday, June 29th as BENS Southeast visits Joint Special Operations University (JSOU) located at MacDill Air Force Base in Tampa, FL from 12:45 pm to approximately 4:30 pm. This visit will focus on teaching our group about JSOU, what they do, and how they do it. We…
Luncheon Discussion on U.S. Military Strength with Dakota Wood
Please join us at Club Giraud on Thursday, June 30th for a conversation on U.S. Military Strength with Dakota Wood, Senior Research Fellow, Defense Programs, Center for National Defense, Davis Institute for National Security and Foreign Policy. Mr. Wood is the originator and editor of The Heritage Foundation's Index of U.S. Military Strength. He will…