CNRE Call to Action Report Release
February 3, 2021 @ 11:00 am - 12:00 pm EST
February 3, 2021
@
11:00 am
–
12:00 pm
EST
Business Executives for National Security (BENS) will publicly release the final report of its Commission on the National Response Enterprise, entitled "A Call to Action for Creating a Coordinated National Response to all Crises," during a virtual event on Wednesday, February 3, 11:00 a.m. to 12:00 p.m. EST. General Joseph Votel, BENS' President and CEO, will host a discussion on the Call to Action with Commission Co-Chairs Jeh Johnson, former U.S. Secretary for Homeland Security; Alex Gorsky, Chairman and CEO of Johnson & Johnson; and Mark Gerencser, former managing director of Booz Allen Hamilton and BENS Chairman of the Board. The Call to Action identifies the roadblocks that prevent effective action during a prolonged crisis – like the COVID-19 pandemic – and provides actionable recommendations to improve public, private, and civic coordination, collaboration, and communication to achieve an effective emergency national response. The Commission began its work in June 2020 and its membership is comprised of former senior military leaders, CEOs from some of the most respected American corporations, a former cabinet secretary, a Nobel laureate, former White House Homeland Security advisors, members of Congress, and state and local leaders.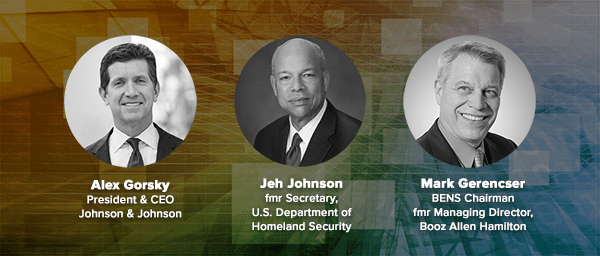 Atlanta FBI Visit w/SAC Keri Farley
Join us for a small Southeast regional trip to visit our friends at the Atlanta FBI. We are honored and excited for the FBI team to host us and for the new FBI Special Agent in Charge (SAC), SAC Keri Farley to speak with our group on Wednesday, March 29, 2023 from 11:30 am – 1:30 pm at the Atlanta FBI Headquarters. SAC Farley will discuss an overall threat landscape for the FBI and the Atlanta area. SAC Farley joined…
Discussion with Lt. Gen. David Bellon, USMC
Please join BENS for a luncheon conversation with Lt. Gen. David Bellon, Commander, Marine Forces Reserve and Marine Forces South, on Thursday, March 30th. We will discuss the U.S. Marine Corps' dramatic modernization under the Commandant's Force Design 2030. As part of Force Design, Gen. David H. Berger, Commandant of the Marine Corps, called for sweeping changes "to meet the principal challenges facing the institution: effectively playing our role as the nation's naval expeditionary force-in-readiness, while simultaneously modernizing." Lt. Gen.…
Dinner w/Major General Ed Thomas
BENS Chicago members will host Major General Ed Thomas, Commander, USAF Recruiting Services, for a plated dinner at the Chicago Club. The Discussion objective is USAF talent recruitment and retention. For attendance and registration information, please contact Natalie Callone at NCallone@bens.org.