Coffee Discussion on the Defense POW/MIA Accounting Agency
May 16 @ 8:30 am - 9:30 am EDT
May 16
@
8:30 am
–
9:30 am
America/DC
From the revolution to present day, our nation has witnessed the dedication of those who were willing to risk all for the sake of freedom. As we near Memorial Day, a time set aside for our nation to collectively pause and remember all those who have given their lives in service.
Please join BENS members and guests at the BENS National Office on Tuesday, May 16, for a for a coffee discussion on the Defense POW/MIA Accounting Agency with Kelly McKeague, Director of the Agency. The Defense POW/MIA Accounting Agency (DPAA) is an agency within the U.S. Department of Defense whose mission is to recover American military personnel listed as prisoners of war or missing in action from designated past conflicts, from countries around the world. The DPAA was formed on January 30, 2015, as the result of a merger of the Joint POW/MIA Accounting Command, the Defense Prisoner of War/Missing Personnel Office, and parts of the United States Air Force's Life Sciences Lab. Scientific laboratories are maintained at Offutt Air Force Base, Nebraska, and Joint Base Pearl Harbor–Hickam, Hawaii. Currently, DPAA is in a cooperative agreement with The Henry M. Jackson Foundation for the Advancement of Military Medicine, Inc., which provides operational support during worldwide recovery operations.
To register, please see the Registration section below.
703-969-1185
AVolp@bens.org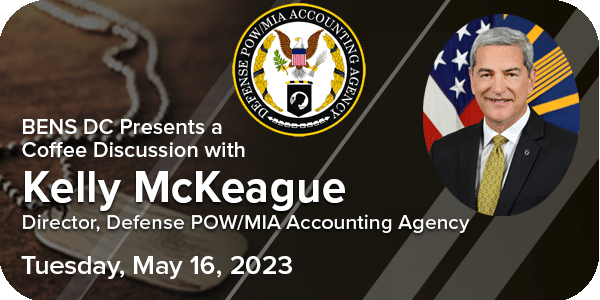 SE Holiday Social
Please join us for a festive evening with friends, fellowship, great food, and an open bar. Please bring your significant other and a prospective member. Space is limited, so please RSVP as soon as possible to reserve your spot! We are pleased to offer this event at no cost thanks to the generosity of a few BENS Members.
Visit to Lockheed Martin Aero Plant
Visit to Lockheed Martin Aero Plant to tour the production line and receive briefings on the F-35. For additional information, please contact Matthew Elias (MElias@bens.org).