BENS presents a coffee discussion on: Communications Opportunities and Challenges for the Intelligence Community
February 23 @ 8:30 am - 9:45 am EST
February 23
@
8:30 am
–
9:45 am
America/Washington, DC
Please join fellow DC Member Sam Meek, CEO & Co-Founder, Sandboxx for a coffee/breakfast discussion Thursday, February 23 with Assistant DNI, Strategic Communications, Timothy Barrett. In this discussion, we will focus on strategic communication and information challenges for the intelligence community.
Timothy Barrett transitioned from uniformed to career, civilian intelligence service in 2009, moving from the Navy to the National Counterterrorism Center. He served in a wide variety of positions, including as a Presidential Daily Briefer, before enjoying a year as a National Security Fellow at the Harvard Kennedy School.
After Harvard, Timothy pivoted to public affairs, blending his education as a graduate of Northwestern's Medill School of Journalism with his professional experiences as an intelligence officer, first for NCTC, then ODNI, then CIA. After three wonderful years as CIA's Press Secretary, serving under Directors Gina Haspel and Bill Burns, Timothy returned to ODNI to lead Intelligence Community communications.
703-969-1185
AVolp@bens.org
Related Events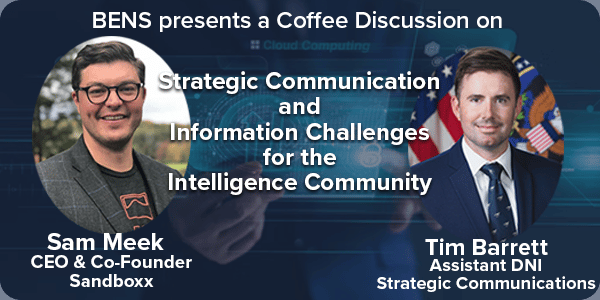 MEMBERS ONLY – Lunch with General Ray
Members only introductory luncheon with new BENS President and CEO, General Timothy M. Ray, USAF (Ret.)
Discussion w/Vice Admiral Kevin Lunday
Please join BENS for a luncheon conversation with Vice Adm. Kevin E. Lunday, US Coast Guard Atlantic Area Commander. We will discuss the Coast Guard's strategic priorities and how they play out daily in the Atlantic Area, which oversees the transit of 58% of imports and 82% of total US maritime commerce through its ports. Vice Adm. Lunday is responsible for directing Coast Guard forces and operations across all mission areas within a geographic region spanning from the Rocky Mountains to…