BENS presents a coffee discussion on: Communications Opportunities and Challenges for the Intelligence Community
February 23 @ 8:30 am - 9:45 am EST
February 23
@
8:30 am
–
9:45 am
America/Washington, DC
Please join fellow DC Member Sam Meek, CEO & Co-Founder, Sandboxx for a coffee/breakfast discussion Thursday, February 23 with Assistant DNI, Strategic Communications, Timothy Barrett. In this discussion, we will focus on strategic communication and information challenges for the intelligence community.
Timothy Barrett transitioned from uniformed to career, civilian intelligence service in 2009, moving from the Navy to the National Counterterrorism Center. He served in a wide variety of positions, including as a Presidential Daily Briefer, before enjoying a year as a National Security Fellow at the Harvard Kennedy School.
After Harvard, Timothy pivoted to public affairs, blending his education as a graduate of Northwestern's Medill School of Journalism with his professional experiences as an intelligence officer, first for NCTC, then ODNI, then CIA. After three wonderful years as CIA's Press Secretary, serving under Directors Gina Haspel and Bill Burns, Timothy returned to ODNI to lead Intelligence Community communications.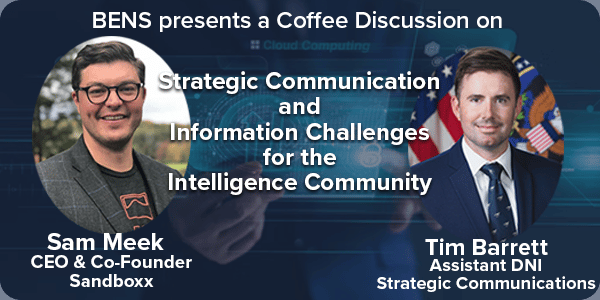 Lunch Discussion with Kelly McKeague
Please join us for a luncheon discussion on the Defense POW/MIA Accounting Agency with Kelly McKeague, Director of the Agency. The Defense POW/MIA Accounting Agency (DPAA) is an agency within the U.S. Department of Defense whose mission is to recover American military personnel listed as prisoners of war or missing in action from designated past conflicts, from countries around the world. The DPAA was formed on January 30, 2015, as the result of a merger of the Joint POW/MIA Accounting Command, the…
Spring BENS Dining Out
Please join us for a BENS Southeast dinner event of good friends, good conversations, and good food. You and your spouse/significant other are cordially invited to the 2023 BENS SE: BENS Dining Out. We are proud to be able to continue this SE tradition with this much appreciated and anticipated event. This event will take place on March 23, 2023 at the Blue Ridge Grill in Atlanta.
Atlanta FBI Visit w/SAC Keri Farley
Join us for a small Southeast regional trip to visit our friends at the Atlanta FBI. We are honored and excited for the FBI team to host us and for the new FBI Special Agent in Charge (SAC), SAC Keri Farley to speak with our group on Wednesday, March 29, 2023 from 11:30 am – 1:30 pm at the Atlanta FBI Headquarters. SAC Farley will discuss an overall threat landscape for the FBI and the Atlanta area. SAC Farley joined…