Debrief: Davos 2022 World Economic Forum w/Don Harkleroad
August 18 @ 11:30 am - 2:00 pm EDT

August 18

@

11:30 am

–

2:00 pm
EDT

BENS SE Member Don Harkleroad will once again provide us with a debrief from this years Davos World Economic Forum which took place 22-26 May 2022. This debrief will occur Thursday, August 18, 2022 from 11:30 am – 2:00 pm at the Buckhead Club (3344 Peachtree Rd NE, Suite 2600, Atlanta, GA 30326). In an effort to provide this information to as many people as possible, we will also live stream the presentation portion of this event for those not able to attend in person but I hope you will join us at the Buckhead Club if at all possible for what promises to be a great event. Some of the topics Don will discuss are future of nations, Ukraine collateral effects, energy and food disruptions, climate mania and much more.
$35
In person (Free Virtual)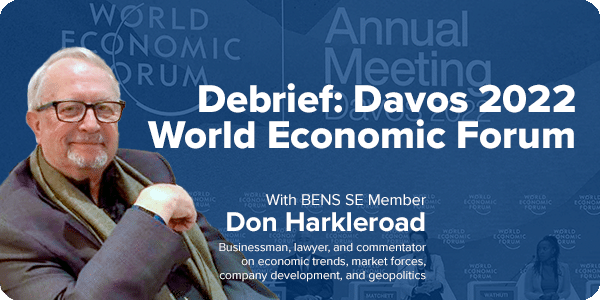 Houston Luncheon with General John Raymond, USSF
BENS Texas hosts General John W. "Jay" Raymond, Chief of Space Operations, United States Space Force, for luncheon discussion on the Space Force.
A Conversation with LtGen Gregg Olson, Director, U.S. Marine Corps
BENS DC hosts Lieutenant General Gregg P. Olson, Director of the Marine Corps on August 24th. LtGen Olson grew up in Cumberland, RI, Montreal, Quebec, and Westlake Village, CA, and graduated from the United States Naval Academy in 1985. An infantry officer, LtGen Olson has an additional Military Occupational Specialty as an embarkation officer. LtGen…
Dinner Discussion with Leaders of the U.S. Air Force Research Lab
BENS Chicago hosts a small dinner discussion with U.S. Air Force guests, Mr. Timothy Sakulich, USAF Research Lab Executive Director, and Brigadier General (Dr.) John Andrus, USAF, 711 Human Performance Wing Commander on Thursday, August 25th at 6:00pm. The evening's conversation will highlight U.S. force modernization through warfighting technologies in air, space and cyberspace. With…