December 8th: Virtual Conversation with BENS COO, Brigadier General (Ret.) Tom Cosentino, USA
December 8, 2021 @ 1:00 am - 1:30 am EST

December 8, 2021

@

1:00 am

–

1:30 am
EST

We are excited to virtually host BENS SVP for Strategy and Engagement, Debbie McCarthy who will walk us through all of the events and engagements with senior leaders and government partners that have taken place in 2021. Debbie will provide a good overview of what your BENS organization has been focusing on this year. Along with Debbie, we will also have BENS VP for Policy/Projects, Catherine Sendak and VP for Emerging Challenges, James Whitaker. Catherine and James will provide a similar update focusing on the policy/projects and council work BENS has been focusing on in 2021. Both teams will also provide a look ahead to 2022 and discuss what the priorities will be, things to keep an eye out for potential participation as well as events we are excited about as we move into BENS 40th Anniversary year!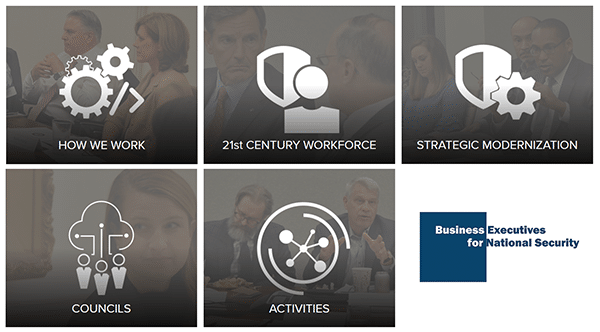 Dinner Discussion on Modernizing the Army's Industrial Base with General Daly, Materiel Command
Please join BENS for dinner and a discussion with Gen. Edward M. Daly, USA, Commanding General of Army Materiel Command, at Steak 48 on July 21 for a conversation on the Department's largest modernization project in more than four decades. The Army is investing $16 billion over 15 years in its organic industrial base, bolstering…
US Military Strength and Readiness with Dakota Wood
BENS DC hosts Mr. Dakota Wood, editor of The Heritage Foundation's Index of U.S. Military Strength, for a discussion of the military's current state and its ability to perform its mission in today's complex security environment.
Virtual Discussion with Jen Easterly, Director, Cybersecurity and Infrastructure Security Agency (CISA)
Cybersecurity and Infrastructure Security Agency (CISA) Director Jen Easterly will join BENS members for a virtual discussion on the importance of preparing for an imminent cyberattack and how more frequent cyberattacks should be considered the "new normal" for U.S. companies and individuals.