Dinner and Discussion with Gen David Petraeus
August 2 @ 5:30 pm - 8:30 pm EDT

August 2

@

5:30 pm

–

8:30 pm
EDT

Join us for dinner and to watch a virtual discussion between Gen. David Petraeus and Dr. Mike Vickers, presented by the OSS Society's "Oh So Social" Conversation Series, followed by a discussion among ourselves. You do not want to miss the discussion between these two legendary leaders, both of which have spoken to BENS separately in the past.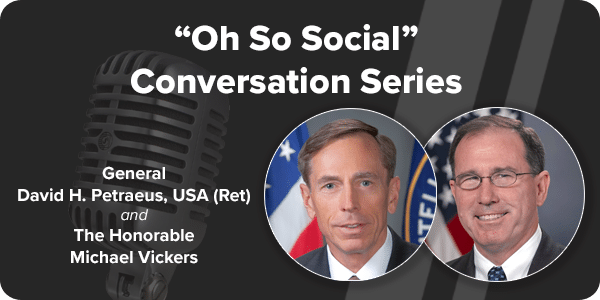 Debrief: Davos 2022 World Economic Forum w/Don Harkleroad
BENS SE Member Don Harkleroad will once again provide us with a debrief from this years Davos World Economic Forum which took place 22-26 May 2022. This debrief will occur Thursday, August 18, 2022 from 11:30 am – 2:00 pm at the Buckhead Club (3344 Peachtree Rd NE, Suite 2600, Atlanta, GA 30326). In an…
Houston Luncheon with General John Raymond, USSF
BENS Texas hosts General John W. "Jay" Raymond, Chief of Space Operations, United States Space Force, for luncheon discussion on the Space Force.
A Conversation with LtGen Gregg Olson, Director, U.S. Marine Corps
BENS DC hosts Lieutenant General Gregg P. Olson, Director of the Marine Corps on August 24th. LtGen Olson grew up in Cumberland, RI, Montreal, Quebec, and Westlake Village, CA, and graduated from the United States Naval Academy in 1985. An infantry officer, LtGen Olson has an additional Military Occupational Specialty as an embarkation officer. LtGen…