Discussion on Export Controls with Justin Muzinich
October 25 @ 12:00 pm - 2:00 pm EDT
October 25
@
12:00 pm
–
2:00 pm
EDT
THIS EVENT HAS BEEN CANCELLED.
As stated in a recent Jamestown Foundation commentary, export controls played a critical role in helping the West prevail over the Soviet Union and its allies in the Cold War. The United States now faces a different national security challenge in the People's Republic of China. This problem is far more complex, given China's comprehensive integration into the global economy.
We will discuss how a consensus on export controls must be built today among the United States and our European and Asian allies and partners, so certain dual-use technologies strengthen our national security.
Justin Muzinich is the Chief Executive Officer of Muzinich & Co. He served as US Deputy Secretary of the Treasury from 2018-2021, with broad responsibility for US economic policy. While Deputy Secretary, Justin was also responsible for the roles of Under Secretary for Terrorism and Financial Intelligence and Under Secretary for Domestic Finance, managing the divisions of the Treasury that oversee national security policy, financial policy, and the financing of the US Government. Justin has also served as a Distinguished Fellow at the Council on Foreign Relations and a Senior Fellow at Harvard Kennedy School. Justin began his career in the mergers and acquisitions group at Morgan Stanley.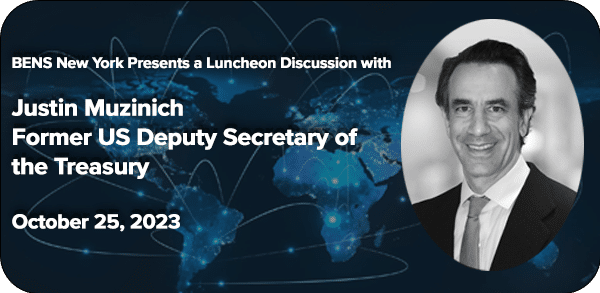 Visit to Lockheed Martin Aero Plant
Visit to Lockheed Martin Aero Plant to tour the production line and receive briefings on the F-35. For additional information, please contact Matthew Elias (MElias@bens.org).
Luncheon discussion on Vladimir Putin and Russia – Dallas
Luncheon discussion on Vladimir Putin and Russia with former Moscow Station Chief Glenn Corn.