Discussion on FY24 Defense Budget with Seamus P. Daniels, CSIS
July 12 @ 10:30 am - 11:30 am EDT
July 12
@
10:30 am
–
11:30 am
America/DC
Please join BENS for a conversation on Wednesday, July 12th as we host Seamus P. Daniels, Fellow, Defense Budget Analysis at the Center for Strategic and International Security. Seamus will discuss his perspective on the FY 2024 defense budget, DoD's strategic priorities in the FY24 request, and long-term challenges and opportunities in the defense budget.
Seamus P. Daniels is a fellow for Defense Budget Analysis in the International Security Program at the Center for Strategic and International Studies (CSIS), where he researches issues related to defense funding, force structure, and military readiness. He has authored publications on trends in the overall defense budget, the legislative process surrounding defense appropriations, defense strategy and force structure, Navy readiness funding, and NATO burden sharing. Prior to joining CSIS, Mr. Daniels worked for Government Executive Media Group. He holds an AB from Princeton University's School of Public and International Affairs with minors in Near Eastern studies and Arabic language and culture.
This event is available both in-person at the BENS National Office in Washington, DC as well as virtually via Microsoft Teams.
703-969-1185
AVolp@bens.org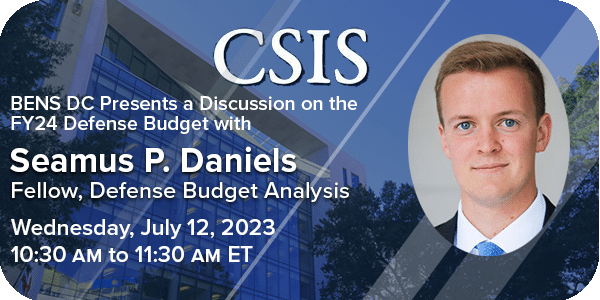 Lunch Discussion on the AUKUS Agreement – San Antonio
Join us for a luncheon discussion on the AUKUS Agreement with former US Naval Attache to Australia, Captain Matthew Ort, USN (Ret.). AUKUS is an acronym for the trilateral security pact between Australia, the United Kingdom, and the United States, announced on 15 September 2021 for the Indo-Pacific region. Under the pact, the US and the UK will assist Australia in acquiring nuclear-powered submarines. The pact also includes cooperation on advanced cyber mechanisms, artificial intelligence and autonomy, quantum technologies, undersea capabilities, hypersonic and counter-hypersonic, electronic warfare, innovation, and information sharing. The pact will focus on military…
Lunch with General David Petraeus
Luncheon discussion on the evolution of warfare with GEN David Petraeus USA (Ret.)
SE Holiday Social
Please join us for a festive evening with friends, fellowship, great food, and an open bar. Please bring your significant other and a prospective member. Space is limited, so please RSVP as soon as possible to reserve your spot! We are pleased to offer this event at no cost thanks to the generosity of a few BENS Members.