Discussion on Information Warfare
February 23 @ 11:45 am - 1:30 pm CST
February 23
@
11:45 am
–
1:30 pm
America/CST
Please join BENS members and guests for a luncheon discussion on information warfare with Brian Murphy, former Department of Homeland Security Acting Under Secretary for the Office of Intelligence and Analysis and currently Vice President for Strategic Operations at Logically. 
The US Air Force Air College defines Information Warfare as any action to Deny, Exploit, Corrupt or Destroy the enemy's information and its functions and to protect yourself against those actions and exploiting our own military information functions. Brian Murphy will discuss information warfare, how an enemy might use it strategically to weaken an opponent and tactically to prepare the battlefield, and provide real life examples of how it is being used geopolitically around the world today.
Since September 2021, Brian Murphy has been the Vice President of Strategic Operations for Logically. In his role, he assisted in developing and implementing advanced Machine Learning and Artificial Intelligence solutions to find harmful threat content at scale and across languages and platforms on social media. Before joining Logically, Mr. Murphy served as both the Principal and Acting Under Security for Intelligence for the Department of Homeland Security (2018 to 2021). In these roles, he served as the Chief Intelligence Officer, Chief Information Sharing Officer, and Chief Counterintelligence Officer for the department. In this capacity, he provided intelligence leading to more than 250K personnel. Mr. Murphy led intelligence analysis, data integration, and program management for 22 component organizations within the department. Mr. Murphy was a special agent with the Federal Bureau of Investigation (FBI) for over 20 years. While there, he performed duties from street agent up to roles as a national manager. While in the senior executive service at the FBI, he served as the primary point of contact for federal, counterintelligence, and counterterrorism programs. During his career, he served in New York, Afghanistan, Algeria, Tunisia, Niger, Pittsburgh, Chicago, and Washington, DC. Murphy began his federal service in 1994 as an officer in the United States Marine Corps. He would later return to this role in 2004 after he was recalled to active duty for service in Iraq. Mr. Murphy's academic credentials include a PhD from Georgetown University; Master of Arts in Islamic Studies from Columbia University; Bachelor of Arts in Government College of William and Mary. He is a certified U.S. Intel Community Intelligence Officer and Joint Duty Certified. Mr. Murphy's book Russian Disinformation in America and the U.S. Government's Ethical Obligations to Respond is scheduled for release in the Spring of 2023.
Related Events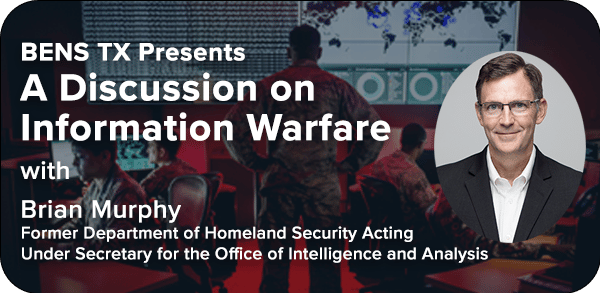 Lunch Discussion on the AUKUS Agreement – San Antonio
Join us for a luncheon discussion on the AUKUS Agreement with former US Naval Attache to Australia, Captain Matthew Ort, USN (Ret.). AUKUS is an acronym for the trilateral security pact between Australia, the United Kingdom, and the United States, announced on 15 September 2021 for the Indo-Pacific region. Under the pact, the US and the UK will assist Australia in acquiring nuclear-powered submarines. The pact also includes cooperation on advanced cyber mechanisms, artificial intelligence and autonomy, quantum technologies, undersea capabilities, hypersonic and counter-hypersonic, electronic warfare, innovation, and information sharing. The pact will focus on military…
Lunch with General David Petraeus
Luncheon discussion on the evolution of warfare with GEN David Petraeus USA (Ret.)
SE Holiday Social
Please join us for a festive evening with friends, fellowship, great food, and an open bar. Please bring your significant other and a prospective member. Space is limited, so please RSVP as soon as possible to reserve your spot! We are pleased to offer this event at no cost thanks to the generosity of a few BENS Members.