2034: A Novel of Next World War, with authors ADM James Stavridis and Elliot Ackerman
July 1, 2021 @ 1:00 pm - 2:00 pm EDT
July 1, 2021
@
1:00 pm
–
2:00 pm
EDT
BENS South East is pleased to present a Virtual Discussion with Admiral James Stavridis and Mr. Elliot Ackerman co-authors of the new book, 2034: A Novel of the Next World War.
This geopolitical thriller imagines a naval clash between the United States and China in the South China Sea, and the path from there to a global confrontation. Featured as a six-part series in Wired Magazine, 2034 is written as a disturbingly plausible work of fiction. The novel takes us inside the minds of American, Chinese, Iranian, Russian, and Indian officials, as a series of miscalculations on all sides lead the world into an intensifying international storm. We will explore how the United States and China can prevent strategic competition from spiraling into conflict and how a work of fiction can inspire innovative approaches to Sino-American relations.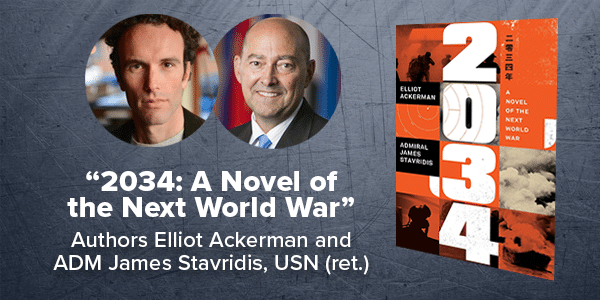 Luncheon discussion of the southern border with Todd Bensman
Luncheon discussion on the US Southern Border and America's Covert Border War w/Todd Bensman, author of the new book "America's Covert Border War: The Untold Story of the Nation's Battle to Prevent Jihadist Infiltration"
BENS 2023 Look Ahead w/Tom Cosentino
Please join BENS for a luncheon conversation with BENS' Chief Operating Officer, Brigadier General Tom Cosentino, USA (Ret.), at the Union League Club on Thursday, December 1st. Tom will provide a current activities update and look ahead to BENS priorities for 2023. He looks forward to a wide-ranging discussion on topics such as forging the Future Industrial Network and developing the national security workforce, as well as hearing directly from you.