Ambassador John J. Sullivan, US Ambassador to the Russian Federation
May 6, 2021 @ 10:00 am - 11:00 am EDT
May 6, 2021
@
10:00 am
–
11:00 am
EDT
A conversation with Ambassador John J. Sullivan, the U.S. Ambassador to the Russian Federation and former Deputy Secretary of State. We will discuss the highlights and low points of his tenure as Ambassador, the future U.S.-Russian relationship, Russia's troop buildup along the Ukraine border, as well as the recent expansion of sanctions against Russia. The sanctions include restrictions on certain transactions involving Russian sovereign debt, as well as the designation of 46 individuals and entities implicated in Russia's annexation of Crimea, foreign election interference and the SolarWinds cyberattack. Prior to joining the Department of State, Ambassador Sullivan was a BENS member and partner in Mayer Brown LLP, serving as the co-chair of the law firm's national security practice. From 2010 to 2016, he was the Chairman of the U.S.-Iraq Business Dialogue, a governmental advisory committee on United States economic relations with Iraq.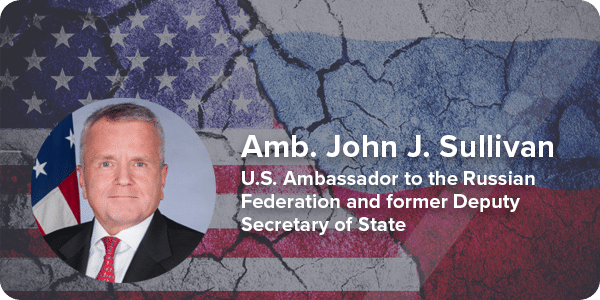 Luncheon discussion of the southern border with Todd Bensman
Luncheon discussion on the US Southern Border and America's Covert Border War w/Todd Bensman, author of the new book "America's Covert Border War: The Untold Story of the Nation's Battle to Prevent Jihadist Infiltration"
BENS 2023 Look Ahead w/Tom Cosentino
Please join BENS for a luncheon conversation with BENS' Chief Operating Officer, Brigadier General Tom Cosentino, USA (Ret.), at the Union League Club on Thursday, December 1st. Tom will provide a current activities update and look ahead to BENS priorities for 2023. He looks forward to a wide-ranging discussion on topics such as forging the Future Industrial Network and developing the national security workforce, as well as hearing directly from you.