Ambassador John J. Sullivan, US Ambassador to the Russian Federation
May 6, 2021 @ 10:00 am - 11:00 am EDT
May 6, 2021
@
10:00 am
–
11:00 am
EDT
A conversation with Ambassador John J. Sullivan, the U.S. Ambassador to the Russian Federation and former Deputy Secretary of State. We will discuss the highlights and low points of his tenure as Ambassador, the future U.S.-Russian relationship, Russia's troop buildup along the Ukraine border, as well as the recent expansion of sanctions against Russia. The sanctions include restrictions on certain transactions involving Russian sovereign debt, as well as the designation of 46 individuals and entities implicated in Russia's annexation of Crimea, foreign election interference and the SolarWinds cyberattack. Prior to joining the Department of State, Ambassador Sullivan was a BENS member and partner in Mayer Brown LLP, serving as the co-chair of the law firm's national security practice. From 2010 to 2016, he was the Chairman of the U.S.-Iraq Business Dialogue, a governmental advisory committee on United States economic relations with Iraq.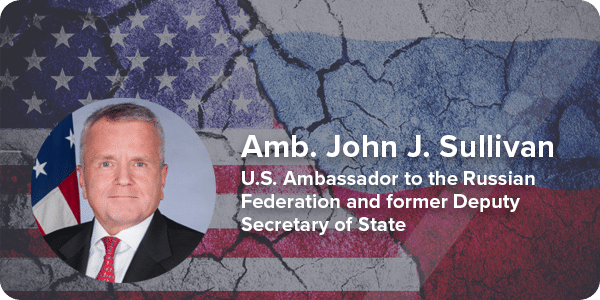 Discussion w/MG Jeff Schloesser
CANCELLED Due to a change in MG Schoesser's schedule, this event has been cancelled. Please contact Matthew Elias with any questions. Luncheon discussion with MG Jeff Schloesser, USA (Ret.), of Bell on the Army's Long Range Assault Aircraft program and the future of rotary wing military aircraft.
Members Only – Lunch w/General Ray
Please join BENS for a luncheon conversation with incoming BENS President and CEO, General Timothy M. Ray, USAF (Ret.) on Thursday, September 28th at the Harvard Club. This will be an opportunity for NY Metro members to meet with and hear directly from General Ray. General Ray retired from the United States Air Force in 2021 after 35+ years of service. His last tour of duty was as Commander, Air Force Global Strike Command, where he led the nation's Air…
Fall BENS Dining Out
Please join us for our annual BENS SE Fall BENS Dining Out (BDO) for an evening of great food and fellowship at Il Gialo Osteria & Bar (5920 Roswell Road, Suite B118, Sandy Springs, GA, 30328). You and your spouse/significant other are cordially invited to this highly anticipated event! Since space is limited, please RSVP as soon as possible. If you have any questions or issues, please let me know. We all look forward to seeing you and your spouse/significant…