Discussion w/General McChrystal
October 12 @ 8:30 am - 10:00 am CDT
October 12
@
8:30 am
–
10:00 am
America/Chicago
Join us for a special engagement with General (Ret.) Stanley A. McChrystal, CEO and Chairman of McChrystal Group. GEN McChrystal founded McChrystal Group in January 2011, where he continues to advise senior executives at multinational corporations on navigating complex change and building stronger teams.
A retired four-star general, GEN McChrystal is the former commander of US and International Security Assistance Forces (ISAF) Afghanistan and the former commander of the nation's premier military counter-terrorism force, Joint Special Operations Command (JSOC). He is best known for developing and implementing a comprehensive counterinsurgency strategy in Afghanistan, and for creating a cohesive counter-terrorism organization that revolutionized the interagency operating culture. Throughout his military career, Stan commanded a number of elite organizations, including the 75th Ranger Regiment. After 9/11 until his retirement in 2010, he spent more than 6 years deployed to combat in a variety of leadership positions. In June 2009, the President of the United States and the Secretary General of NATO appointed him to be the Commander of US Forces Afghanistan and NATO ISAF. His command included more than 150,000 troops from 45 allied countries. On August 1, 2010, he retired from the US Army.
Since retiring from the military, McChrystal has served on several corporate boards of directors, that include Deutsche Bank America, JetBlue Airways, Navistar, Siemens Government Technologies, Fiscal Note, and Accent Technologies. A passionate advocate for national service, McChrystal is the Chair of the Board of Service Year Alliance, which envisions a future in which a service year is a cultural expectation and common opportunity for every young American. He is a senior fellow at Yale University's Jackson Institute for Global Affairs, where he teaches a course on leadership. Additionally, he is the author of the bestselling leadership books, My Share of the Task: A Memoir, Team of Teams: New Rules of Engagement for a Complex World, Leaders: Myth and Reality, and Risk: A User's Guide.
The breakfast will take place from 8:30am-10:00am at The Chicago Club, 81 East Van Buren Street, Chicago, IL 60605. Please register below to confirm your participation. Given the exclusive nature of this opportunity, participation is by invitation only to select BENS members.
Related Events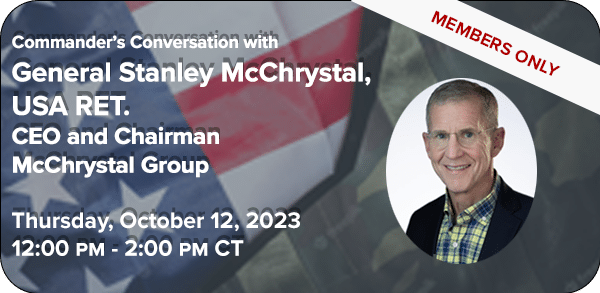 MEMBERS ONLY – Lunch with General Ray
Members only introductory luncheon with new BENS President and CEO, General Timothy M. Ray, USAF (Ret.)
Discussion w/Vice Admiral Kevin Lunday
Please join BENS for a luncheon conversation with Vice Adm. Kevin E. Lunday, US Coast Guard Atlantic Area Commander. We will discuss the Coast Guard's strategic priorities and how they play out daily in the Atlantic Area, which oversees the transit of 58% of imports and 82% of total US maritime commerce through its ports. Vice Adm. Lunday is responsible for directing Coast Guard forces and operations across all mission areas within a geographic region spanning from the Rocky Mountains to…