LTG Laura Potter, Army Deputy Chief of Staff G2
May 25, 2021 @ 11:00 am - 12:00 pm EDT

May 25, 2021

@

11:00 am

–

12:00 pm
EDT

Join us Tuesday, May 25, 2021 from 3:00pm to 4:00pm Central Time for an Army Intelligence briefing with Lieutenant General Laura Potter, Army Deputy Chief of Staff G2. In this virtual BENS conversation, LTG Potter will go behind the headlines on Army Intelligence, discussing what she and her team are doing to shorten the cycle time for the US Army decision making, as well as how the US Army is expanding its partnerships within the broader intelligence community.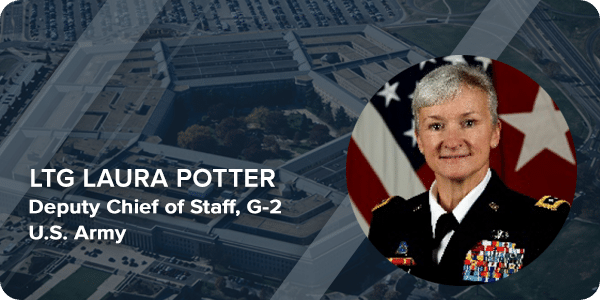 Dinner Discussion on Modernizing the Army's Industrial Base with General Daly, Materiel Command
Please join BENS for dinner and a discussion with Gen. Edward M. Daly, USA, Commanding General of Army Materiel Command, at Steak 48 on July 21 for a conversation on the Department's largest modernization project in more than four decades. The Army is investing $16 billion over 15 years in its organic industrial base, bolstering…
US Military Strength and Readiness with Dakota Wood
BENS DC hosts Mr. Dakota Wood, editor of The Heritage Foundation's Index of U.S. Military Strength, for a discussion of the military's current state and its ability to perform its mission in today's complex security environment.
Virtual Discussion with Jen Easterly, Director, Cybersecurity and Infrastructure Security Agency (CISA)
Cybersecurity and Infrastructure Security Agency (CISA) Director Jen Easterly will join BENS members for a virtual discussion on the importance of preparing for an imminent cyberattack and how more frequent cyberattacks should be considered the "new normal" for U.S. companies and individuals.