Discussion w/Major General (ret.) Yaakov Amidror
October 26 @ 11:00 am - 12:00 pm EDT
October 26
@
11:00 am
–
12:00 pm
EDT
General Amidror was the National Security Advisor to Prime Minister Netanyahu and Chairman of the National Security Council from 2011 to 2013. During his 36-year career in the IDF, Maj. Gen. Amidror served as Commander of IDF Military Colleges, Military Secretary for the Minister of Defense, Director of the Intelligence Analysis Division, and as Intelligence Officer for the Northern Command. He is a distinguished fellow at JINSA's Gemunder Center. Maj Gen. Amidror received a master's degree in political science from the University of Haifa, and has authored several books on intelligence and military strategy, including Winning Counterinsurgency War: The Israeli Experience.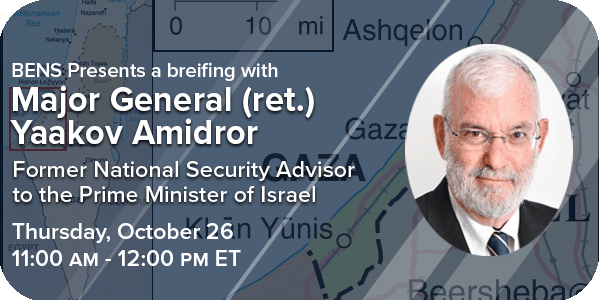 SE Holiday Social
Please join us for a festive evening with friends, fellowship, great food, and an open bar. Please bring your significant other and a prospective member. Space is limited, so please RSVP as soon as possible to reserve your spot! We are pleased to offer this event at no cost thanks to the generosity of a few BENS Members.
Visit to Lockheed Martin Aero Plant
Visit to Lockheed Martin Aero Plant to tour the production line and receive briefings on the F-35. For additional information, please contact Matthew Elias (MElias@bens.org).