Discussion w/Vice Admiral Kevin Lunday
October 10 @ 12:00 pm - 2:00 pm EDT
October 10
@
12:00 pm
–
2:00 pm
EDT
Please join BENS for a luncheon conversation with Vice Adm. Kevin E. Lunday, US Coast Guard Atlantic Area Commander. We will discuss the Coast Guard's strategic priorities and how they play out daily in the Atlantic Area, which oversees the transit of 58% of imports and 82% of total US maritime commerce through its ports.
Vice Adm. Lunday is responsible for directing Coast Guard forces and operations across all mission areas within a geographic region spanning from the Rocky Mountains to the Arabian Gulf and encompassing 40 states and their inland waterways. On an average day, Atlantic Area forces respond to more than 30 search and rescue operations, save more than $90,000 worth of property, respond to 20 pollution spills, interdict 5 migrants, seize 386kg of cocaine, and board 115 recreational vessels.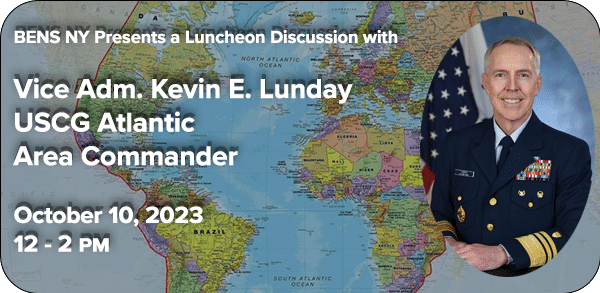 Lunch with General David Petraeus
Luncheon discussion on the evolution of warfare with GEN David Petraeus USA (Ret.)
SE Holiday Social
Please join us for a festive evening with friends, fellowship, great food, and an open bar. Please bring your significant other and a prospective member. Space is limited, so please RSVP as soon as possible to reserve your spot! We are pleased to offer this event at no cost thanks to the generosity of a few BENS Members.