Discussion with Amos Gilead, Former Director of Policy and Political-Military Affairs at the Israeli Ministry of Defense
November 29 @ 11:00 am - 12:00 pm EST
November 29
@
11:00 am
–
12:00 pm
EST
Join us for a discussion with Maj. Gen. (Res.) Amos Gilead, Former Director of Policy and Political-Military Affairs at the Israeli Ministry of Defense. Maj. Gen. (Res.) Amos Gilead is the Executive Director of the Institute for Policy and Strategy (IPS) and Chairman of the Annual Herzliya Conference Series, Reichman University. Prior to assuming his current position in 2017, Gen. Amos Gilead led a distinguished career for more than three decades in the IDF and in the Defense Establishment, his last position being Director of Policy and Political-Military Affairs at the Ministry of Defense. In this position, which he held for more than 13 years, Gen. Gilead managed Israel's international strategic and political-military relations and played a key role in developing Israel's defense relations with key Sunni-Arab nations. Beforehand, Gen. Gilead served in many critical positions such as Chief of the Intelligence Research and Analysis Division, IDF Spokesperson, Coordinator of Government Activities in the Territories and Military Secretary (Aide de Camp) of Prime Minister and Defense Minister Yitzhak Rabin.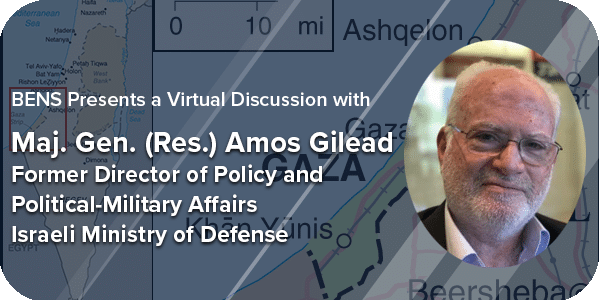 Lunch with General David Petraeus
Luncheon discussion on the evolution of warfare with GEN David Petraeus USA (Ret.)
SE Holiday Social
Please join us for a festive evening with friends, fellowship, great food, and an open bar. Please bring your significant other and a prospective member. Space is limited, so please RSVP as soon as possible to reserve your spot! We are pleased to offer this event at no cost thanks to the generosity of a few BENS Members.