Discussion with Major General Gregg Martin, USA (Ret.)
October 26 @ 11:00 am - 12:00 pm EDT
October 26
@
11:00 am
–
12:00 pm
EDT
.). Maj. Gen. Martin will discuss his new book BIPOLAR GENERAL: My Forever War with Mental Illness.
Maj. Gen. Gregg F. Martin, PhD, USA (Ret.), served on active duty for thirty-six years and commanded an engineer company, battalion, and the 130th Engineer Brigade in combat during the first year of the Iraq War. General Martin served multiple overseas tours, commanded the Corps of Engineers Northwest Division, was Commandant of the Army Engineer School, commanded Fort Leonard Wood, was Deputy Commanding General of Third U.S. Army/Army Central in the Middle East, Commandant of the Army War College, President of the National Defense University, and Special Assistant to the Chief of Engineers. Martin holds a PhD and two master's degrees from MIT, master's degrees in national security strategy from both the Army and Naval war colleges, and a bachelor's degree from West Point (class of 1979).
In Bipolar General, we learn that since adolescence Martin had what psychiatrists call a "hyperthymic personality," or an exceptionally positive, energetic, and can-do disposition. The Iraq War triggered what military and Veterans Administration psychiatrists diagnosed as lateonset bipolar disorder, a chemical imbalance that sends sufferers whipsawing between grandiose imaginings and suicidal depressions.
Even after resignation, Martin's initial psychiatric evaluation cleared him for duty, which again illustrates how difficult it is to diagnose mental illness in high-performing individuals. He discusses why his condition went undiagnosed for so long and explores what can be done both within and outside the armed forces to diagnose and treat mental illness. Bipolar General should be of value to those with mental illness and to the communities of family, friends, and caregivers surrounding them.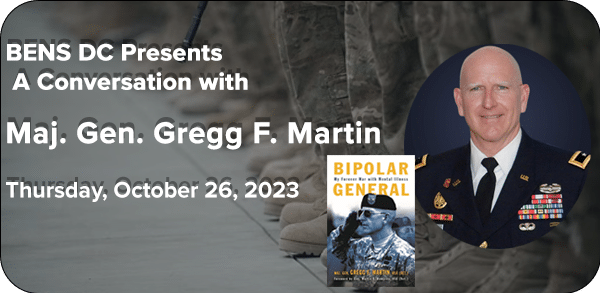 Discussion w/MG Jeff Schloesser
CANCELLED Due to a change in MG Schoesser's schedule, this event has been cancelled. Please contact Matthew Elias with any questions. Luncheon discussion with MG Jeff Schloesser, USA (Ret.), of Bell on the Army's Long Range Assault Aircraft program and the future of rotary wing military aircraft.
Members Only – Lunch w/General Ray
Please join BENS for a luncheon conversation with incoming BENS President and CEO, General Timothy M. Ray, USAF (Ret.) on Thursday, September 28th at the Harvard Club. This will be an opportunity for NY Metro members to meet with and hear directly from General Ray. General Ray retired from the United States Air Force in 2021 after 35+ years of service. His last tour of duty was as Commander, Air Force Global Strike Command, where he led the nation's Air…
Fall BENS Dining Out
Please join us for our annual BENS SE Fall BENS Dining Out (BDO) for an evening of great food and fellowship at Il Gialo Osteria & Bar (5920 Roswell Road, Suite B118, Sandy Springs, GA, 30328). You and your spouse/significant other are cordially invited to this highly anticipated event! Since space is limited, please RSVP as soon as possible. If you have any questions or issues, please let me know. We all look forward to seeing you and your spouse/significant…