Disrupting the Intelligence Community, a Conversation with Retired CIA Officer Duyane Norman
July 26 @ 12:00 pm - 2:00 pm EDT

July 26

@

12:00 pm

–

2:00 pm
EDT

BENS NY hosts a luncheon conversation on the need for disruption in the Intelligence Community with retired CIA officer Duyane Norman at the Union League Club on Tuesday, July 26th. We will discuss the changing landscape of human intelligence gathering and the disruptive changes necessary to keep up with ever-evolving technology.
Duyane Norman is a retired member of CIA's Senior Intelligence Service, having served 28 years in the Directorate of Operations and Directorate of Science and Technology. He is an author and speaker within the Intelligence Community on innovation, technology adoption, and change leadership.
(202) 296-2125
shiggins@bens.org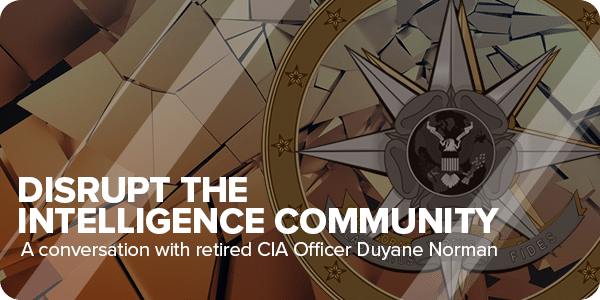 Debrief: Davos 2022 World Economic Forum w/Don Harkleroad
BENS SE Member Don Harkleroad will once again provide us with a debrief from this years Davos World Economic Forum which took place 22-26 May 2022. This debrief will occur Thursday, August 18, 2022 from 11:30 am – 2:00 pm at the Buckhead Club (3344 Peachtree Rd NE, Suite 2600, Atlanta, GA 30326). In an…
Houston Luncheon with General John Raymond, USSF
BENS Texas hosts General John W. "Jay" Raymond, Chief of Space Operations, United States Space Force, for luncheon discussion on the Space Force.
A Conversation with LtGen Gregg Olson, Director, U.S. Marine Corps
BENS DC hosts Lieutenant General Gregg P. Olson, Director of the Marine Corps on August 24th. LtGen Olson grew up in Cumberland, RI, Montreal, Quebec, and Westlake Village, CA, and graduated from the United States Naval Academy in 1985. An infantry officer, LtGen Olson has an additional Military Occupational Specialty as an embarkation officer. LtGen…