Heino Klinck, former Dept. Asst SecDef for East Asia
February 16 @ 11:00 am - 12:00 pm EST
February 16
@
11:00 am
–
12:00 pm
EST
Please join BENS for a discussion on the Great Power Competition with China led by Heino Klinck, Former Deputy Assistant Secretary of Defense for East Asia on Wednesday, February 16th.
Heino Klinck is a global strategist, business executive, retired U.S. Army Colonel, former diplomat, and international policy expert. His extensive experience includes 2+ decades abroad; leading global strategy efforts in a Fortune 100 company; senior political-military roles in the Pentagon; analytical and operational responsibilities in the intelligence community; multiple diplomatic postings in Asia and Europe; and providing strategic counsel through his private consulting company, Klinck Global LLC.
Heino is an acknowledged Sinologist with decades of experience in managing critical aspects of the Sino-U.S. relationship. A seasoned expert in the elements of U.S. national power (diplomatic, informational, military, and economic), he has a unique combination of relevant public and private sector expertise. He is frequently cited in global media on Great Power Competition with China and is regularly sought-out to speak at universities and think tanks worldwide
Related Events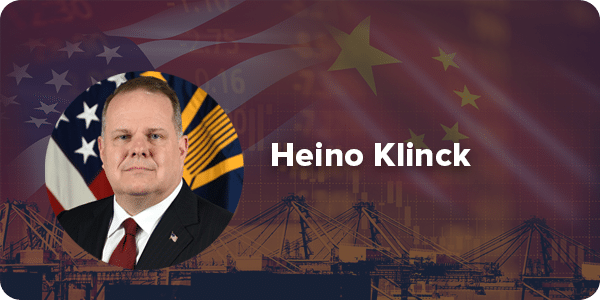 Luncheon discussion of the southern border with Todd Bensman
Luncheon discussion on the US Southern Border and America's Covert Border War w/Todd Bensman, author of the new book "America's Covert Border War: The Untold Story of the Nation's Battle to Prevent Jihadist Infiltration"
BENS 2023 Look Ahead w/Tom Cosentino
Please join BENS for a luncheon conversation with BENS' Chief Operating Officer, Brigadier General Tom Cosentino, USA (Ret.), at the Union League Club on Thursday, December 1st. Tom will provide a current activities update and look ahead to BENS priorities for 2023. He looks forward to a wide-ranging discussion on topics such as forging the Future Industrial Network and developing the national security workforce, as well as hearing directly from you.