Lunch Discussion on the AUKUS Agreement – Houston
November 28 @ 11:45 am - 1:30 pm EST
November 28
@
11:45 am
–
1:30 pm
America/Houston
Join us for a luncheon discussion on the AUKUS Agreement with former US Naval Attache to Australia, Captain Matthew Ort, USN (Ret.).
AUKUS is an acronym for the trilateral security pact between Australia, the United Kingdom, and the United States, announced on 15 September 2021 for the Indo-Pacific region. Under the pact, the US and the UK will assist Australia in acquiring nuclear-powered submarines. The pact also includes cooperation on advanced cyber mechanisms, artificial intelligence and autonomy, quantum technologies, undersea capabilities, hypersonic and counter-hypersonic, electronic warfare, innovation, and information sharing. The pact will focus on military capability, distinguishing it from the Five Eyes intelligence-sharing alliance that also includes New Zealand and Canada.
Captain Matthew Ort, USN (Ret.) served at the United States Naval Attaché to Australia from 2019 to 2022. In this role, he served as the primary advisor on military and naval issues and policies in Australia to United States Ambassador, the Indo-Pacific Commander, the Pacific Fleet Commander, and the Chairman of the Joint Chiefs. Prior to that Captain Ort served as an SH-60B and SH-60R pilot completing sea tours in HSL-43, HSL-37, and commanded HSM-73. He also served as a flight instructor with HSL-41, the west coast Fleet Replacement Squadron for the SH-60B. Ashore, Captain Ort completed tours as the Air Operations Officer on the Sixth Fleet Staff in Naples, Italy, as an Operations Officer on The Joint Staff, and at the Naval Undersea Warfighting Development Center. Captain Ort is a graduate of Purdue University. He has earned an MBA from the Naval Post Graduate School and a master's degree in National Security and Strategic Studies from the Naval War College in Newport R.I.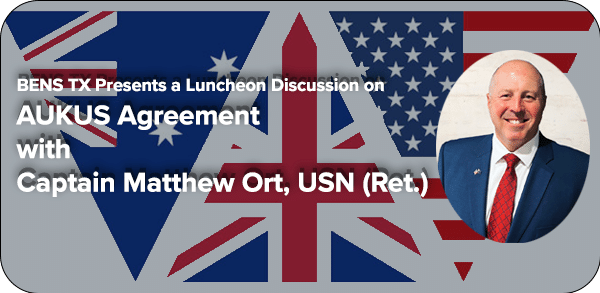 Visit to Lockheed Martin Aero Plant
Visit to Lockheed Martin Aero Plant to tour the production line and receive briefings on the F-35. For additional information, please contact Matthew Elias (MElias@bens.org).
Luncheon discussion on Vladimir Putin and Russia – Dallas
Luncheon discussion on Vladimir Putin and Russia with former Moscow Station Chief Glenn Corn.