Lunch Discussion with Kelly McKeague
March 23 @ 11:45 am - 1:30 pm CDT
March 23
@
11:45 am
–
1:30 pm
America/Dallas
Please join us for a luncheon discussion on the Defense POW/MIA Accounting Agency with Kelly McKeague, Director of the Agency. The Defense POW/MIA Accounting Agency (DPAA) is an agency within the U.S. Department of Defense whose mission is to recover American military personnel listed as prisoners of war or missing in action from designated past conflicts, from countries around the world. The DPAA was formed on January 30, 2015, as the result of a merger of the Joint POW/MIA Accounting Command, the Defense Prisoner of War/Missing Personnel Office, and parts of the United States Air Force's Life Sciences Lab.
Mr. Kelly McKeague began service as the Director of the Defense POW/MIA Accounting Agency (DPAA) on September 5, 2017. He is responsible for policy, control, and oversight of all aspects of the Department's program to account for our nation's missing personnel from past conflicts. He leads DoD's worldwide enterprise of research, investigation, recovery, and identification operations, and supporting functions, in order to provide the fullest possible accounting of our missing personnel to their families and to the nation. Prior to his appointment, Mr. McKeague owned and operated a consulting business in Alexandria, Virginia, providing strategic and operational consulting to small-capital corporations seeking to expand business lines and services. In December 2015, Mr. McKeague culminated a 34-year career in the U.S. Air Force, retiring at the rank of major general. In his last two assignments, he served as the first Deputy Director of the newly established DPAA, and before that as Commander, Joint POW/MIA Accounting Command at Joint Base Pearl Harbor-Hickam, Hawaii. After receiving his commission in 1981 through the Georgia Institute of Technology Air Force Reserve Officer Training Corps program, Mr. McKeague began his military career as a civil engineering officer serving in a variety of assignments at base, major command, and Headquarters U.S. Air Force levels. In 1995, he entered the Maryland Air National Guard and served on active duty as a civil engineer at Air National Guard Readiness Center followed by legislative liaison assignments at the Office of the Secretary of the Air Force and the National Guard Bureau. After transitioning to drilling National Guard status, he was the Director of the Joint Staff, Maryland National Guard in Baltimore. He subsequently served as Chief of Staff, National Guard Bureau, then as Assistant to the Chairman of the Joint Chiefs of Staff for National Guard Matters. Mr. McKeague received a Master of Science in Industrial Engineering and a Bachelor of Science in Industrial Engineering, both from the Georgia Institute of Technology.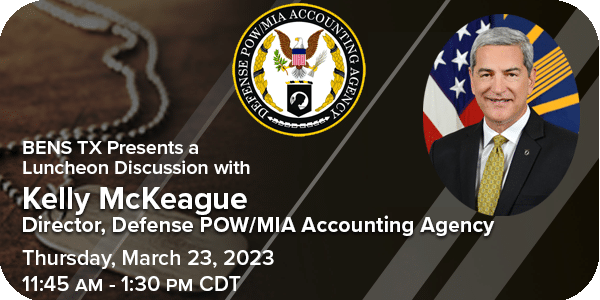 Discussion with Lt. Gen. David Bellon, USMC
Please join BENS for a luncheon conversation with Lt. Gen. David Bellon, Commander, Marine Forces Reserve and Marine Forces South, on Thursday, March 30th. We will discuss the U.S. Marine Corps' dramatic modernization under the Commandant's Force Design 2030. As part of Force Design, Gen. David H. Berger, Commandant of the Marine Corps, called for sweeping changes "to meet the principal challenges facing the institution: effectively playing our role as the nation's naval expeditionary force-in-readiness, while simultaneously modernizing." Lt. Gen.…
Dinner w/Major General Ed Thomas
BENS Chicago members will host Major General Ed Thomas, Commander, USAF Recruiting Services, for a plated dinner at the Chicago Club. The Discussion objective is USAF talent recruitment and retention. For attendance and registration information, please contact Natalie Callone at NCallone@bens.org.