Luncheon with MG Burke Whitman and An Afternoon of Sporting Clays
May 10 @ 11:30 am - 4:30 pm EDT
May 10
@
11:30 am
–
4:30 pm
America/Atlanta
Please plan to join us at The Burge Club for a great afternoon of discussion and fellowship. We will begin with a luncheon with Major General Burke W. Whitman, USMC (Ret.). MG Whitman will provide us with his thoughts and perspective from his career both in and out of uniform as well as lessons learned.
After lunch we will move to an afternoon of shooting sporting clays at the Burge Club. We are planning for men's and women's shooting groups, so all are welcome. Space is limited!
TBD
A pro rata invoice will be sent following the event
Related Events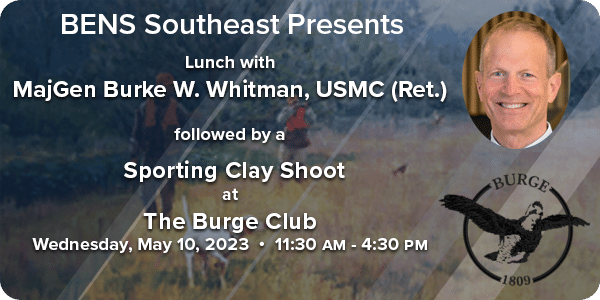 Lunch Discussion with Kelly McKeague
Please join us for a luncheon discussion on the Defense POW/MIA Accounting Agency with Kelly McKeague, Director of the Agency. The Defense POW/MIA Accounting Agency (DPAA) is an agency within the U.S. Department of Defense whose mission is to recover American military personnel listed as prisoners of war or missing in action from designated past conflicts, from countries around the world. The DPAA was formed on January 30, 2015, as the result of a merger of the Joint POW/MIA Accounting Command, the…
Spring BENS Dining Out
Please join us for a BENS Southeast dinner event of good friends, good conversations, and good food. You and your spouse/significant other are cordially invited to the 2023 BENS SE: BENS Dining Out. We are proud to be able to continue this SE tradition with this much appreciated and anticipated event. This event will take place on March 23, 2023 at the Blue Ridge Grill in Atlanta.
Atlanta FBI Visit w/SAC Keri Farley
Join us for a small Southeast regional trip to visit our friends at the Atlanta FBI. We are honored and excited for the FBI team to host us and for the new FBI Special Agent in Charge (SAC), SAC Keri Farley to speak with our group on Wednesday, March 29, 2023 from 11:30 am – 1:30 pm at the Atlanta FBI Headquarters. SAC Farley will discuss an overall threat landscape for the FBI and the Atlanta area. SAC Farley joined…