Luncheon and Discussion on Economic Trends with Dennis Lockhart
April 27 @ 11:30 am - 1:30 pm EDT

April 27

@

11:30 am

–

1:30 pm
EDT

Join BENS Southeast on Wednesday, April 27th as we host an in-person luncheon at the Buckhead Club featuring Dennis Lockhart, Former President & CEO, Federal Reserve Bank of Atlanta.
Dennis Lockhart is the former president and CEO of the Federal Reserve Bank of Atlanta. In that capacity he served on the Fed's Federal Open Market Committee. His tenure spanned the financial crisis, the Great Recession, and several years of recovery. He retired in 2017. He is currently a distinguished professor-of-the-practice in the Nunn School of International Affairs at Georgia Tech. He also sits on several for-profit and non-profit boards. His earlier career comprised international and domestic banking, private equity investment, and teaching at Georgetown and Johns Hopkins.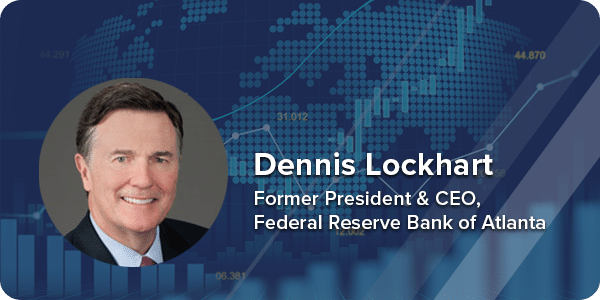 Dinner Discussion on Modernizing the Army's Industrial Base with General Daly, Materiel Command
Please join BENS for dinner and a discussion with Gen. Edward M. Daly, USA, Commanding General of Army Materiel Command, at Steak 48 on July 21 for a conversation on the Department's largest modernization project in more than four decades. The Army is investing $16 billion over 15 years in its organic industrial base, bolstering…
US Military Strength and Readiness with Dakota Wood
BENS DC hosts Mr. Dakota Wood, editor of The Heritage Foundation's Index of U.S. Military Strength, for a discussion of the military's current state and its ability to perform its mission in today's complex security environment.
Virtual Discussion with Jen Easterly, Director, Cybersecurity and Infrastructure Security Agency (CISA)
Cybersecurity and Infrastructure Security Agency (CISA) Director Jen Easterly will join BENS members for a virtual discussion on the importance of preparing for an imminent cyberattack and how more frequent cyberattacks should be considered the "new normal" for U.S. companies and individuals.