Luncheon and Discussion on Economic Trends with Dennis Lockhart
April 27, 2022 @ 11:30 am - 1:30 pm EDT
April 27, 2022
@
11:30 am
–
1:30 pm
EDT
Join BENS Southeast on Wednesday, April 27th as we host an in-person luncheon at the Buckhead Club featuring Dennis Lockhart, Former President & CEO, Federal Reserve Bank of Atlanta.
Dennis Lockhart is the former president and CEO of the Federal Reserve Bank of Atlanta. In that capacity he served on the Fed's Federal Open Market Committee. His tenure spanned the financial crisis, the Great Recession, and several years of recovery. He retired in 2017. He is currently a distinguished professor-of-the-practice in the Nunn School of International Affairs at Georgia Tech. He also sits on several for-profit and non-profit boards. His earlier career comprised international and domestic banking, private equity investment, and teaching at Georgetown and Johns Hopkins.
Related Events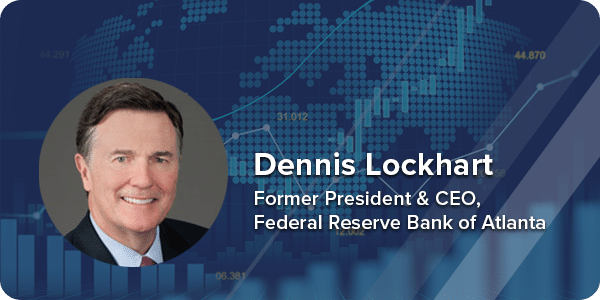 Atlanta FBI Visit w/SAC Keri Farley
Join us for a small Southeast regional trip to visit our friends at the Atlanta FBI. We are honored and excited for the FBI team to host us and for the new FBI Special Agent in Charge (SAC), SAC Keri Farley to speak with our group on Wednesday, March 29, 2023 from 11:30 am – 1:30 pm at the Atlanta FBI Headquarters. SAC Farley will discuss an overall threat landscape for the FBI and the Atlanta area. SAC Farley joined…
Discussion with Lt. Gen. David Bellon, USMC
Please join BENS for a luncheon conversation with Lt. Gen. David Bellon, Commander, Marine Forces Reserve and Marine Forces South, on Thursday, March 30th. We will discuss the U.S. Marine Corps' dramatic modernization under the Commandant's Force Design 2030. As part of Force Design, Gen. David H. Berger, Commandant of the Marine Corps, called for sweeping changes "to meet the principal challenges facing the institution: effectively playing our role as the nation's naval expeditionary force-in-readiness, while simultaneously modernizing." Lt. Gen.…
Dinner w/Major General Ed Thomas
BENS Chicago members will host Major General Ed Thomas, Commander, USAF Recruiting Services, for a plated dinner at the Chicago Club. The Discussion objective is USAF talent recruitment and retention. For attendance and registration information, please contact Natalie Callone at NCallone@bens.org.