Luncheon Discussion on China and 20th National Congress of the Chinese Communist Party – Austin, TX
October 13, 2022 @ 11:45 am - 1:30 pm CDT
|
Recurring Event
(See all)
One event on October 12, 2022 at 8:00 am
October 13, 2022
@
11:45 am
–
1:30 pm
CDT
BENS is pleased to host a discussion on China and 20th National Congress of the Chinese Communist Party with Heino Klinck, former Deputy Assistant Secretary of Defense for East Asia. The National Congress of the Chinese Communist Party is a party congress that is held every five years. The National Congress is theoretically the highest body within the Chinese Communist Party (CCP). Since 1987 the National Congress has been held in the months of October or November. The venue for the event, beginning in 1956, is the Great Hall of the People in Beijing. The Congress is the public venue for top-level leadership changes in the CCP and the formal event for changes to the Party's Constitution. In the past two decades, the National Congress of the CCP has been pivotal at least as a symbolic part of leadership changes, and therefore has gained international media attention. The 20th National Congress of the Chinese Communist Party will be held in Beijing, opening on 16 October 2022.[1] 2,300 delegates will represent the Chinese Communist Party (CCP)'s estimated 90 million members. Preparations for the 20th National Congress began in 2021 and will end with a plenary session of the 19th Central Committee, a few days prior to the 20th National Congress. In 2021, local and provincial party organizations began electing delegates to the congress as well as receiving and amending party documents. It will be followed by the 21st National Congress in 2027.[3]
Related Events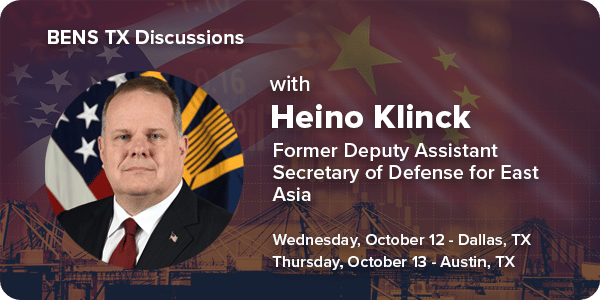 Spring BENS Dining Out
Please join us for a BENS Southeast dinner event of good friends, good conversations, and good food. You and your spouse/significant other are cordially invited to the 2023 BENS SE: BENS Dining Out. We are proud to be able to continue this SE tradition with this much appreciated and anticipated event. This event will take place on March 23, 2023 at the Blue Ridge Grill in Atlanta.
Atlanta FBI Visit w/SAC Keri Farley
Join us for a small Southeast regional trip to visit our friends at the Atlanta FBI. We are honored and excited for the FBI team to host us and for the new FBI Special Agent in Charge (SAC), SAC Keri Farley to speak with our group on Wednesday, March 29, 2023 from 11:30 am – 1:30 pm at the Atlanta FBI Headquarters. SAC Farley will discuss an overall threat landscape for the FBI and the Atlanta area. SAC Farley joined…
Discussion with Lt. Gen. David Bellon, USMC
Please join BENS for a luncheon conversation with Lt. Gen. David Bellon, Commander, Marine Forces Reserve and Marine Forces South, on Thursday, March 30th. We will discuss the U.S. Marine Corps' dramatic modernization under the Commandant's Force Design 2030. As part of Force Design, Gen. David H. Berger, Commandant of the Marine Corps, called for sweeping changes "to meet the principal challenges facing the institution: effectively playing our role as the nation's naval expeditionary force-in-readiness, while simultaneously modernizing." Lt. Gen.…