Luncheon Discussion on the Abraham Accords
August 31 @ 11:45 am - 1:30 pm EDT
August 31
@
11:45 am
–
1:30 pm
EDT
BENS Texas hosts a Dallas luncheon discussion on the Abraham Accords and a discussion of the Middle East with Robert Greenway, President and Executive Director of the Abraham Accords Peace Institute. Robert previously served as the Deputy Assistant to the President and Senior Director of the National Security Council's Middle Eastern and North African Affairs Directorate in the Trump Administration.
Related Events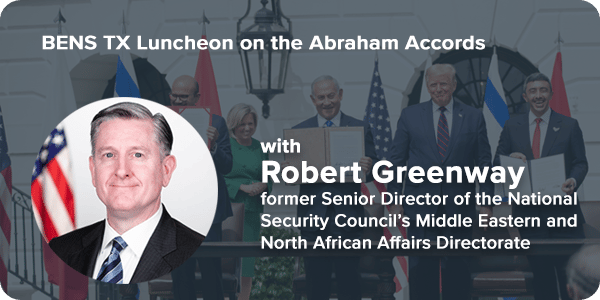 Luncheon discussion of the southern border with Todd Bensman
Luncheon discussion on the US Southern Border and America's Covert Border War w/Todd Bensman, author of the new book "America's Covert Border War: The Untold Story of the Nation's Battle to Prevent Jihadist Infiltration"
BENS 2023 Look Ahead w/Tom Cosentino
Please join BENS for a luncheon conversation with BENS' Chief Operating Officer, Brigadier General Tom Cosentino, USA (Ret.), at the Union League Club on Thursday, December 1st. Tom will provide a current activities update and look ahead to BENS priorities for 2023. He looks forward to a wide-ranging discussion on topics such as forging the Future Industrial Network and developing the national security workforce, as well as hearing directly from you.