Luncheon discussion on the impact of 20 years of constant war on our Special Forces with Former Deputy SOCOM Commander VADM Tim Szymanski, USN (Ret.) – Dallas, TX
November 9, 2022 @ 11:45 am - 1:30 pm CST
November 9, 2022
@
11:45 am
–
1:30 pm
CST
Please join BENS members and guests on Wednesday, November 9th, for a discussion on the impact of 20 years of constant war on our special forces with Former Deputy SOCOM Commander VADM Tim Szymanski, USN (Ret.), who retired earlier this year.
Special forces are highly trained military units created to perform unconventional covert missions in defense of a nation's security interests. Over 50 units in the U.S. fall under the United States Special Operations Command (SOCOM), including psychological operations units, asymmetric warfare units, special vehicle units, and special reaction teams, among others. Most branches of the U.S. military have several special ops teams. For the past 20 years, US special operators have been on the frontline of the struggle against terrorism. Those special operators are small compared with their conventional counterparts, but they've made an outsize contribution to the global war on terrorism. After the invasions of Afghanistan and Iraq, most US counterterrorism operations involved unconventional warfare, with commandoes training local partners and conducting raids. In the wake of the September 11 terrorist attacks, special operators were the first in Afghanistan. The Army's elite Delta Force launched a daring operation to take out Mullah Omar, the leader of the Taliban, in his own headquarters deep in enemy territory. While that was taking place, Green Berets were leading local anti-Taliban fighters to defeat the Taliban and Al Qaeda in a matter of weeks. When the insurgency threatened to destroy Iraq and foil US-led reconstruction efforts there, special-operation forces orchestrated an industrial-scale counterterrorism campaign. Tier 1 units, Delta Force, and the Naval Special Warfare Development Group, led the effort to dismantle Al Qaeda in Iraq with a relentless campaign of raids. The 75th Ranger Regiment also took on a more significant role, going after high-value targets that in the past would've been assigned to the Tier 1 units. Green Berets trained the Iraqi counterterrorism unit that later led the brutal but effective fight against ISIS. In Afghanistan, Green Berets trained their Afghan counterparts, aiming to win the hearts and minds of the population and secure their communities. Navy SEALs, Marine Raiders, Reconnaissance Marines, and Air Commandos played equally important roles in taking down terrorists or enabling other special operations. VADM Szymanski will discuss the impact that the past two decades of war have had on Special Forces,
In two decades fighting terrorism, 660 special operators have been killed and 2,738 wounded. Those totals are small compared to the casualties in past wars, but they took a significant toll on those forces. There are about 70,000 special operators across all services, making them about 3.5% of the US military's 2.1 million total troops. In such a small community, where members know each other by name, face, or reputation, every casualty is felt deeply. According to a former Green Beret, special forces played a big part in the war and suffered because of it, with members of some units deploying more than a dozen times, straining families and mental health. While that toll has been heavy, many analysts believe US special-operations forces are now better prepared to face near-peer adversaries. VADM Szymanski will discuss how special forces have been both negatively and positively impacted by 20 years of constant war.
VADM Szymanski is a native of Wilmington, Delaware, attended the U.S. Naval Academy Preparatory School and graduated from the United States Naval Academy in 1985. He completed a Master of Joint Campaign Planning and Strategy at Joint Advanced Warfighting School. His final assignment was as Deputy Commander of the United States Special Operations Command (USSOCOM), at MacDill Air Force Base, Florida. USSOCOM ensures the readiness of joint special operations forces and, as directed, conducts operations worldwide. He VADM Szymanski's previous Naval Special Warfare and operational assignments include platoon and task unit commander at SEAL Delivery Vehicle Team 2. He served as troop and squadron commander and as operations officer and deputy commanding officer at Naval Special Warfare Development Group. He commanded Special Boat Unit 26, SEAL Team 2, O6-level Joint Task Force in Afghanistan, and Naval Special Warfare Group 2. He served as deputy commanding general sustainment to Special Operations Joint Task Force-Afghanistan/NATO Special Operations Component Command-Afghanistan. VADM Szymanski served as assistant commanding general to Joint Special Operations Command prior to assuming command of Naval Special Warfare Command. VADM Szymanski's previous staff assignments include officer community Manager for NSW and enlisted community manager for SEALs, Navy Divers, EOD Technicians and Special Warfare Combatant-craft Crewmen. He served on the Joint Staff as the J3 deputy directorate for Special Operations as the Global War on Terror branch chief and as chief staff officer of Pakistan-Afghanistan Coordination Cell.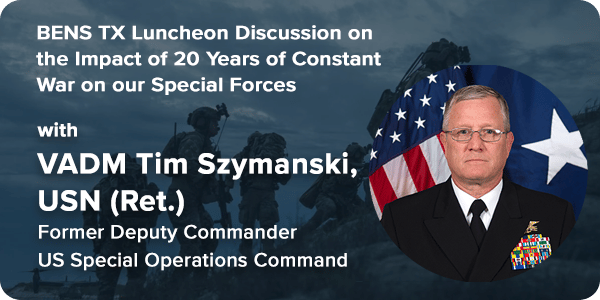 Discussion w/MG Jeff Schloesser
CANCELLED Due to a change in MG Schoesser's schedule, this event has been cancelled. Please contact Matthew Elias with any questions. Luncheon discussion with MG Jeff Schloesser, USA (Ret.), of Bell on the Army's Long Range Assault Aircraft program and the future of rotary wing military aircraft.
Members Only – Lunch w/General Ray
Please join BENS for a luncheon conversation with incoming BENS President and CEO, General Timothy M. Ray, USAF (Ret.) on Thursday, September 28th at the Harvard Club. This will be an opportunity for NY Metro members to meet with and hear directly from General Ray. General Ray retired from the United States Air Force in 2021 after 35+ years of service. His last tour of duty was as Commander, Air Force Global Strike Command, where he led the nation's Air…
Fall BENS Dining Out
Please join us for our annual BENS SE Fall BENS Dining Out (BDO) for an evening of great food and fellowship at Il Gialo Osteria & Bar (5920 Roswell Road, Suite B118, Sandy Springs, GA, 30328). You and your spouse/significant other are cordially invited to this highly anticipated event! Since space is limited, please RSVP as soon as possible. If you have any questions or issues, please let me know. We all look forward to seeing you and your spouse/significant…