Luncheon w/VADM Robert S. Harward, Jr., USN (Ret.)
August 10 @ 11:45 am - 1:30 pm CDT
August 10
@
11:45 am
–
1:30 pm
America/Dallas
Please join BENS members and guests in the Salon Room at Hotel Crescent Court on Thursday, August 10th, for a luncheon discussion on the future of unmanned aerial vehicles and the use of AI in combat aircraft with Shield AI EVP and former Deputy U.S. Central Command Commander VADM Robert S. Harward, Jr., USN (Ret.).
Bob Harward is Executive Vice President for International Business and Strategy at Shield AI (https://shield.ai/), where he is responsible for expanding the company's international business operations and strategy on every continent. Before joining Shield AI, Bob was a chief executive at Lockheed Martin for eight years and a Vice Admiral (SEAL) in the United States Navy, with his last assignment as Deputy Commander, U.S. Central Command (USCENTCOM). He has been recognized by Forbes as one of the fifty (#10) most influential CEOs in the Middle East.
Shield AI is building the world's best AI Pilot. Shield AI is an artificial intelligence company founded in 2015 with the mission to protect service members and civilians with intelligent systems. The company's Hivemind autonomy stack is the first and only autonomous AI Pilot, deployed in combat since 2018. Hivemind enables intelligent teams of aircraft to perform missions ranging from room clearance, to penetrating air defense systems, and dogfighting F-16s. Backed by top-tier Silicon Valley VC funds, Shield AI has established itself as the leader in AI for aviation. Shield AI has been named to Forbes' AI 50 and Best Startups lists, CB Insights Top 100 AI Companies, and Fast Company's Most Innovative Companies. The company has offices and facilities in San Diego, Dallas, Washington, D.C., and Abu Dhabi.
Related Events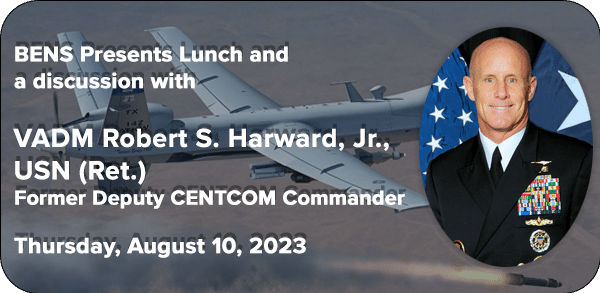 Discussion w/MG Jeff Schloesser
Luncheon discussion with MG Jeff Schloesser, USA (Ret.), of Bell on the Army's Long Range Assault Aircraft program and the future of rotary wing military aircraft.
Members Only – Lunch w/General Ray
Please join BENS for a luncheon conversation with incoming BENS President and CEO, General Timothy M. Ray, USAF (Ret.) on Thursday, September 28th at the Harvard Club. This will be an opportunity for NY Metro members to meet with and hear directly from General Ray. General Ray retired from the United States Air Force in 2021 after 35+ years of service. His last tour of duty was as Commander, Air Force Global Strike Command, where he led the nation's Air…
Fall BENS Dining Out
Please join us for our annual BENS SE Fall BENS Dining Out (BDO) for an evening of great food and fellowship at Il Gialo Osteria & Bar (5920 Roswell Road, Suite B118, Sandy Springs, GA, 30328). You and your spouse/significant other are cordially invited to this highly anticipated event! Since space is limited, please RSVP as soon as possible. If you have any questions or issues, please let me know. We all look forward to seeing you and your spouse/significant…