MEMBERS ONLY: Virtual Discussion w/Dr. Tymofiy Mylovanov
December 13 @ 11:00 am - 12:00 pm EST
December 13
@
11:00 am
–
12:00 pm
EST
We invite BENS Members to join us for a virtual discussion with Dr. Tymofiy Mylovanov, the Former Ukrainian Minister of Economic Development, Trade and Agriculture to discuss the Ukraine's other frontline – It's Economy.  While Russian forces failed to capture Kyiv, and are making little progress in the east, the economic carnage of the war and Moscow's blockade of Ukraine's ports could pose its own existential threat.
Tymofiy Mylovanov is president of the Kyiv School of Economics and an associate professor of economics at the University of Pittsburgh. During his professional career, he has taught at European and American universities, including Rheinische Friedrich-Wilhelms-Universität Bonn and the University of Pennsylvania. His articles on these topics have been published in leading international academic magazines, including Econometrica, the American Economic Review, and the Review of Economic Studies.
For information on registration, BENS Members should contact Jennifer Giglio at 202-296-2125 or JGiglio@bens.org.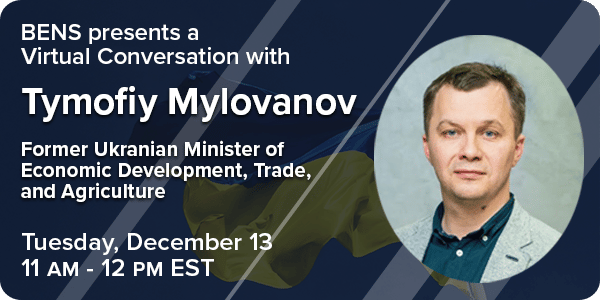 Annual Southeast Holiday Social
Join us for a festive evening with friends, great food, and an open bar. Please bring your significant other and a prospective member. We are pleased to offer this event at no cost thanks to the generosity of BENS MembersMike Campbell and Steve Russell.
Army-Navy Game Watch Party
Please join BENS NY Metro for our inaugural Army-Navy Game watch party at Stout Grand Central on Saturday, December 10th. We have rented out the mezzanine level of this festive midtown location and are partnering with the New York Council Navy League for this event. Doors open at 2:30 pm ET, Kickoff is at 3:00 PM. Families and guests are welcome and encouraged. Heavy appetizers and first beverage will be covered. We'll have ten TVs to watch the football action…
A Conversation with The Honorable William J. Walker, Sergeant at Arms of the House of Representatives
Join BENS DC for an in-person conversation with The Honorable William J. Walker, Sergeant at Arms of the House of Representatives. Walker was sworn in as Sergeant at Arms of the House of Representatives on April 26, 2021. He is the thirty-eighth person to hold this post since the House of Representatives first met in New York City in 1789. Prior to this, Major General Walker was the 23rd Commanding General of the District of Columbia Army and Air Force…