Modernizing the Army's Industrial Base with General Edward Daly, Army Materiel Command
June 14, 2022 @ 12:00 pm - 2:00 pm EDT
June 14, 2022
@
12:00 pm
–
2:00 pm
EDT
Please join BENS for a luncheon discussion with Gen. Edward M. Daly, USA, Commanding General of Army Materiel Command, at the Harvard Club for a conversation on the Department's largest modernization project in more than four decades.
The Army is investing $16 billion over 15 years in its organic industrial base, bolstering its internal capability to manufacture and resulting in major upgrades to 23 depots, arsenals and ammunition plants across the United States. As he embarks on this project, Gen. Daly looks forward to discussing modernizing processes, equipment, and workforce, as well as the information technology behind data and cyber systems. He is particularly interested in how corporations and other civilian organizations – such as the manufacturing industry, logistics fields, and supply chain management — have navigated modernizing facilities and information technology systems.
(360) 720-1507
shiggins@bens.org
Related Events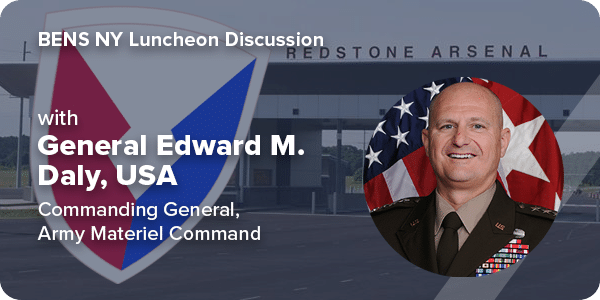 Atlanta FBI Visit w/SAC Keri Farley
Join us for a small Southeast regional trip to visit our friends at the Atlanta FBI. We are honored and excited for the FBI team to host us and for the new FBI Special Agent in Charge (SAC), SAC Keri Farley to speak with our group on Wednesday, March 29, 2023 from 11:30 am – 1:30 pm at the Atlanta FBI Headquarters. SAC Farley will discuss an overall threat landscape for the FBI and the Atlanta area. SAC Farley joined…
Discussion with Lt. Gen. David Bellon, USMC
Please join BENS for a luncheon conversation with Lt. Gen. David Bellon, Commander, Marine Forces Reserve and Marine Forces South, on Thursday, March 30th. We will discuss the U.S. Marine Corps' dramatic modernization under the Commandant's Force Design 2030. As part of Force Design, Gen. David H. Berger, Commandant of the Marine Corps, called for sweeping changes "to meet the principal challenges facing the institution: effectively playing our role as the nation's naval expeditionary force-in-readiness, while simultaneously modernizing." Lt. Gen.…
Dinner w/Major General Ed Thomas
BENS Chicago members will host Major General Ed Thomas, Commander, USAF Recruiting Services, for a plated dinner at the Chicago Club. The Discussion objective is USAF talent recruitment and retention. For attendance and registration information, please contact Natalie Callone at NCallone@bens.org.