Modernizing the Army's Industrial Base with General Edward Daly, Army Materiel Command
June 14 @ 12:00 pm - 2:00 pm EDT
June 14
@
12:00 pm
–
2:00 pm
EDT
Please join BENS for a luncheon discussion with Gen. Edward M. Daly, USA, Commanding General of Army Materiel Command, at the Harvard Club for a conversation on the Department's largest modernization project in more than four decades.
The Army is investing $16 billion over 15 years in its organic industrial base, bolstering its internal capability to manufacture and resulting in major upgrades to 23 depots, arsenals and ammunition plants across the United States. As he embarks on this project, Gen. Daly looks forward to discussing modernizing processes, equipment, and workforce, as well as the information technology behind data and cyber systems. He is particularly interested in how corporations and other civilian organizations – such as the manufacturing industry, logistics fields, and supply chain management — have navigated modernizing facilities and information technology systems.
(360) 720-1507
shiggins@bens.org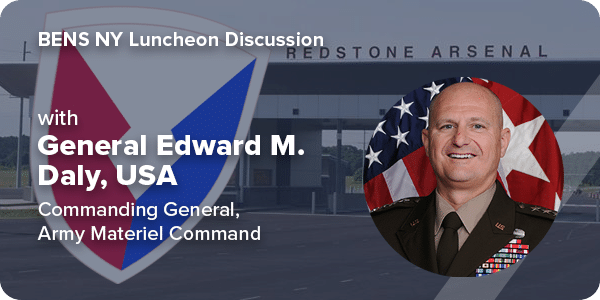 Luncheon discussion of the southern border with Todd Bensman
Luncheon discussion on the US Southern Border and America's Covert Border War w/Todd Bensman, author of the new book "America's Covert Border War: The Untold Story of the Nation's Battle to Prevent Jihadist Infiltration"
BENS 2023 Look Ahead w/Tom Cosentino
Please join BENS for a luncheon conversation with BENS' Chief Operating Officer, Brigadier General Tom Cosentino, USA (Ret.), at the Union League Club on Thursday, December 1st. Tom will provide a current activities update and look ahead to BENS priorities for 2023. He looks forward to a wide-ranging discussion on topics such as forging the Future Industrial Network and developing the national security workforce, as well as hearing directly from you.