Roundtable with the Assistant Secretary of Defense for Industrial Base Policy 
October 16 @ 1:00 pm - 2:00 pm EDT
October 16
@
1:00 pm
–
2:00 pm
EDT
Dr. Taylor-Kale would like to solicit feedback from BENS members to help inform the National Defense Industrial Strategy, which is set to be released in December 2023.
The Pentagon is on track to release a national defense industrial strategy in December, amid growing concerns about the defense industry's capacity. Recent events, such as Russia's invasion of Ukraine, have highlighted the challenges of sustained conflict and the competition with China underscores the need for advanced weaponry. The strategy aims to optimize the use of the Pentagon's current buying capabilities and bolster its relationship with the industrial base. It will focus on areas like workforce readiness, resilient supply chains, and fair market practices.
Dr. Taylor-Kale is a policy executive, strategist, and organizational behavior scholar with over two decades of experience at the intersection of economic diplomacy, international development finance, technological innovation, and national security. She most recently served as the Fellow for Innovation and Economic Competitiveness at the Council on Foreign Relations (CFR) and contributed to CFR's Renewing America Initiative. Her CFR research focused on strategic innovation, industrial policy, and the changing nature of work. From 2017-2018, she was an International Affairs Fellow at CFR and the deputy director of CFR's independent task force on the future of the U.S. workforce, co-authoring of the task force's published report "The Work Ahead: Machines, Skills, and U.S. Leadership in the Twenty-First Century."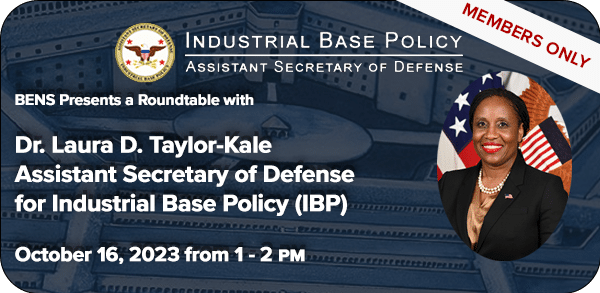 Lunch with General David Petraeus
Luncheon discussion on the evolution of warfare with GEN David Petraeus USA (Ret.)
SE Holiday Social
Please join us for a festive evening with friends, fellowship, great food, and an open bar. Please bring your significant other and a prospective member. Space is limited, so please RSVP as soon as possible to reserve your spot! We are pleased to offer this event at no cost thanks to the generosity of a few BENS Members.