Space Force, Data, and Artificial Intelligence, a BENS DC Conversation with Major Gen. John Olson
May 23 @ 11:00 am - 12:00 pm EDT
May 23
@
11:00 am
–
12:00 pm
America/DC
Please join BENS for a luncheon conversation on the U.S. Space Force, data, and artificial intelligence with Major Gen. John Olson, the Mobilization Assistant to the Chief of Space Operations on Tuesday, May 23rd. We will discuss how data and AI are shaping the current and future battlespace as well as strategic competition with China and Russia.
Major Gen. Olson supports the Chief of Space Operations' responsibility to organize, train, and equip space forces; develop and acquire military space systems; and conduct space operations to advance and protect U.S. and allied interests.  Until earlier this year, Major Gen. Olson was the first Chief Data and Artificial Intelligence Officer for the Department of the Air Force, leading both of the Services' data and AI initiatives in operations, technology, innovation, personnel, mobility, logistics, maintenance, and finance. 
Lunch to follow at the conclusion of the event.
703-969-1185
AVolp@bens.org
Related Events
Registration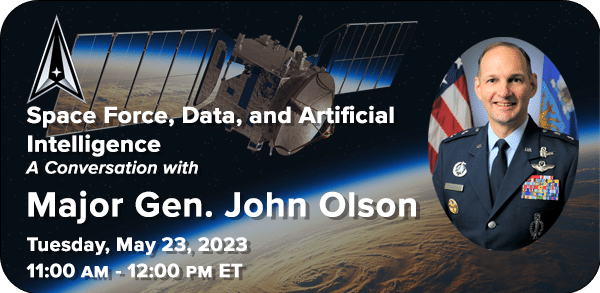 Discussion on FY24 Defense Budget with Seamus P. Daniels, CSIS
Please join BENS for a conversation on Wednesday, June 14th as we host Seamus P. Daniels, Fellow, Defense Budget Analysis at the Center for Strategic and International Security. Seamus will discuss his perspective on the FY 2024 defense budget, DoD's strategic priorities in the FY24 request, and long-term challenges and opportunities in the defense budget. Seamus P. Daniels is a fellow for Defense Budget Analysis in the International Security Program at the Center for Strategic and International Studies (CSIS), where…
Eisenhower Award Dinner
Please join us in Washington for our annual Eisenhower Award Dinner honoring General Mark A. Milley, USA, Chairman of the Joint Chiefs of Staff. 6:30 pm Cocktails | 7:30 pm Dinner Black Tie Preferred
Visit to the Shepherd Center
Please join us for a unique opportunity to visit the Shepherd Center in Atlanta. We will be introduced to the services offered at the Shepherd Center, get a brief tour of the facility, as well as discuss the SHARE Military Initiative. All RSVPs will be treated on a first-come, first-served basis. Shepherd Center, located in Atlanta, Georgia, is a private, not-for-profit hospital specializing in medical treatment, research, and rehabilitation for people with spinal cord injury, brain injury, multiple sclerosis, spine…