MEMBERS ONLY: Virtual Conversation with Lieutenant General Christopher T. Donahue, The Last American Soldier To Leave Afghanistan
October 17, 2022 @ 11:00 am - 12:00 pm EDT
October 17, 2022
@
11:00 am
–
12:00 pm
EDT
The last soldier to leave Afghanistan and among the first in Poland amid the Ukraine crisis, now serves as the Commander of the Army's XVIII Airborne Corps. Lt. Gen. Donahue, leads more than 90,000 troops in four divisions, including the 82nd Airborne, and numerous brigades. The corps is the Army's strategic response force that "rapidly deploys ready Army forces anywhere in the world by air, land or sea, entering forcibly, if necessary, to shape, deter, fight and win." At Fort Bragg alone, the Army has called on its soldiers to deploy four times, no-notice, in the last three years, most recently to bolster allies and partners amid the fighting in Ukraine.
Participation is by invitation only to BENS members.
Please contact Jennifer Giglio for information.
Related Events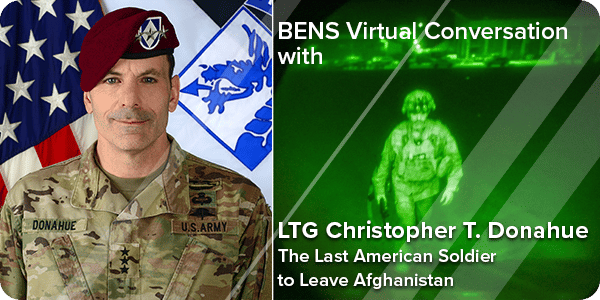 MEMBERS ONLY – Lunch with General Ray
Members only introductory luncheon with new BENS President and CEO, General Timothy M. Ray, USAF (Ret.)
Discussion w/Vice Admiral Kevin Lunday
Please join BENS for a luncheon conversation with Vice Adm. Kevin E. Lunday, US Coast Guard Atlantic Area Commander. We will discuss the Coast Guard's strategic priorities and how they play out daily in the Atlantic Area, which oversees the transit of 58% of imports and 82% of total US maritime commerce through its ports. Vice Adm. Lunday is responsible for directing Coast Guard forces and operations across all mission areas within a geographic region spanning from the Rocky Mountains to…